Recently, my husband and I had the pleasure of being invited to the Bourgogne (Burgundy) region with a wine brand I've being working with, Louis Jadot. They have a nearly-200 year-old wine history with roots deeply embedded in Bourgogne, and proudly so. With their headquarters in Beaune city center and their vines on the rolling hills of Le Côte d'Or, the brand shows its allegiance to the region at every turn in their wine production.
It was so nice to have a couple of days in Bourgogne, where – although it was oddly cold for June – we were rechauffés by the warmth of the welcome we felt by the Louis Jadot team and the locals.
We had driven from Paris arriving late Thursday night. Friday was set to be a great day, including a full day of wine-related visits. Having already been on a few wine tours, read about wine-making, and living in France, one might to assume I know a lot about wine. Ha. I still feel there's so much more to learn! All this does mean I have come to have great respect for the people who devote their lives to wine-production, as I find with it comes an inherent love for region and love for nature.
We started our excursion at the cooperage, which is where a team of highly skilled artisans build wine barrels for a variety of wine makers. Pulling up to the location, there is a sea of wooden slats out aging in the elements. Each wine brand chooses the amount of time the wood will age before it's then made into a barrel and they are left outdoors to endure the elements for that precise amount of time (often 3-4 years).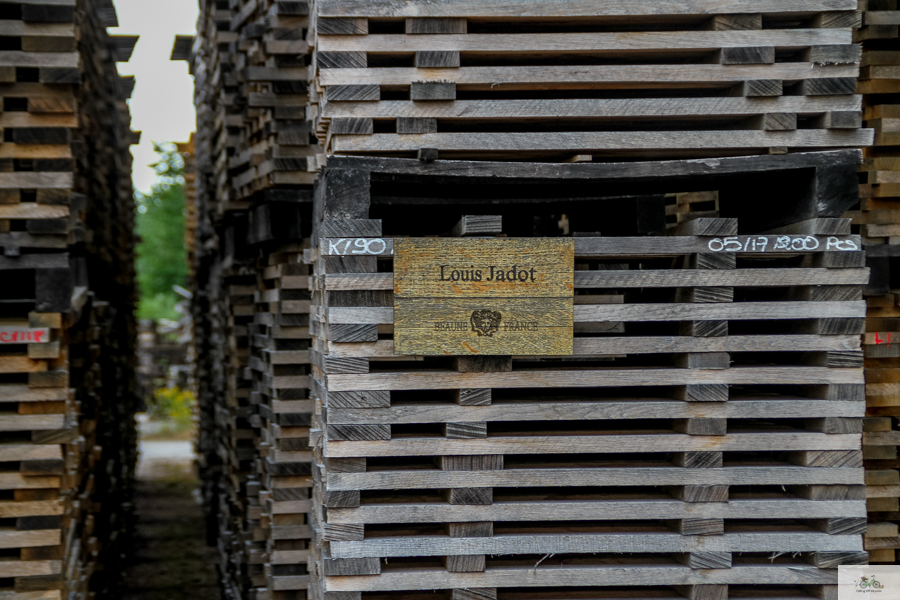 When the time comes for the barrels to be assembled out of the aged wood, every piece is hand-inspected before being passed on to the next step. This is where human intervention really begins, and the artisans (yes, this is all highly artful and technical work!) take their respective steps very seriously.
Click any of the below images to enlarge.
✥ Notice how all of the wooden slats are all precisely cut, ensuring they will fit together perfectly when that step comes. All of the wood is very well-organized and marked with all relevant information (date, brand, etc.), as traceability is considered extremely important in the wine-making process.
✥ Yet another aspect of the process is that the wine barrels are burned on the inside before being filled. The customer chooses how long their barrels will be burned, and this of course has some affect on the flavor of the wine.
✥ In the 7th and 8th photos, you'll see the gentleman putting the barrels in a turning device that spins the barrels around to check for leaks. If a leak is found, the barrel is discarded entirely.
✥ The last photo shows the finished barrels ready to go off to the wine-makers. Each is marked with the name/ logo of the wine and has been made with the precise specifications requested.
✥ Look involved? Indeed there are schools that teach this type of craftsmanship! Our short tour through the factory was enough to show me how incredibly skilled these people are. Nothing can be done at less than 100%.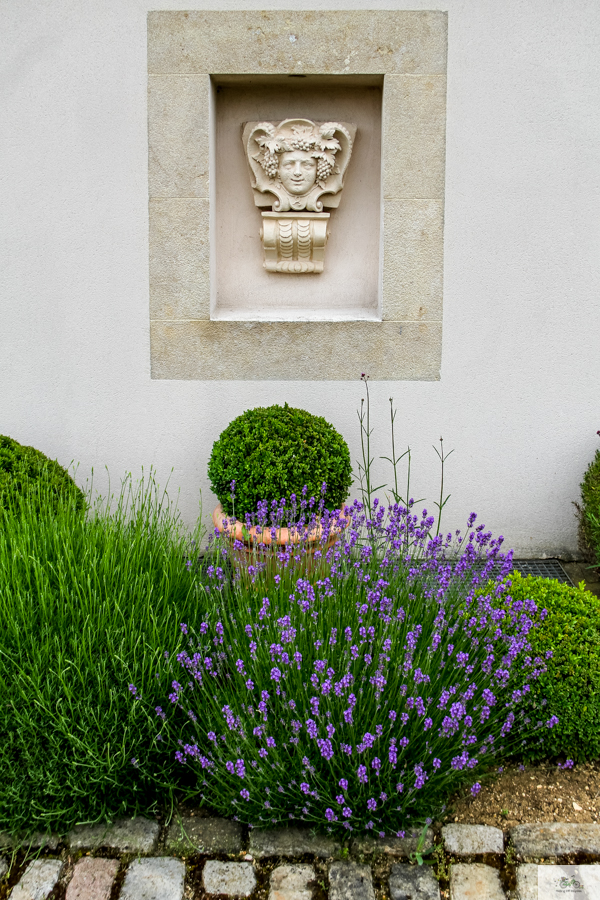 After our visit at the cooperage, we visited the Louis Jadot Winery and Tasting Room. There was little (visible) activity there that day, so we had a wonderful tour through the facilities and among the barrels. The first thing that struck me about this place was how immaculate it is! The outdoor gardens are so carefully manicured and the inside is spotless. I took this as just one more sign of love for their product from the Louis Jadot team.
When you hear French wine experts speak about the difference between French wine, and say, California wine, they necessarily mention a difference in terroir. They're referencing the soil and other environmental factors that play in to the flavor and quality of wine. After centuries of wine-making in the region (remember monks were making wine in Burgundy possibly as early as the 4th Century!), there's no questioning the love and attention alone that continues to be given to the hills of the Côte d'Or by its faithful stewards in the wine industry.
After so much wine talk and those few tasting teasers, we were all ready to head off to lunch together. We had traveled together to a private space at the foot of a hill and next to beautiful, perfectly maintained vines and with a potager (vegetable garden) just next to it. Had it been nicer outside, we would have eaten outside surrounded by these beautiful vines, but with the chill in the air and the misting happening outside, we were forced to eat inside. However, we did manage to take our apéro of Louis Jadot wine and gougères outside, clinking our glasses to new acquaintances and this beautiful region.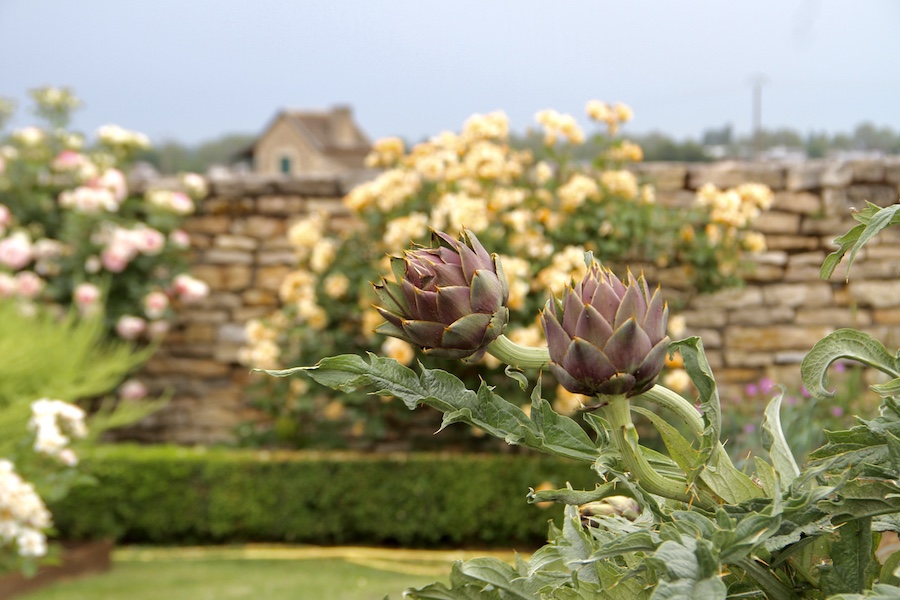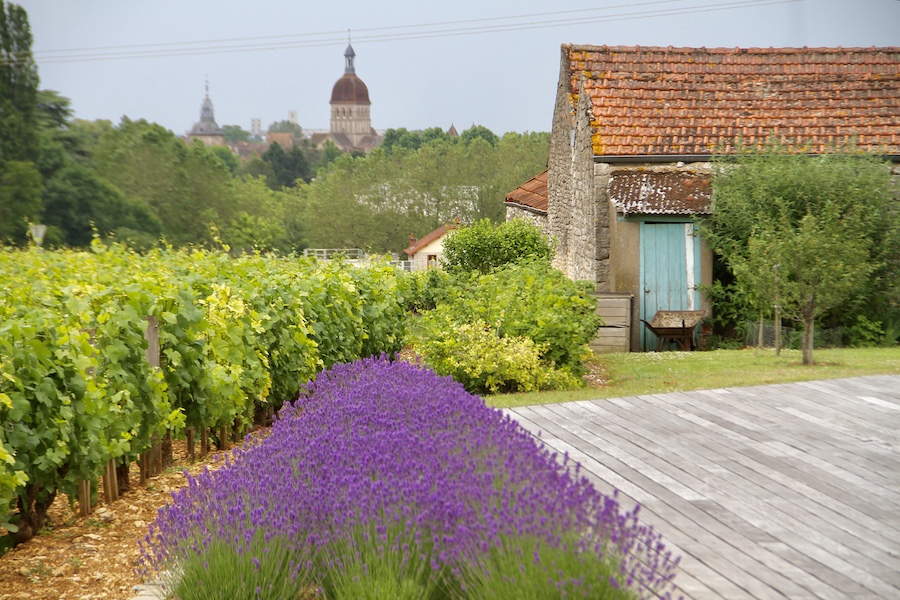 For lunch,  the Louis Jadot team provided for us the perfect lunch featuring local produce. Our meal started with a bright fresh radish salad with mâche. I had the meat-free option of quiche with a baked potato, and our dessert was a delicious and seasonal apricot tart.
After lunch, we set out for a fabulous tour through vines, vines, and more vines. Burgundy's wine-producing area stretches nearly 300 km, so there is always plenty to see. You may remember I featured some of this area last Fall when I visited Bourgogne and did some wine excursions back then. The region is breathtaking to drive, walk, or (my favorite) cycle through. 🚲🍇 There are paths that take you right through the center of the rolling hills with gorgeous views every way you look.
Of course, my main task on this trip to Beaune was to photograph the wine in the region, so here's a sneak peek of what I shot in those couple of days…
We had had a long wonderful day filled with so much information, but it was time to head back to the hotel for a rest and some dinner. The following day, we walked to the Beaune marché and also to the Active Tours bike depot. You can go there for bikes to rent individually or you can join them for a tour. They are super helpful and friendly and are happy to share all the best spots in the area to visit by bike. 🚲
I think my husband is embracing life as an "Instagram husband" because he had noted the location of pretty spots as we drove around, so we returned to this glorious vineyard to photograph before heading back to Paris. It was magical with that massive storm rolling in. We packed everything up just in time before the skies opened up. It was a dramatic end to a fantastic weekend.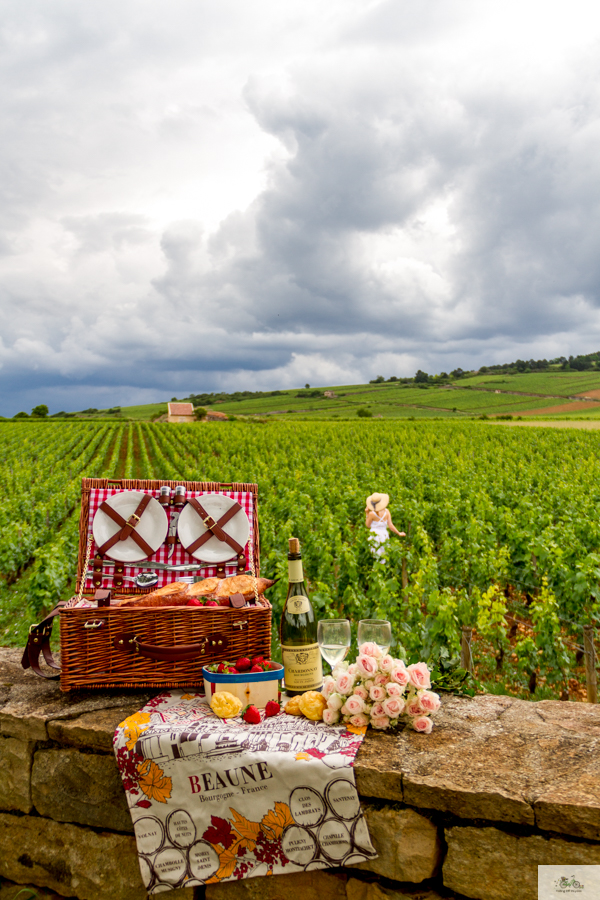 ⚜️ Read about the rest of our weekend in Beaune here.
🍂 Read more about Bourgogne and all it has to offer in the articles I wrote last Fall here.
🚲 Bike rental thanks to Active Tours.
---
🍷 Experience provided by Louis Jadot.