Since leaving my old life in the Netherlands, I tend to return to Amsterdam over and over. But the fact is, there are so many other nice Dutch cities and towns to visit beyond the capital. For such a small country, there really are some lovely places to spend a few days or take overnight trips to.
The last time I went to Delft was a few years ago. We had  just hopped in the car and gone, there had been no research done in advance. Sometimes that is the best way to do it. No plans, no maps, no Instagram notes. Just go.
~~~~~
This time I was invited to have two experiences in Delft, one with Bike and Bite and the other at Royal Delft. Most people associate that famous beautiful blue and white porcelain with the city of Delft but don't know much else about the city. 💙 As it turns out, Delft has a very rich history, which includes and goes beyond that beautiful porcelain.
My route to Delft was simple. I hopped on a train from Amsterdam Central Station, and 57 minutes later I was in the center of Delft. My Bike and Bite guide, Astrid, was ready and waiting for me at the bike pickup spot before we headed out on our little food fest. Her knowledge of the city was evident immediately. Like I said, my previous visit had been done with no prior knowledge about Delft, but it turns out we had missed a lot. Our first tour stop was at the Grote Markt, where we paused at the Nieuwe Kerk (New Church) and I learned all about the William of Orange (an important character in the city's history). It turns out many important characters in Dutch and European history are buried right there in Delft.
As Astrid and I rode around Delft, we would make the occasional stop for a bit of a history lesson. One of our stops was here, where Vermeer got his inspiration for the famous painting Het Straatje (The Little Street). You can see the nod to the work of art in the painted door featuring a woman bent over in the little alley, just as in the original painting. Obviously this canal street has changed just a bit since he painted Het Straatje in the mid 1600s.
You probably know that the Netherlands is below sea level, hence all the canals and other waterways. This in turn has made the Dutch master engineers. It is thus not surprising that, for centuries, trade was done on these waterways. They were the lifeblood of many Dutch cities. While deliveries of goods may seem vulnerable when done by boat, the fact is that not many people could swim back then, so they were largely safe from theft (in theory).
Our first food stop of the day was for a Dutch appeltaart. 🍎 Apple pies came into favor in the Netherlands when there were simply too many apples, so they were looking for what to use them all for. Now, the appletaart is a popular item to get with a coffee or tea and each place has its own special recipe. (See my Amsterdam posts for the best spot for appeltaart there.)

Our next food stop took us to an Indonesian restaurant with a canal view. What business does Indonesian food have being on a Delft food tour, you ask? Plenty. If you know Dutch history, you know they colonized many countries, Indonesia being one of them. You will find Indonesian restaurants all over the Netherlands and satés everywhere, including in the grocery stores for those who want to replicate the dishes at home.
The last time I tried Indonesian cuisine I was not a fan, but this meal blew me away. I could eat it on a daily basis! It was rice, tempeh, and vegetables in a delicious sauce.
[/fusion_text]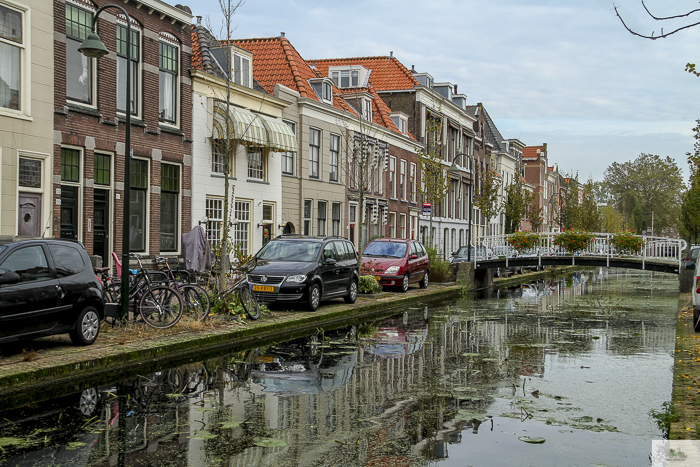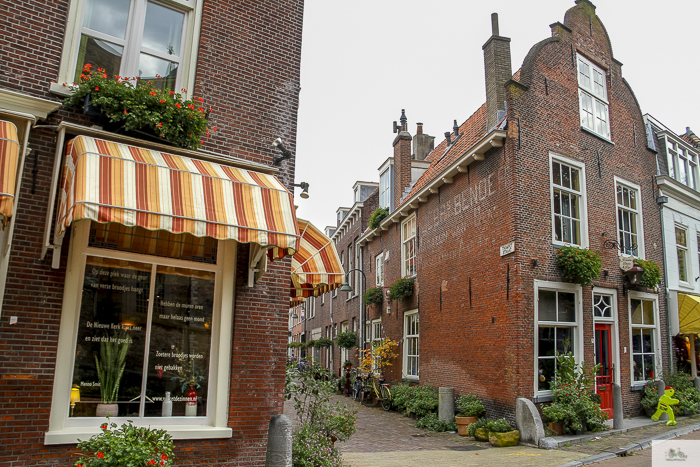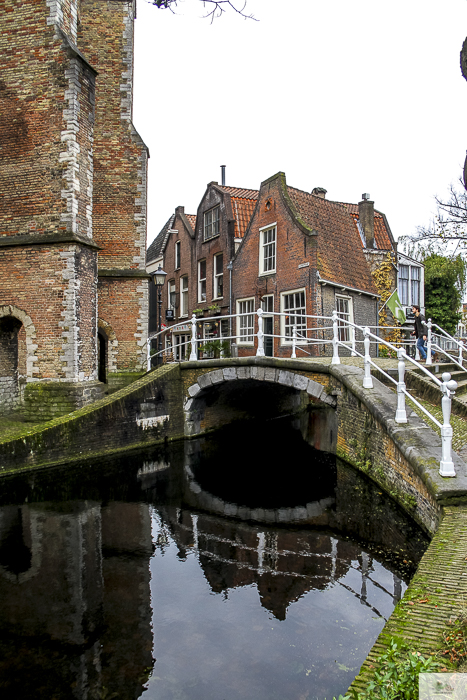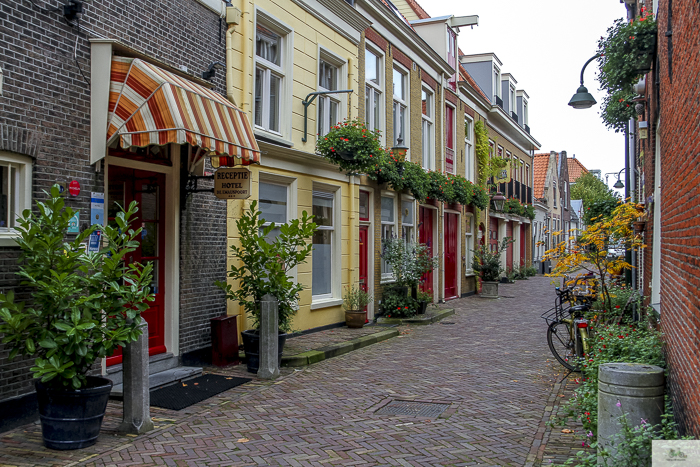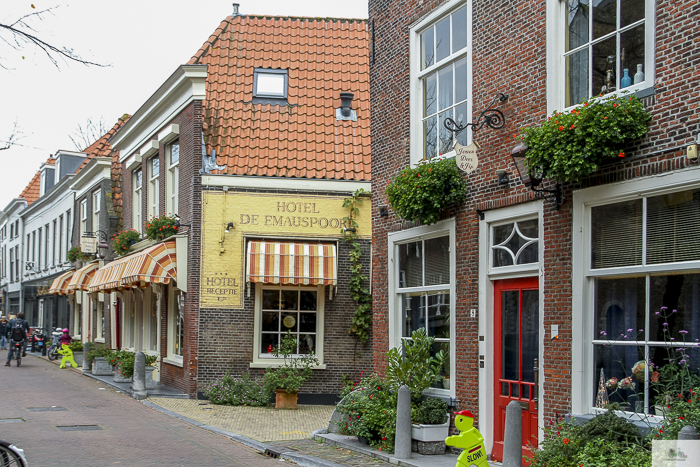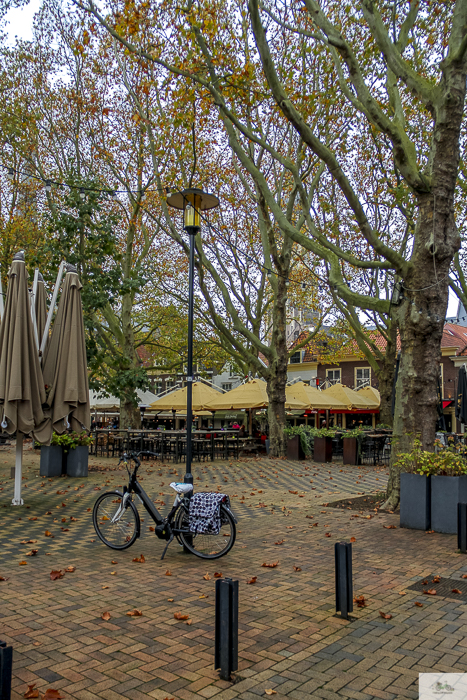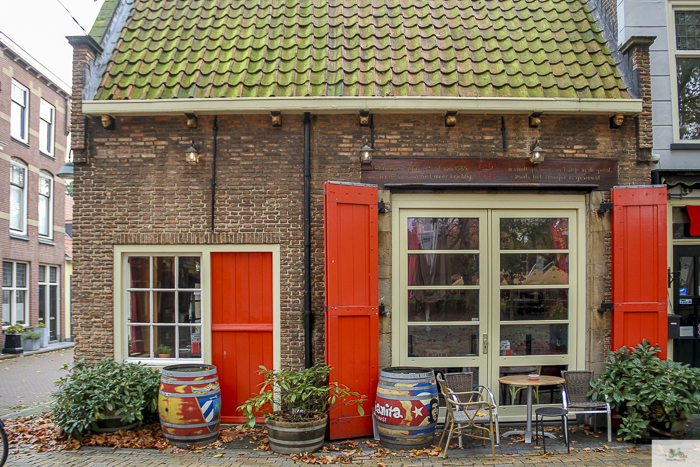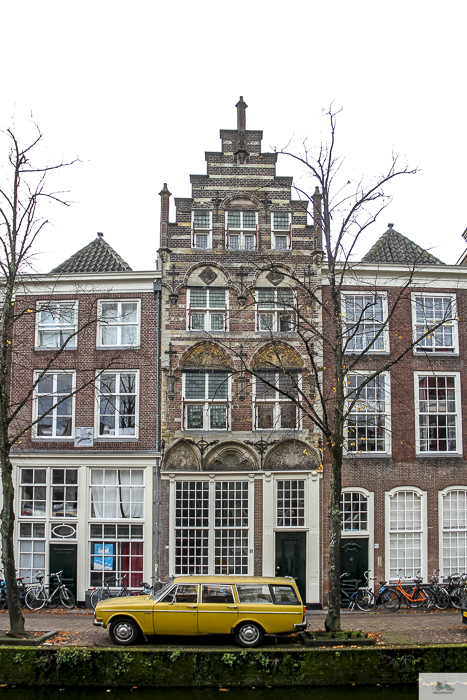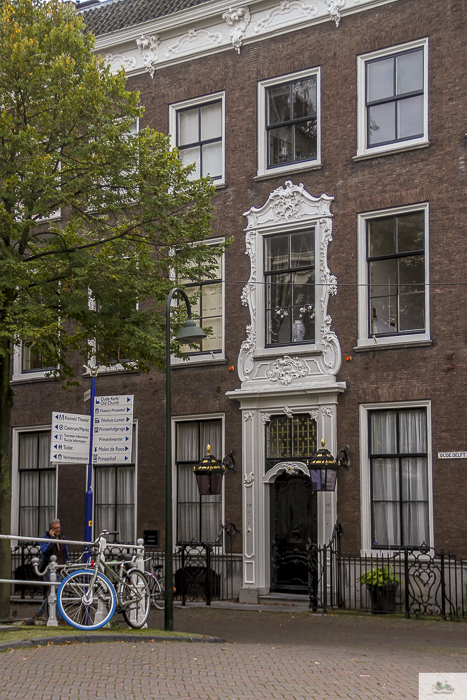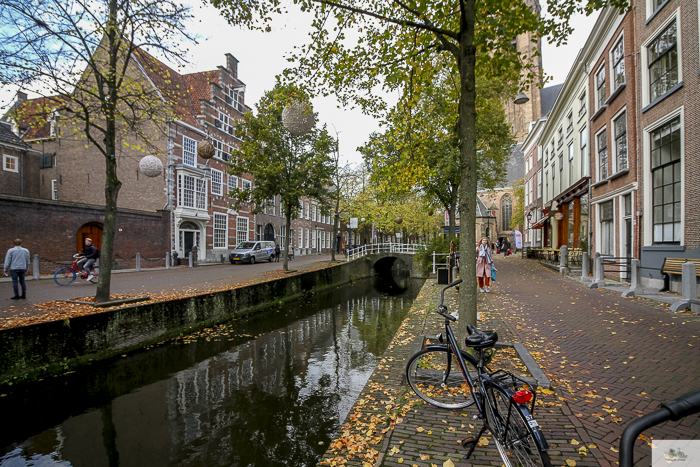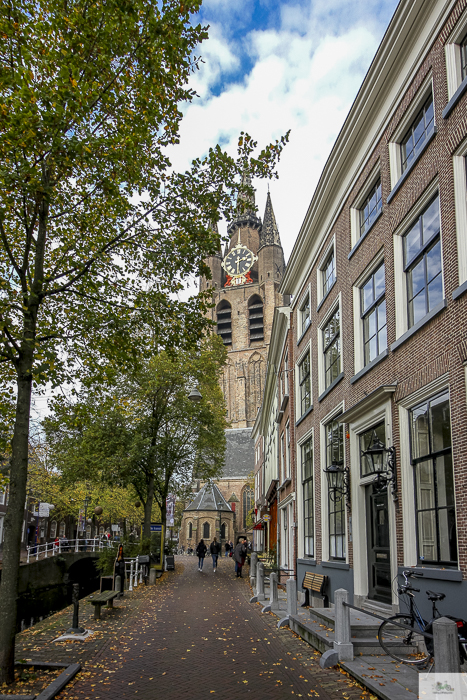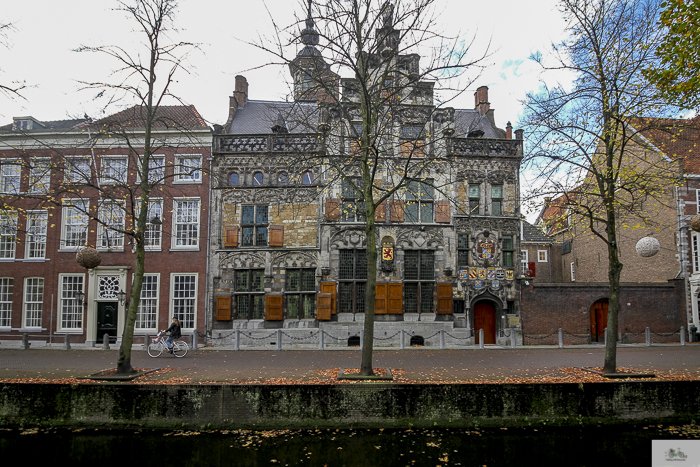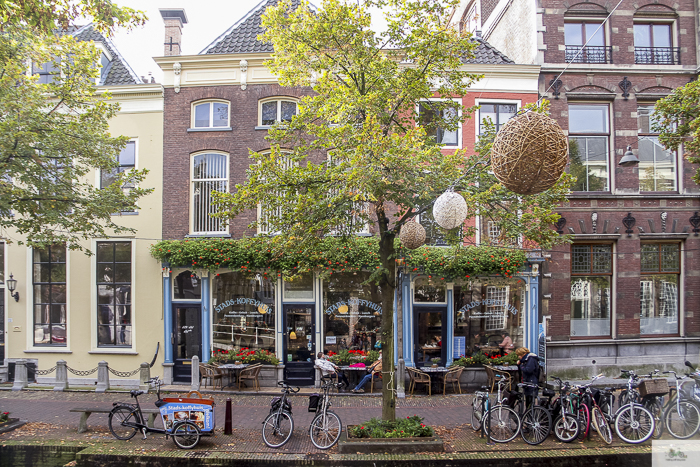 Before we moved on to the third food stop of the day, we made a stop just outside the Museum Prinsenhof, a former monastery. Astrid explained to me that William of Orange used to live here and was even assassinated by Balthasar Gérard just inside (apparently the bullet holes are still visible), as he saw William as a traitor to Catholicism. On my next trip to Delft I will definitely be visiting this museum to learn more.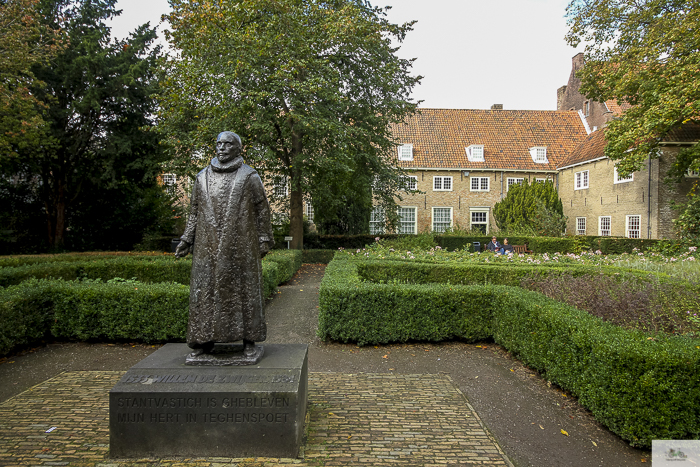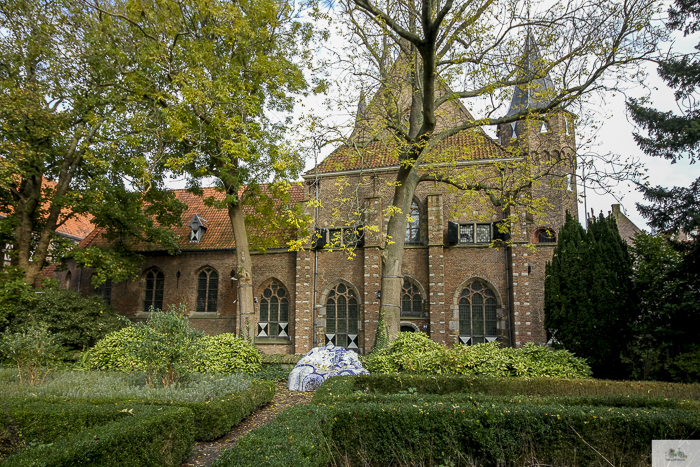 Our third stop was for a local beer and a typical Dutch snack, where we sat in what was once another old monastery and continued to chat about Dutch culture. Astrid and I had had such a pleasant time chatting about Delft (and she was kind enough to let me stop frequently for photos), that we ran out of time for our last food stop… and it was for chocolate, no less! 🍫😖 Another reason to return, for sure.
I hope this has piqued your interest to join a Hike/Bike and Bite Tour next time you're in Delft or Rotterdam. It was such a fun way to spend the first part of my day, but it was time to move on to my next Delft experience…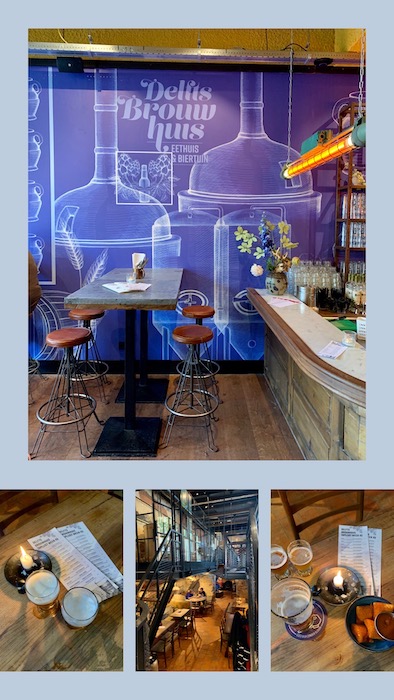 My next stop was Royal Delft, one of the city's most precious institutions. As I mentioned before, many know of Delft but have not been only know the city for the blue and white porcelain that became associated with the city more than 350 years ago.
The visit begins with a couple of videos about how Delft even became associated with porcelain in the first place. The story dates back hundreds of years and begins in China. Today, Royal Delft provides the Dutch royal family with their tableware, which they help design. The current king and queen, William and Maxima have a beautiful design, which is on display in the museum. Similar designs are available for purchase, but the royal family's unique design remains only for them. The royal family also often calls upon Royal Delft to make state gifts, such as the stunning tulip vase pictured below.


One of the best parts of the visit is getting to see those designated as "master painters" painting  (check my Instagram story highlights for the video). There are fewer than 20 people who have this designation, which just goes to show how highly skilled these people are. That means that all of the hand-painted work comes from these artists. Curious about your piece? Check for the Royal Delft logo, which will have the artist's initials and year painted next to it.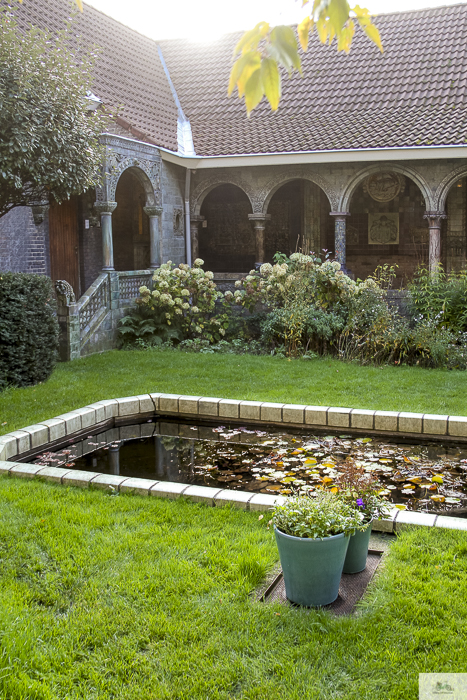 Now, of course it's interesting to hear all about the history of Delftware, but why not also try to apply some of the techniques you picked up from the master painters, yourself? My private tour guide gave me a mini course on painting a tile then let me try my own hand on it. And before you think that I even attempted to freehand this, think again! I hadn't picked up a paint brush in maybe 20 years so calling me "rusty" at this would be an understatement. There is a technique that transfers the designs to the porcelain, giving some guidelines so that the painter can essentially color in the lines. Very helpful for amateurs like moi!


Once I had completed my tulip tile, it was time to return my bike and head back to Amsterdam. I had had a very full day in Delft and had seen a lot (not to mention eaten a lot!) in about seven hours. I highly recommend it as a day trip or a city to linger in to discover more of its rich history and important standing in the world of art.
~~~~~
Curious what I got up to in Amsterdam? Check out that article here.
This is a sponsored post. All opinions are my own. Photos may not be used without permission.