By now you know the story. I studied in Dijon in Bourgogne (Burgundy) when I was at university, and I still love to return to the region whenever possible because of its easy access from Paris and to feed my nostalgic feelings for my student days. There are many wonderful cities and villages to visit in Burgundy, Beaune being one of the most popular, as it has become a favorite wine city thanks to its ideal placement among some of the most famous Burgundy vineyards. I have done day trips from Dijon, wine tours in said surrounding vineyards, and just recently I did a weekend work trip that I extended in order to experience the city with my husband. As I learned last year, Beaune has much more to offer than just wine. Here, I thought I'd take you through how we spent our short but sweet time in this beautiful walled city.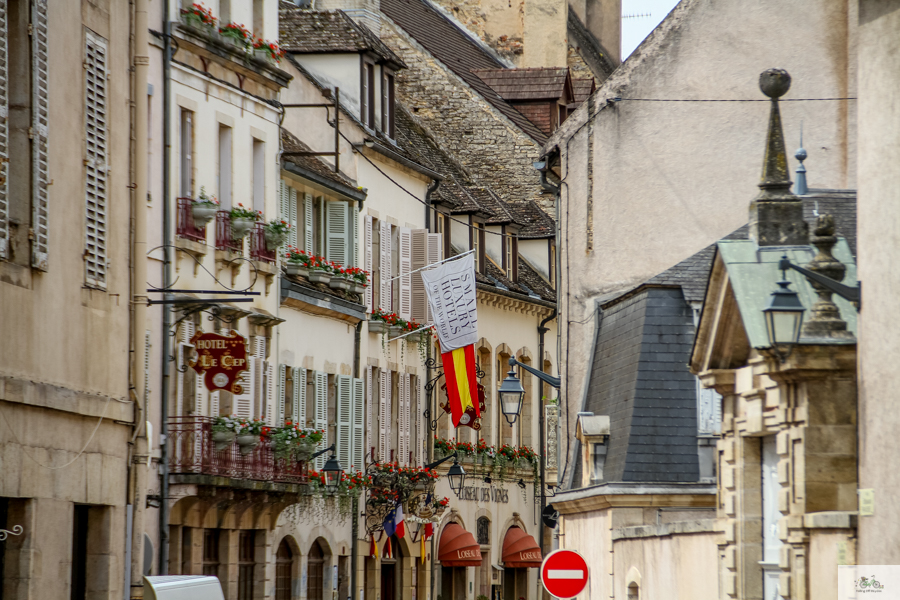 I was excited to go to Beaune again not because there are loads of things to do (there's plenty, I've just done much of it already) but I find it really quite a nice place to enjoy French life the way most people experience it. That is, without the hustle and bustle and without the chaos or the filth of a much bigger city, but with a slow approach to life and the enjoyment of it. Since my husband and I aren't taking our honeymoon quite yet, any little getaway from Paris feels like a mini honeymoon, something we could both use at the moment.  
We stayed courtesy of Hôtel de la Poste, a hotel conveniently located across the street from one of the city's outer walls. Beaune is a medieval city ideally situated among some of France's most renowned wine villages, such as Pommard and Meursault. If you're a lover of Burgundy wines, Beaune is a great home base for anyone touring the region.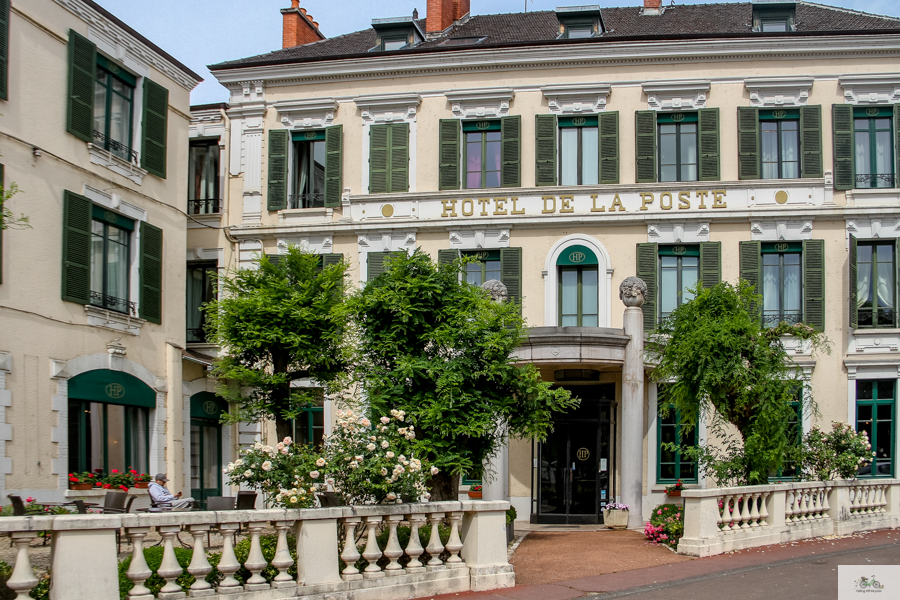 The hotel is a stately building with lots of character, in a style not all that typical of the region. It has a beautiful façade and front and back courtyards where guests can sit outside and take a drink or a meal from their restaurant if weather permits. The climbing vines around the courtyard in the back make for a beautiful setting that pays hommage to the local industry of wine-making. Check-in was a breeze; we simply pulled into the driveway and back to the garage, where they had a parking space waiting for us. The staff was pleasant and knowledgable about the city, and we took advantage of a few of their tips as we took a late-night walk through the city.
Hôtel de la Poste is a 36-room accommodation that features a variety of room types including "charme", "luxes", junior suites, and suites. The hotel sits a mere 500 meters from the famous Hospices de Beaune, which is one of the main draws of the city. While the hotel is on a busy road, one doesn't hear the noise of the street – at least we didn't from our junior suite on the 3rd floor. The room was incredibly spacious, quiet, and had views out two sides, one toward the city with a wine bar just steps from the front door, and the other onto the beautiful hillside of Bourgogne with typical Burgundian tiled rooftops in view, too. At the writing of this post, the hotel is offering a deal that if you stay with them this summer and you return in the fall, you can stay for half price. Learn the details here.
Saturday morning, we had a slow morning and took our time as the week before had been a busy one. It was so nice to stroll across the street and be just a block from the center of town, where the outdoor market had already been buzzing since the early morning. Beaune's marché is well-known for good reason. There is high-quality produce, beautiful dried fruits, fresh flowers, French tea towels and other regional products for sale, and more. The ambiance is convivial and not over-crowded like we see at so many Parisian markets. People are in a good mood! I took advantage of the market to pick up some photogenic props for a photoshoot I had later in the afternoon, however I was tempted by far more than I ended up purchasing.
One of my favorite things about Beaune is its boutiques. From antique shops to old books and maps shops and unique clothing boutiques, the shopping for a fairly small town is pretty impressive, especially those looking to decorate their homes with a French touch. And while I am not 100% sure, I think the prices are better than in Paris. While walking around the city, I saw my favorite style of French posters in the window and so we naturally had to pop in to have a look. Many of our wedding guests contributed to a fund to help us get some art for our apartment, which we have been itching to put to use so I entered with fingers crossed that this shop would have a Bourgogne poster I've wanted for at least a decade. I had seen it in the headquarters of the brand I was working with just the day before, which had led me to the illogical conclusion that these posters are fairly ubiquitous. She went straight to a group of posters, locating it quickly and informing us in a disappointed tone that this one was a mere copy and not an original. Not knowing the prices or market for these posters, I figured I should probably be relieved that this was not an original. Without any discussion, I decided we must have this for our apartment.
For fun, we decided to have a bit of tour through France with the other posters she had in stock. I had not been aware, but these posters were commissioned art pieces by the SNCF (French rail system). Perhaps you recognize them. Now, at least in the States, they seem to be kind of collectibles. I know I had been eyeing them for many years and was thrilled to find a variety of options, as I have not found many in Paris.
These were the three that we absolutely loved, whether because of the colors (the Provence one) or the sentimental attachment associated with the place (all three). It was a tough decision, but we ended up with the Bourgogne reprint and an original of the Provence poster. I also picked out Cassis syrup label to hang in the kitchen. We are thrilled with our purchases and can't wait to get them framed.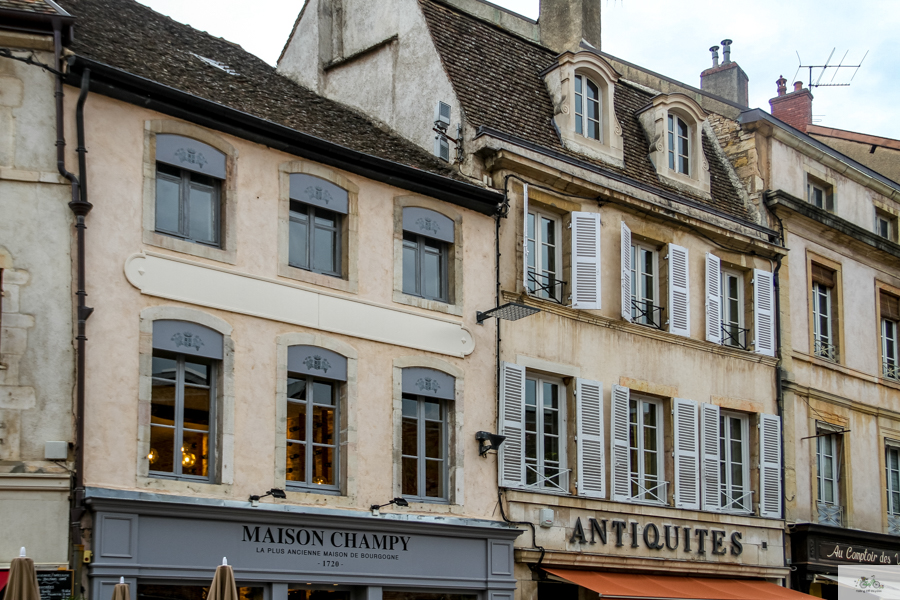 If you're more into the wine scene than shopping, Beaune will exceed all your expectations. During our walk the first night, a Thursday night, the city was bustling with people out on terraces enjoying glasses of local wines. It was such a refreshing sight to see people so relaxed and laughing together. A walk through the city and you'll see easily a dozen wine bars. If you're inclined to have more in-depth wine experiences, book a tour at the local tourism office, which will get you exposure to more wine, cave visits, tastings, and more.
Now, you know, my preferred way to see any place is by bike, and Beaune and its surrounding area are perfect for such an excursion. I worked with Active Tours last fall and found the rental process easy and pleasant. They offer tours and individual rentals and have a variety of bikes (including for kids), and even electric bikes if you're looking for a leisurely tour through the vineyards with less effort. Be sure you get one of their maps of the region when they send you on your way. 🗺🚲
After a full weekend of work and play, we were ready to head off back to Paris. The drive is not long but ended up being one of the scariest drives of my life with a torrential downpour that started just after we managed to pack up a final photoshoot. ⛈ An additional piece of an already memorable weekend away.
Accommodations in this post were gifted. All opinions are my own. All images are © Julia Willard and may not be used without express written permission. Click any image in this series to be taken to my photography shop. Don't see the one you want? Just email me!