It might be possible that a spell was cast on me years ago when I studied abroad. Even though I eventually decided to live in Paris, a big part of my love for France belongs to Bourgogne, and that has been true since I was there with IES Abroad in 2003. The feeling of Fall coming always conjures up memories of my time studying in Dijon, just as the music that accompanied that time period does. It's a delicious feeling every time that gets me enthusiastic about getting out into France and enjoying some colors in another city.
That nostalgic feeling crept up again inside me a few weeks ago, so I decided to book a couple of days in Bourgogne. If you book far enough in advance, the train from Paris to Dijon isn't expensive at all, and is only an hour and 40 minutes away. I like to take a really early train, not only to make the most of my time there, but also so I get to my favorite café for le petit déjeuner, Le Comptoir des Colonies. The train that arrives in Dijon at 8:30am is perfect.
When coming out of the train station and heading to centre ville, you can divert slightly to walk through Darcy Square, for a stroll through the most central park in the city. It's currently gorgeous right now, with these turning leaves and Fall light on it. We used to come here as students and do what we would see French students doing… hanging out in the grass, chatting, eating, and maybe even drinking a little wine. 😉
As you walk down rue de la Liberté, the city's main street, there is plenty of shopping to be done, but the historians and tourists will probably most appreciate the half-timbered building that houses a pharmacy with Maille Mustard, one of the oldest brands in France, just across the street. Although some people debate whether it's the best Dijon mustard there is, the shop itself is fun to go into and has lots of great gifts, as well.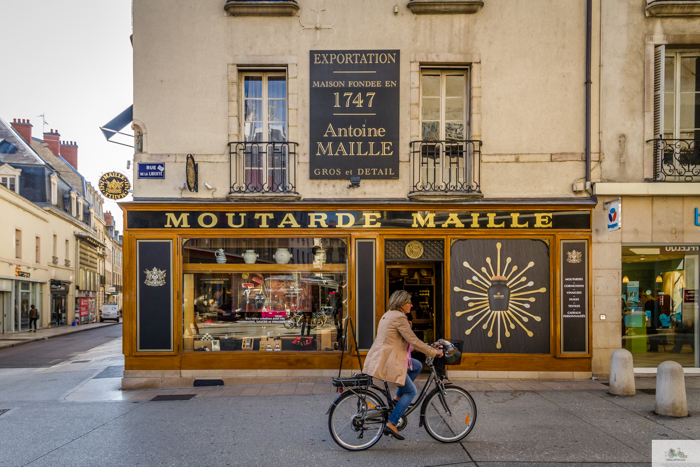 I headed directly to the tourism office this time to be sure I was organized with my time. I had nowhere to be and nothing in particular that had to be accomplished. I had come to enjoy Bourgogne in October, that was my only goal. Even though I lived here for several months, I still stop into the tourism office for ideas and reminders about all there is to do in Dijon and in the region.
I decided it had been too long since I went to the top of Tour Philippe le Bon, so I booked that as well as a visit to Beaune* that afternoon, and a wine tasting tour for the following day. I was exhilarated by the beautiful weather and gorgeous Fall light over the city and thrilled with my plan to do a couple of touristy things with plenty of time mixed in for that wandering I love to do.
After my visit to the top, I headed down the street toward rue Musette, where I used to live. Rue Musette is another main street with cafés, shops of all kinds, a marché a couple days a week, and of course boulangeries. My bedroom sat right above the bakery, Paul, a chain that you can find all over France. My host mother hated Paul and on the mornings she would get me pastries for breakfast, she would go half a block to the other "real" boulangerie to patronize them. Chain boulangerie or mom and pop shop, I was thrilled to live this ever-so-French experience for a few months in the most beautiful apartment on the street.
I continued to wander for a bit, passing the famous Place François Rude, where people gather to dine, people watch, take their kids to the carousel, and make wishes in the fountain.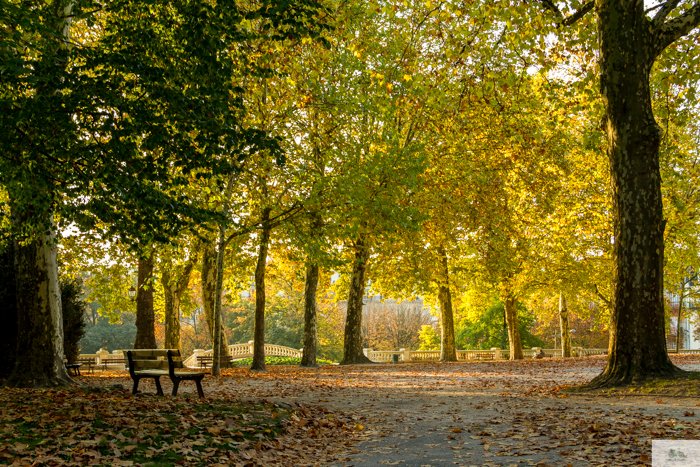 Beaune
I had returned to the train station knowing there are frequent trains between the two major Burgundian cities, Dijon and Beaune. It's a quick trip and I imagine tickets never sell out, so you can easily make the last-minute decision to pop over to the other city and have no problem getting there. No need to even book your return until you go to the train station to get on the train. I'd still suggest getting a timetable, just in case.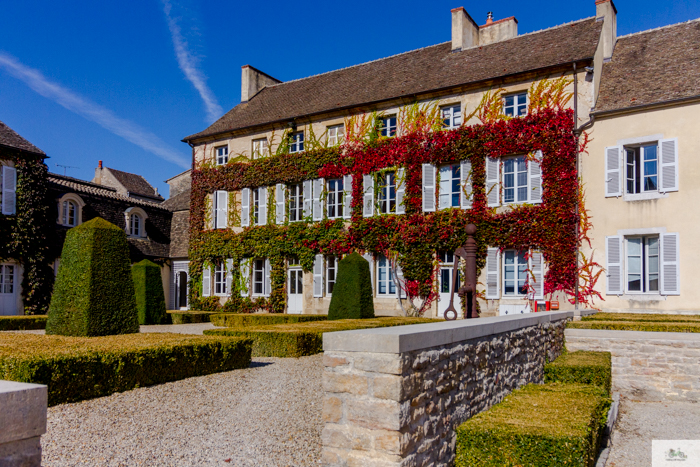 The route to the center city is a nice walk down rue du Château, where you'll pass some beautiful scenes, including the Maison Bouchard Père & Fils. I was there when the vines climbing up all the walls were a fiery red, and it made the already-charming Burgundian scene that much more striking. If you look closely around you, you'll also see the rooftops of Beaune and Burgundy that are typical of the region. They are always unique and never disappoint.
I had decided that I would wander Beaune this time and not give myself an agenda, as I feel I had never made much of an effort to explore the boutiques there. There are so many nice places for all things wine related: books about wine, shops with maps of the vines around the region, and lots of wine- and grape-related art. And for those who love to taste test, there are caves à vins all over Beaune. It's a very festive atmosphere all around the French specialty.
Wandering off down an alley led me to this spectacular scene. I couldn't believe how beautifully the leaves matched the door and shutters.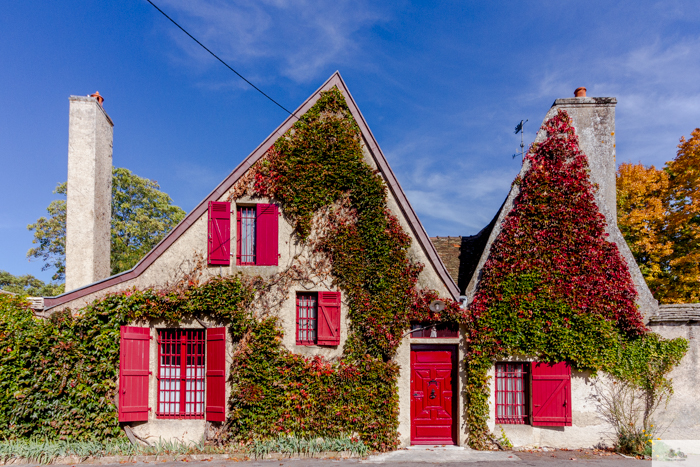 Wine Tour with Authentica
When I had gone to the Dijon tourism office, I looked at several options for wine tours around the region. They all include visits to wineries and of course tastings. There was the Exceptional wines and stroll around Beaune as one option, but I opted for the Côte de Nuits Vineyards with two wine tastings. We visited a couple of vineyards, did tastings, and even had interaction with a few of the vineyard proprietors.
My favorite part of the tour, though, was driving through the golden vines and getting the background information on what grapes were planted where. We were there post-harvest, but this is the moment when the vines look the most spectacular in my opinion.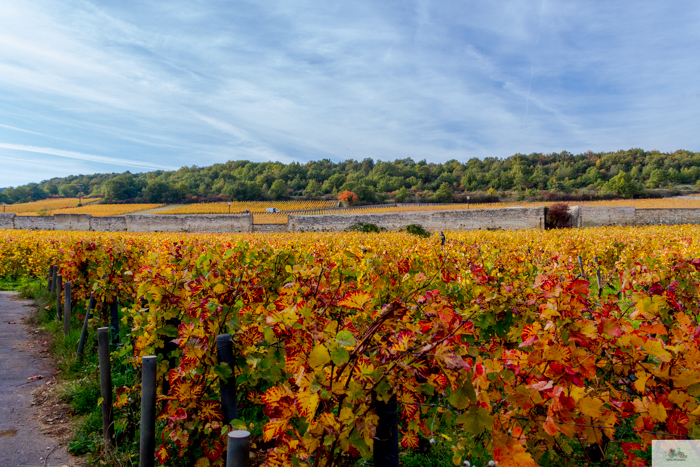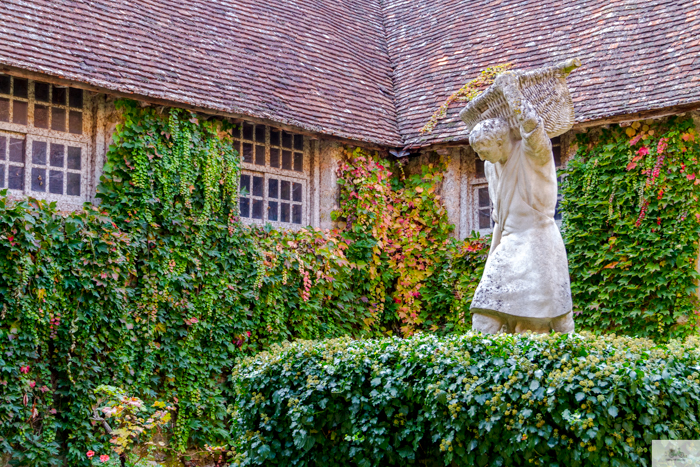 We returned back to Dijon and I headed back to my hotel to grab my suitcase before catching my train back to Paris. Everything in Dijon is so walkable or easily accessed by tram or bus, so it's a nice change from Paris.
So there you have it. Just under two days in Dijon and Beaune. There are so many more things to do (museums, for example), but I was there to enjoy the sunshine and pretty autumn light, which I felt was exactly what I did. I hope you'll try out a few days in Burgundy next time you're in France… especially in Fall.
---
* The afternoon trip to Beaune I booked on my own at the train station. There are regular trains between the two cities and it's only a 28-minute ride.
⚜️ Dijon Tourism Office
11, rue des Forges
21000 Dijon
🔍 Do a guided tour of the hôtels particuliers in Dijon – I've done it, and it's very interesting!
🛏 Wondering where to stay in Dijon? My hotel was not one I would recommend, but my favorite (and perhaps the most famous in Dijon) is Grand Hôtel La Cloche. It's the perfect location, has a spa, and is stunning.
Visit Tour Philippe le Bon
Click here for everything you need to know about the tour.
🍷 Every Friday and Saturday you can have an apéro at the top of the Tour while enjoying the view. Click here.
⚜️ Beaune Tourism Office
6 Boulevard Perpreuil
21203 Beaune