Hopping on a bike in a new city can be daunting; it feels like you're taking your life into your hands and you don't know all the rules at the same time. Luckily some cities were designed with biking as a main means of transportation in mind (and not as an afterthought). The Dutch learn the rules of the road at school and from their parents at a very young age, so they are well-versed in the rules and respectful of them whether they themselves are also on a bike or driving a car.
I have been cycling in Amsterdam since 2010, and let me tell you, it took some time for me to feel confident about riding alone. For months, I wouldn't go anywhere without my Dutch boyfriend; it was just so foreign to me to go out on a bike for anything other than a joy ride, like I did in my childhood riding a bike. And here I was living in a new city learning how to do all the things I was accustomed to doing by car in the States and by foot in Paris now by bike. I was excited for my new normal but intimidated. Little by little – okay, maybe four months later – I gained confidence with it and eventually was cruising around all over town unstoppable and loving this energizing and eco-friendly way of life.
On my recent trip to Amsterdam I collaborated with Veloretti to come up with a list of spots you too might like to cycle to around Amsterdam to see. Veloretti don't rent bikes, but they do sell them and ship Europe-wide. These bikes are among the sturdiest and cutest bikes I've ever ridden. The men's bikes are great looking, too!
Vondelpark
Amsterdam's biggest park in the city center is one of the most enjoyable places to spend an afternoon. I eventually lived at Leidseplein, which is very close to the Park and would spend my summer mornings riding through the 120-acres. There is so much to do here: play tennis, roller-blade, play on playgrounds, enjoy a concert at the open-air theater, look over the ducks in the pond, have a meal or a tea with a friend, walk through the rose garden… I was always a little disappointed in the lack of flowers in the park considering the Netherlands is known as "the flower country", but there are plenty of other things to enjoy.
De Wallen/ Marken
This is a lesser-known part of town because it's mostly residences, but I always like to cycle over here to see if I can find any cute scenes. Aren't those façades just beautiful?
Mot Amsterdam residents don't have front yards, but I've always been impressed with how so many of them make a small garden or welcoming entry on their front stoops. The left photo is a fabulous spot for a photo in wisteria season. Here it was just starting to open but I have managed to capture it in other seasons.
Artis
If you don't have time to visit the zoo, you can still see the beautiful flamingoes through the fence. Don't they complement the bike nicely?
Plantage neighborhood
The Café Restaurant de Plantage is a lovely place to eat and sit outside to enjoy the beautiful courtyard. I haven't eaten at the restaurant, but it is high on my list because the ambiance looks so inviting.
One of my favorite places to eat is Dignita, just next to the Hermitage Museum. The garden here is spectacular in Spring.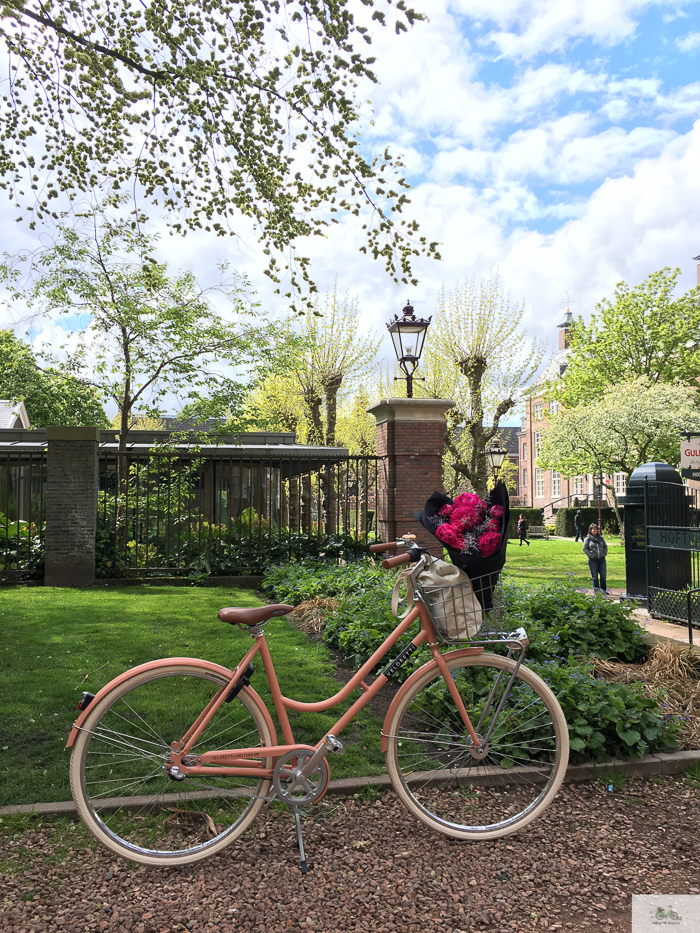 Singel
My favorite canal also has one of my favorite rows of façades. Be sure to cycle to Café Van Zuylen and don't miss the sort of hidden street between canals, Langestraat.
Grachtengordel
Once you've covered some of the Singel, continue onto the rest of the grachtengordel (canal ring) and the Jordaan for even more beautiful Amsterdam scenes and cozy cafés.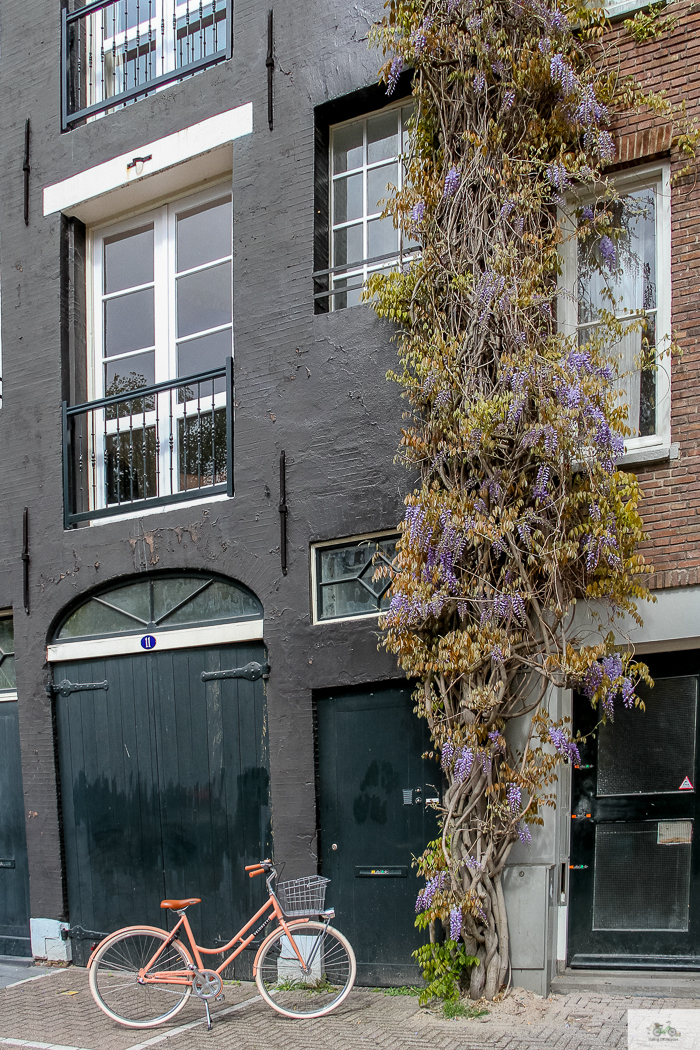 Café George
There are several George establishments around Amsterdam, and the Café George has one of the best terraces on a canal. It's small but a great place to watch all the passing cyclists and the southern exposure means sunshine for much of the day. You can eat breakfast, lunch, or dinner here.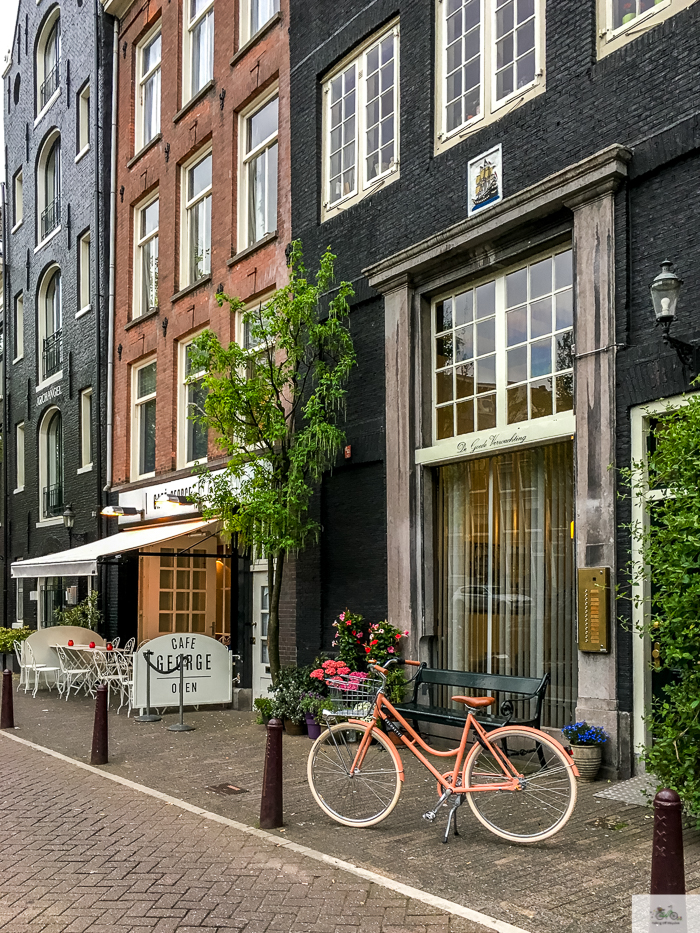 Be sure to check out the Veloretti site to order a new beautiful bike.
All images are © Julia Willard and may not be used without express written permission. Click any image in this series to be taken to my photography shop. Don't see the one you want? Just email me!