Well, I think I'll finally say it publicly. I'm in awe in how this "health crisis" has been handled.
Our spring lockdown was so strict, some days I felt like I was going to lose it in our not-so-big Parisian apartment. I thought so often of all the families who were having to stay cooped up in smaller places with multiple family members all confined in one place. Our rules were incredibly strict in the Spring, with requirements to not leave without an attestation justifying why we were outside. They had us scared of everything and everyone.
Since we were only allowed outside for exercise maximum one hour per day – and we had to stay within 1 km of our homes – that greatly limited what we could do for exercise. Cycling was explicitly not allowed. When they let us out in May, I was so happy to be able to get some exercise again, beyond my daily walks. I hopped on my bike and was once again reminded of that childlike joy we all feel when we ride. Over the next few months, my bike became my best companion; I took it is often as possible for exercise and for pleasure. I thought I would share with you a few of my favorite things about the bike that have been ever so prevalent in my mind this year. I swear my bike has kept me sane in 2020.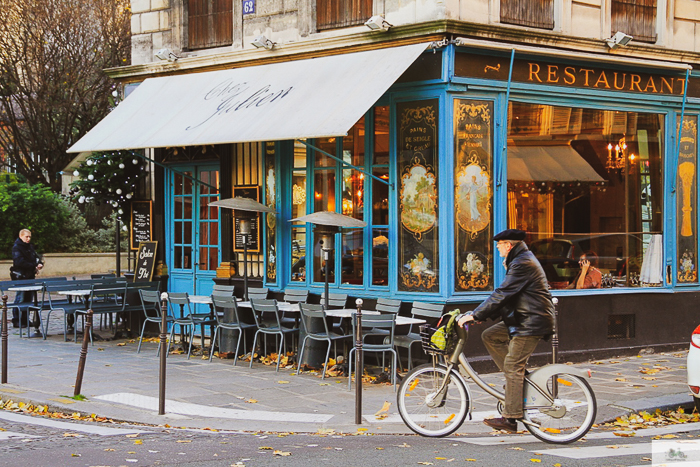 Physically distanced
When riding around, you're naturally distanced from those around you, but of course not so much that you're isolated. So even when you're riding in a group with others, you're most likely a "safe" distance from them.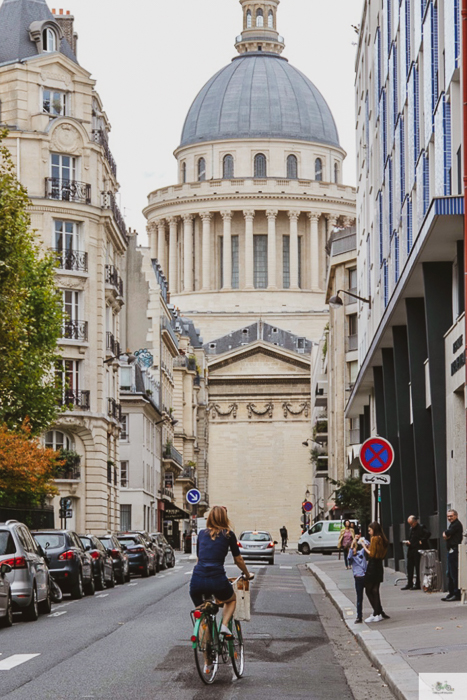 No mask needed
Here in Paris, the mask rules were non-existent in the spring and then a few weeks ago they became mandatory everywhere, including where you're nowhere near another human. Biking here is one way you can truly enjoy some fresh air in Paris right now without having it inhibited by wearing a mask.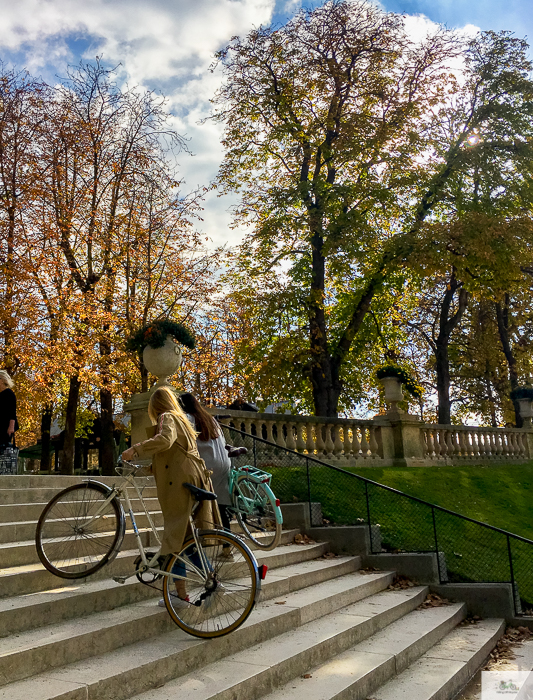 Brings happiness
Whenever the subject of the year 2020 comes up in conversation, as it inevitably does with every person you speak with, there is always a look of fatigue and even sometimes despondence. Some of the most joyous times my husband have had this year (and we have still managed to have a few!), have been our times cruising around Paris on our bikes. That feeling of joy and exhilaration is frankly what we all need this year. And the more the better. 😄🚲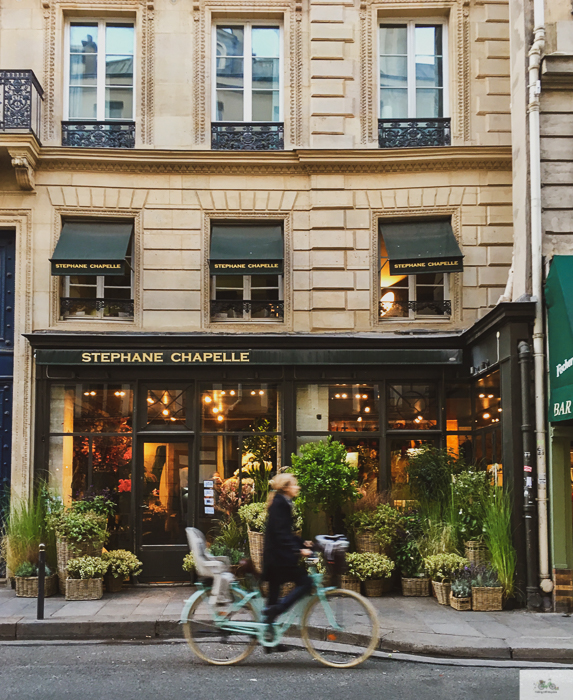 Exercise
Everyone's in agreement that exercise is key for sustained health, and yet in many countries this year they have cut off our easiest ways of getting exercise. As I mentioned above, France has been no exception to this. Once again, the bike to the rescue… This has been a great way for people to get out there and get some much needed exercise to burn off some stress and some extra calories we've all taken on from not being out much.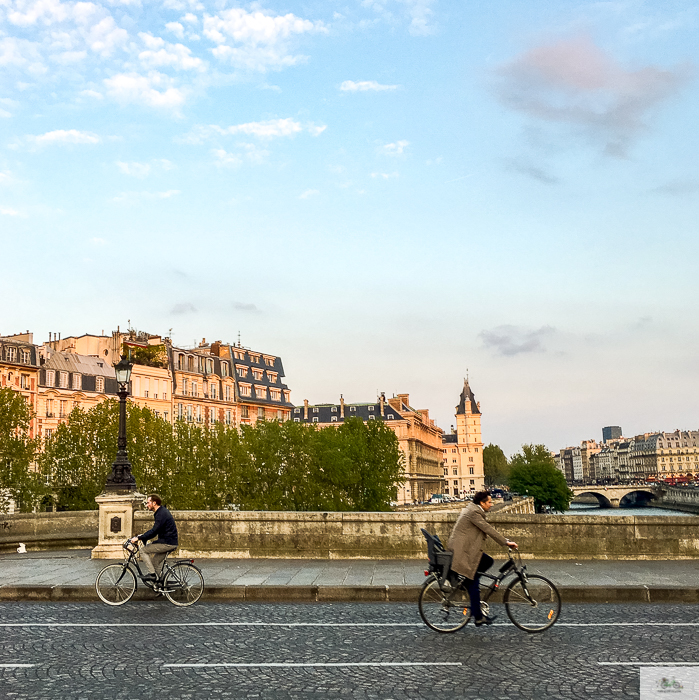 Bringing back the lost feeling of community
Not surprisingly, while we were locked down, we craved that connection and contact with others that had been stripped from us, whether it be with our friends, family, or complete strangers. This summer, the city of Paris was quick to add a lot more bike paths, especially along the most heavily (car) trafficked areas. Paris is really pleasant to bike, but these additions made it feel pleasant and especially safe. Last year, they added a lot of lanes along the Seine, and this year they added even more along roads like Boulevard Saint Michel and Rue de Rivoli. When you ride in a bike lane, you're more likely to see and engage with other bikers, which I've always found to be a fun benefit of biking. You don't necessarily speak to one another, but you are inevitably required to engage regularly with others to determine who's going which way to move forward safely. And of course to say hi to your fellow bikers. 👋🏼🚴🏼‍♀️ It's a small but significant thing in a world where we've been isolated from one another so much of the year.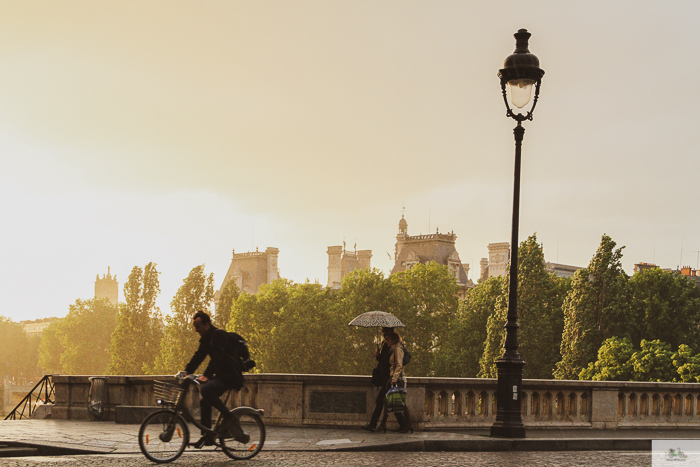 Fresh air
One of my biggest frustrations here in France this year has been that this whole thing has supposedly been about keeping people healthy, and yet tabacs (where cigarettes are sold) stayed open and parks and gardens were literally locked so no one could enter. And don't even get me started on how no one on most "news" programs talked about how to boost one's immune system and take preventative measures to keep a body healthy. I had literally no access to nature apart from the trees on the streets for two months. You cannot convince me that this is a good strategy for keeping people healthy. Had I been allowed to bike (and preferably further than 1 km), I could have had access to one of Paris's surrounding woods, and of course the Seine. It would have been hugely beneficial for my mind and my physical health.
I haven't checked the stats, but this has to be one of the least polluted years in recent history for Paris. They vacated the city in Spring, people left on vacation in August, and now more and more people are working from home from their country homes. All that plus far fewer tourists means there has been a quieter and cleaner experience on the road in 2020. Even this winter, I hope more people continue to get out there and get some fresh air on their bikes.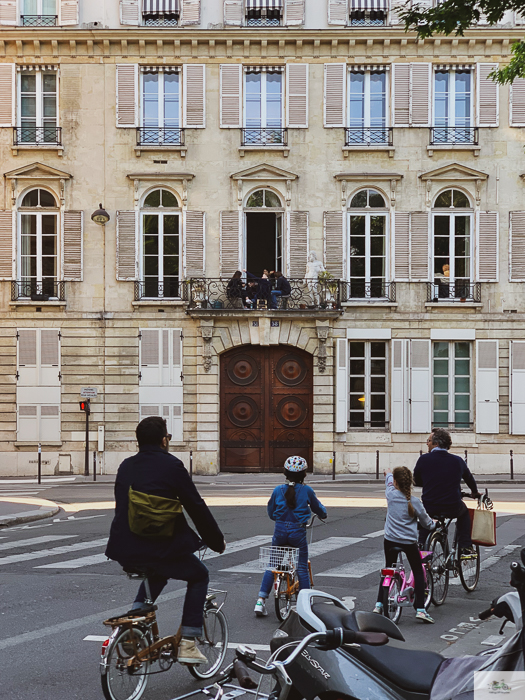 So voilà, there is my 2020 biking experience. I hope you too have found an activity that has given you a bit of joy and fresh air this year.
All images are © Julia Willard and may not be used without express written permission. Click any image in this series to be taken to my photography shop. Don't see the one you want? Just email me!