You all know I love a good little excursion outside of Paris. I love this city, but sometimes it's really suffocating. This year is different in many ways, the biggest and most obvious being that travel has been greatly restricted and as a result, Paris has been about half-full compared to past years (if that). As I've mentioned before, Paris in summer once the locals start going on vacation is one of the best times to be in the city. And if you can make it in August (not usually the hottest month of the year like in many places), then you'll really find yourself in an emptier, more pleasant Paris. This year, not only have many Parisians already left for vacation, there are very few foreign tourists at this point.
So what is the result of all this cut in tourism? Proprietors of hotels, b&bs, and other accommodations have had to get creative as they can no longer can wait for the government or anyone else to bring them clients or give them indefinite aide. Now is the time to make their places known so that they are at the top of people's to-visit list when they can come back to France.
You may remember that last year I had a lovely couple of days in the Yvelines region just outside Paris. We cycled and did activities that exposed us to the unique offerings of the area. Not long after we were "released" from lockdown here in France in May, I was invited again this time to explore a new project by Catherine of La Grange de la Guesle, that was designed to expose visitors to multiple departments of the Île-de-France region. The 3 Vallées de Trèfles (a reference to a three-leaf clover and the union of three beautiful valleys) offers a four-day, three-night bike trip with planned activities and accommodations. The trip includes all the most authentic food, dining experiences, and other activities found in each new area you ride to.
In this post, I'll be taking you through the trip piece by piece, but feel free to jump around and enjoy the photos, as they will surely be what convince you to book this excursion that takes you for a truly authentic French countryside experience à vélo! 🚲
Another blogger and I accompanied by an intern of the project covered the four-day plan over only three days beginning in the city Étampes, about an hour outside Paris. We were welcomed by a group of people representing the various groups we'd be working with and places we'd be visiting over the next three days. We would be on our way after a small tour around the city. During the brief tour, it was immediately evident that the area had an important role in French history. It seems every monarch had his own favorite country destination for a getaway (many had multiple!), so these retreats, dungeons, and all kinds of other fascinating royal landmarks can be found all over France.
I was eager to get going to see some nature after so many months stuck in Paris and take in the beautiful local scenery. The representative from France à Vélo, who provides the bikes for this excursion, informed us just before we headed out that our ride would take us six hours, "mais tranquillement" (at a comfortable pace). Our initial route around Étampes was by no means mountainous but far hillier than I had anticipated. With a 65km (40 mile) first day, it was a long one. Each day you ride to your accommodation for that night, so you know a shower, a meal, and a comfy bed await you. But you don't need all that for motivation; the routes are varied, colorful, and peaceful. Over just three days, we saw so much of what makes France one of the most visited countries in the world.
Let's get going…
Étampes
The route of the Vallée des Trois Trèfles begins in the city of Étampes, which is situated halfway between Paris and Orléans. While not a very well-known city, it has had an important role for the kings of France. The tourism office provided us with lots of interesting information about the city and we even had a few minutes to wander around one of its most famous landmarks, la Tour de Guinette, which has a very disturbing history for all lovers of medieval history. This monument – really nothing more than a simple round tower – served as the place of exile for Philippe Auguste's bride in 1201. He married her one day and the next imprisoned her there for the next 12 years. It's still not clear why. And it's not clear to me how she could survive such a punishment.
As you can see, the city has many beautiful parts to it, including a charming creek running through where we had fun photographing our bikes. I would love to return there one day to explore in more depth.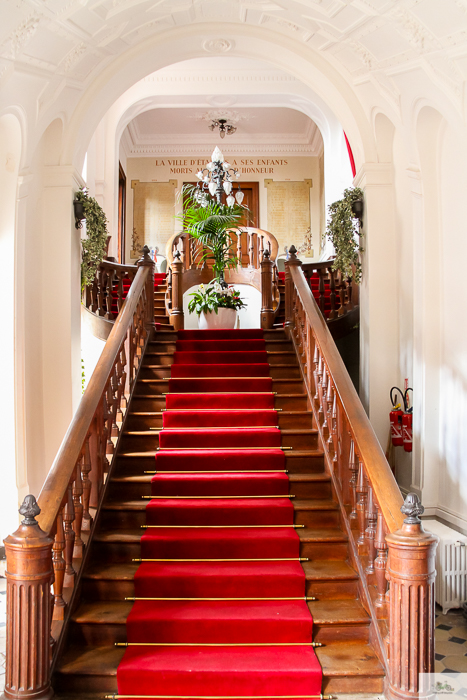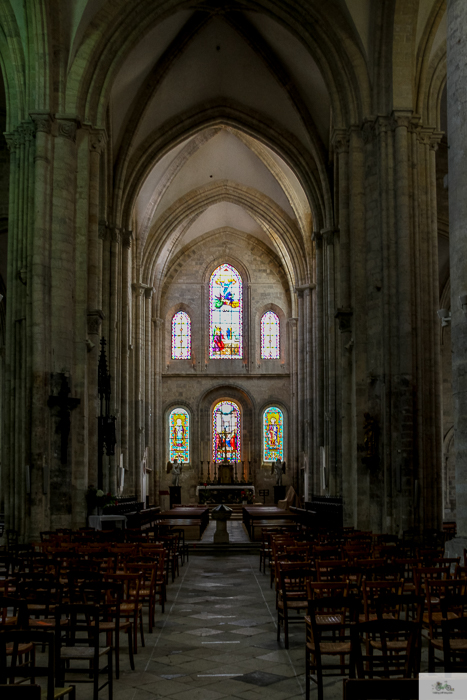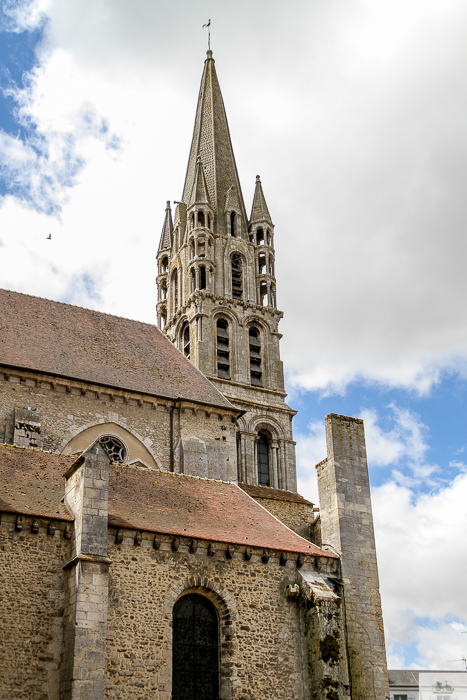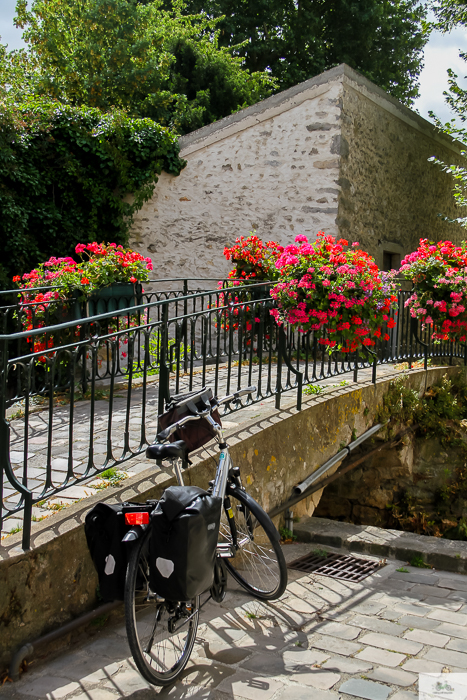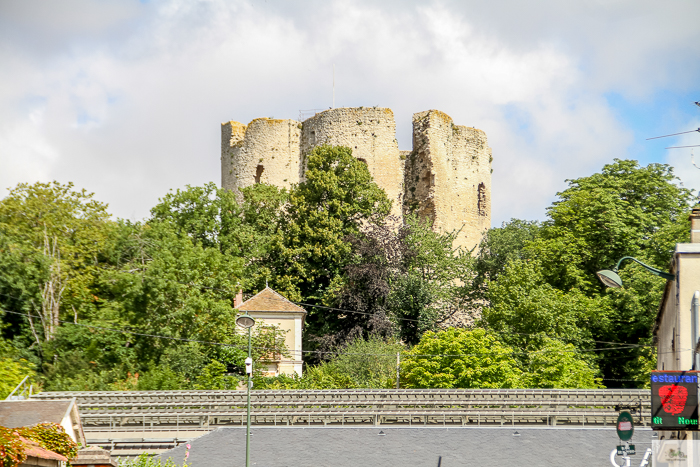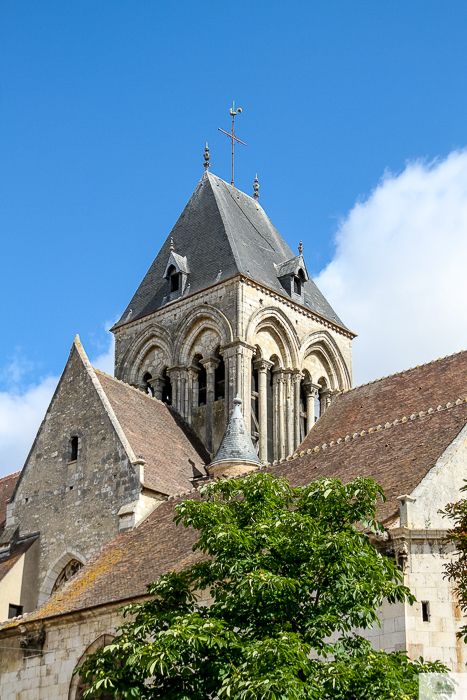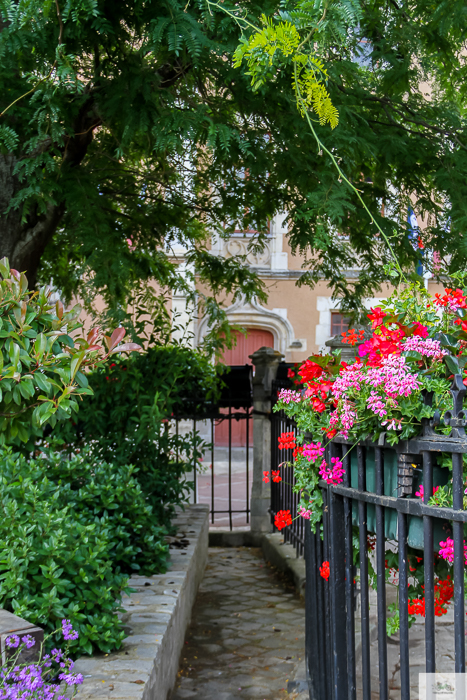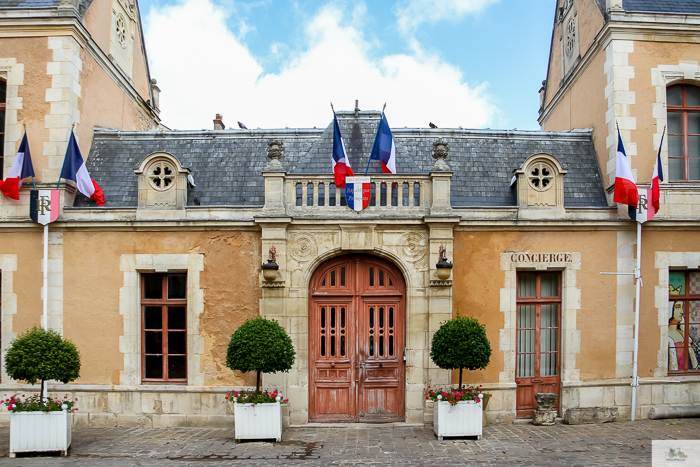 The route
As I said above, the route of the Trois Vallées des Trèfles is a path adjoining three valleys in three departments (smaller parcels of France's 13 regions). The proposed routes are anywhere from two to five days with visits along the way and lovely pre-selected accommodations.
Our route (not direct) designed by France à Vélo, provider of the bikes:
Étampes to La Grange de la Guesle (65 km/ 40 miles)
La Grange de la Guesle to Hanches (40 km/ 25 miles)
Hanches to Maintenon (12 km / 7 miles)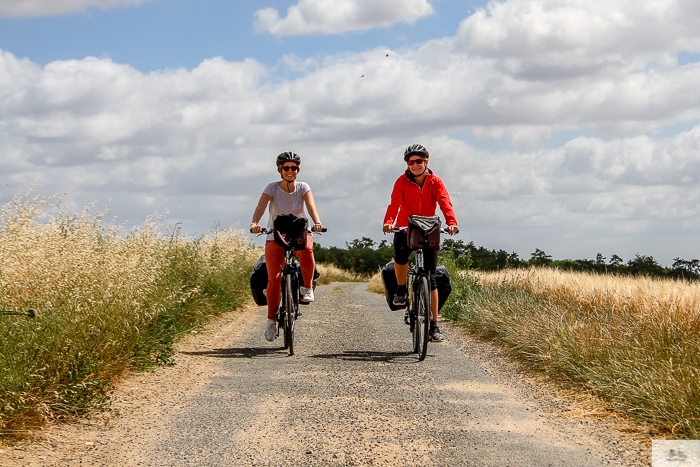 We started out on a beautiful day eager to see all the beauty of the French countryside. Of course our plan was to make many stops along the way for photos to share with our communities. The route from Étampes to our chambres d'hôtes was long, windy, and at times a bit treacherous. Nothing we couldn't handle but it made for a tiring but fulfilling day. I think it's often comforting to see a stretch of flat land in front of you when you're cycling a long way, but when there are no trees around to block the wind, it's crazy how much resistance you can face while pedaling! The Île-de-France region has been quite windy this summer, and we felt every bit of it when we were pedaling through those wide open spaces. It was scenes like this sunflower field that kept me motivated to keep going. Having driven many times through the French countryside, I have come to know that there is always something beautiful just a bit down the road: a field of flowers, a magnificent church in the distance, a fleeting view of a grand château… This is not a country where I'd encourage one look at his phone during a road trip; there's far too much to swoon at!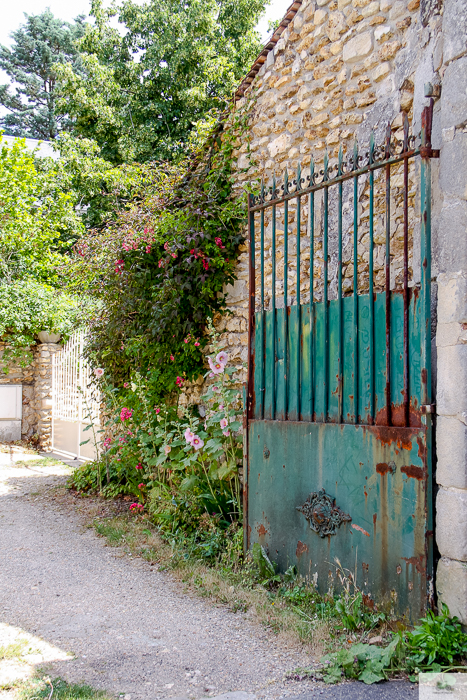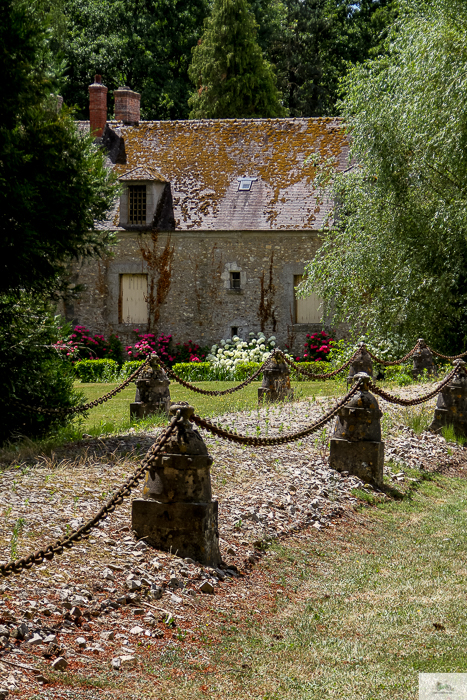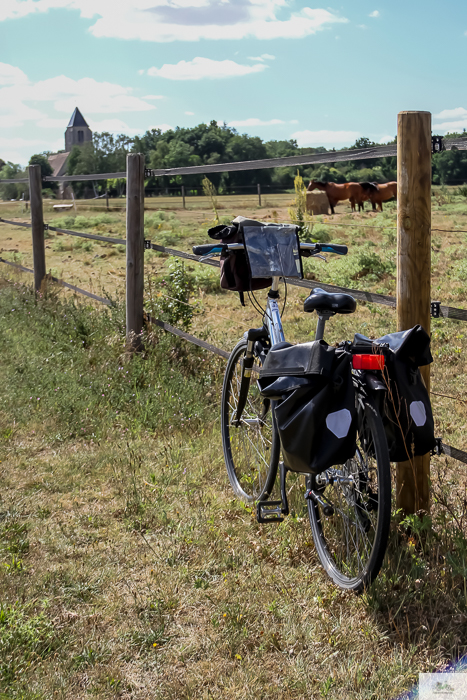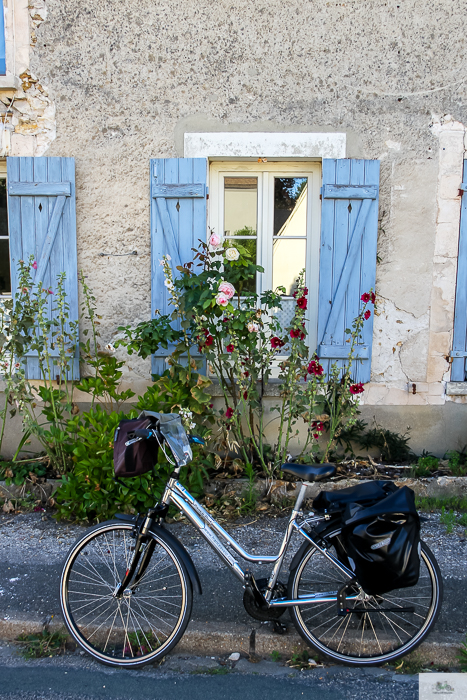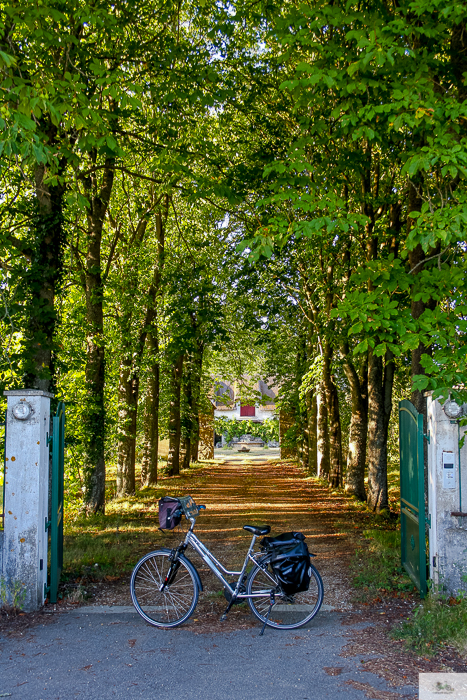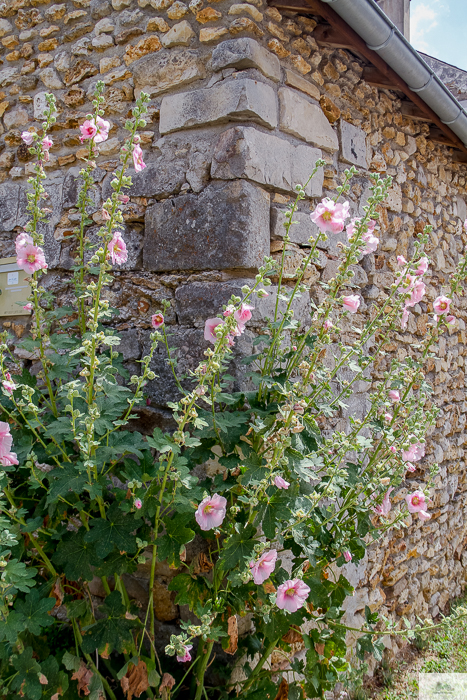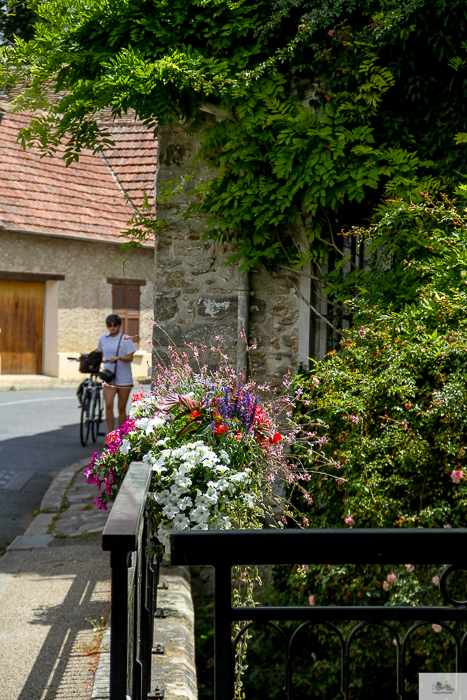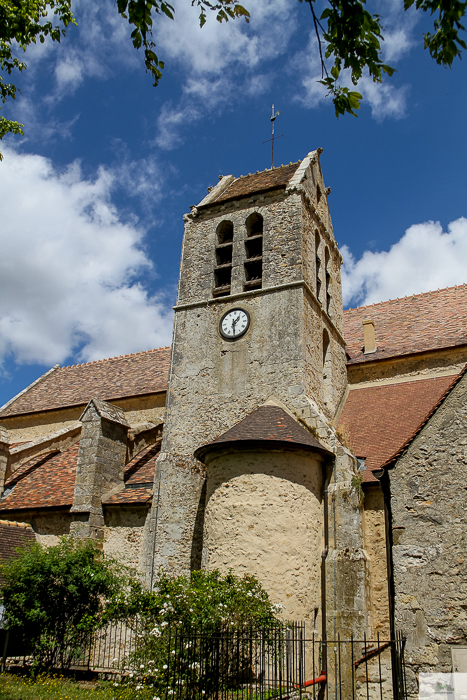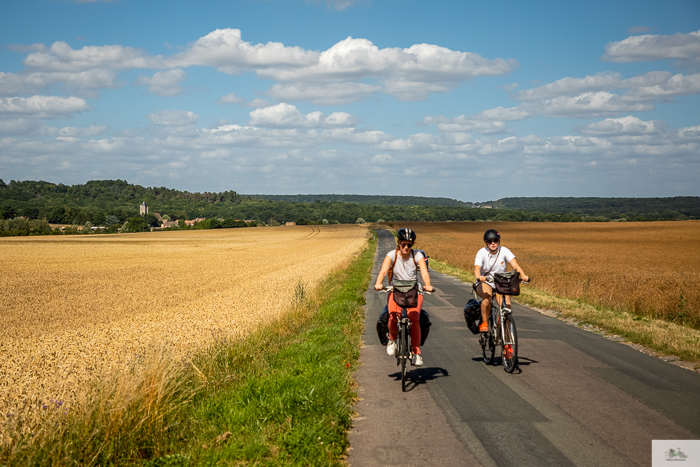 It was a long first day, but when we were about 10 minutes away from our accommodation, we decided to have a little fun and have a rest in the wheat field and thank our bodies for us making it all the way.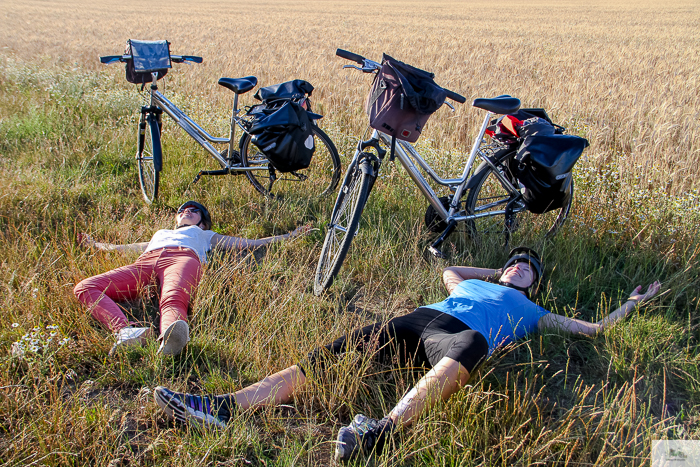 La Grange de la Guesle
We arrived at La Grange de la Guesle late the first night, around 9pm. It had been a long day, so we were excited to sit down with our hosts for a warm meal and a chat. Catherine and Michel are delightful hosts, as is their labrador. I am always so grateful for the effort made in serving me vegetarian dishes when I dine at people's homes, and Michel had prepared something delicious for me: rice, veggies, and a veggie patty that was just what I needed after a long day riding. We discussed all our experiences of this crazy year so far and wondered how it will all play out. All of our businesses are in the travel industry, so we've all had major changes to our businesses this year.
Catherine is resilient and ever-so-welcoming. I really enjoyed staying with her last year – the breakfast is to die for! – so even with a full belly I was looking forward to breakfast. I only wish I had had time to visit the sauna before we set on our way the next morning.
Épernon
Our first visit of day 2 was  had a very interesting visit with Eric in Épernon. The city is set on a hill and has a high perch from which to enjoy some other parts of the city. We discovered Éperonon also has an interesting history that we could link back to the stories we heard from Sylvain in Étampes. Lovers of history, especially medieval history will see how much this region has ties with the kings of France. Our visit was short but informative, complete with stories of public hangings are why the location of the city is perfect for protection from the enemy. I would definitely recommend a guided tour of Épernon, if available when you visit.
After our tour, we made a quick stop to see the city hall, hôtel de ville, then we were off to our next location for lunch. We hopped back on our bikes off we were toward Le Hameau 28.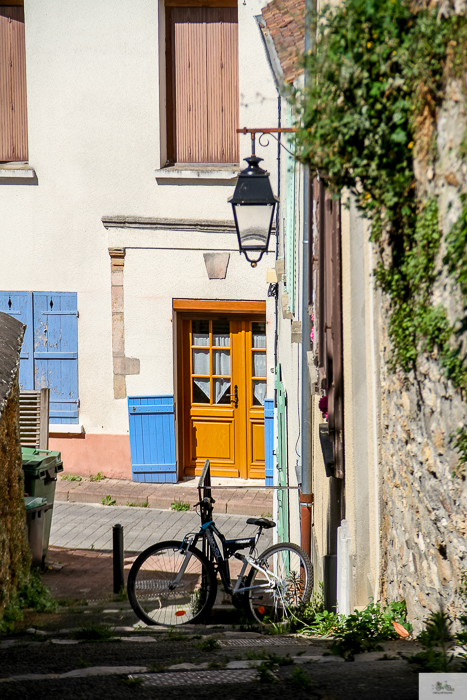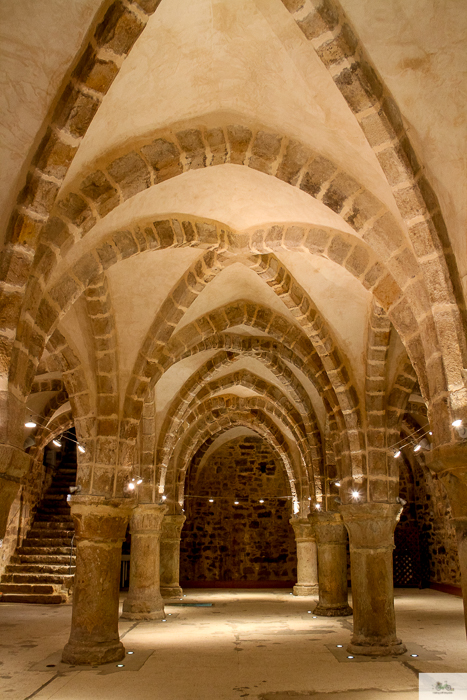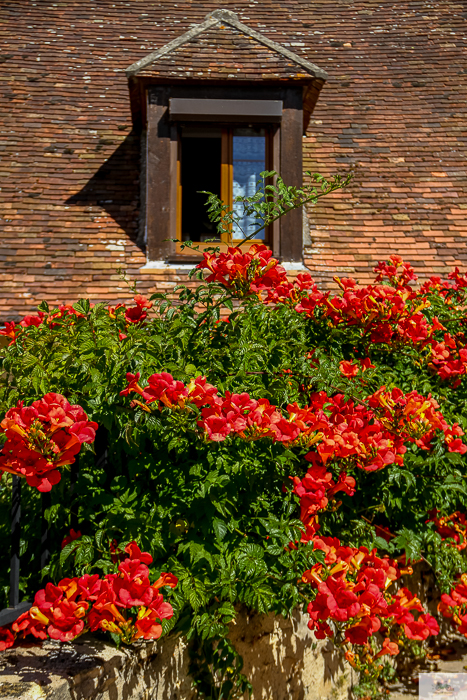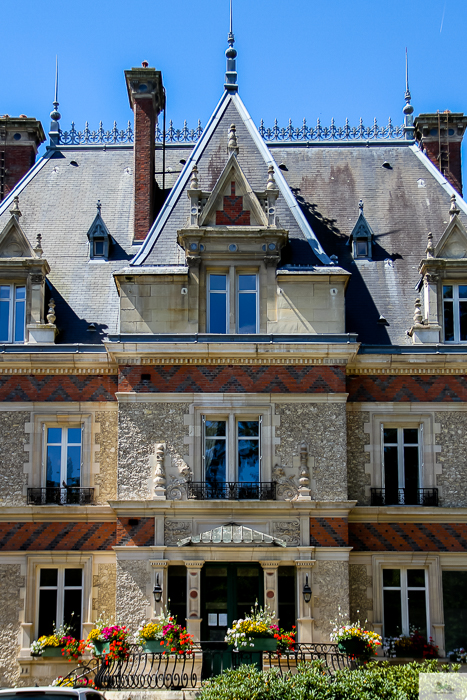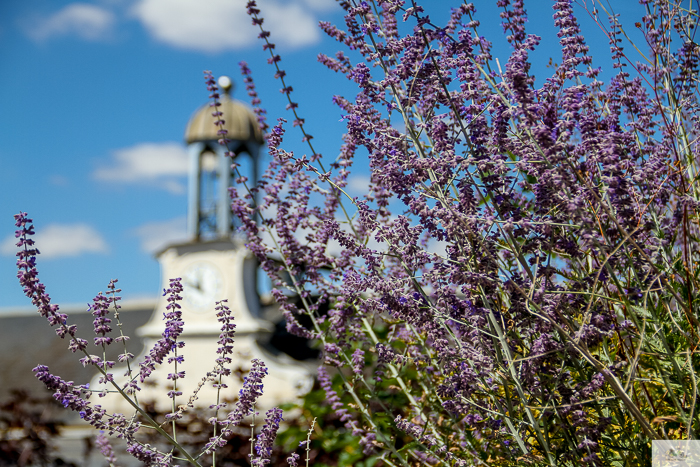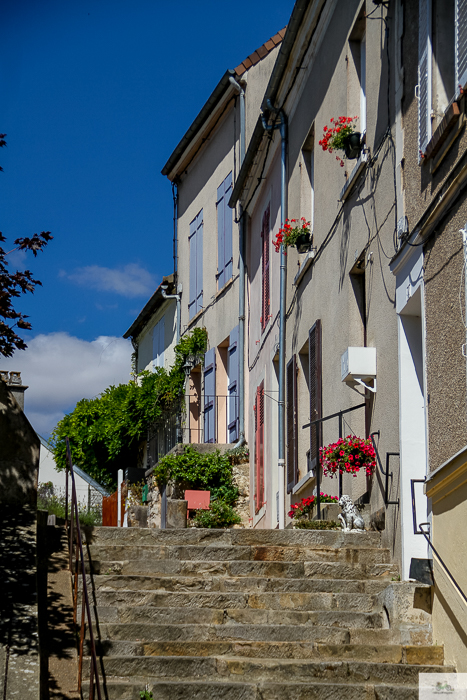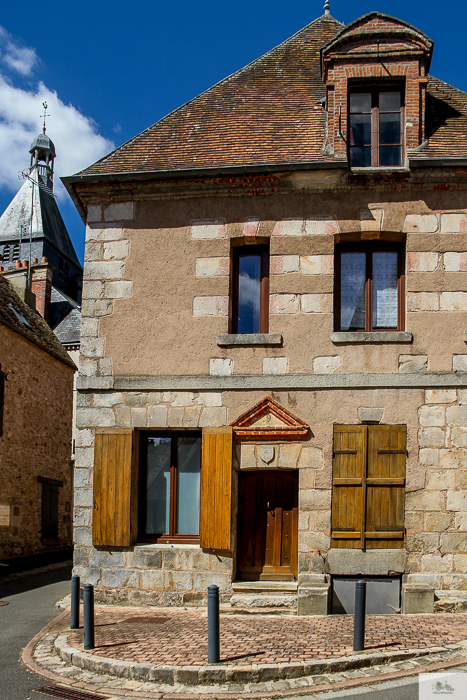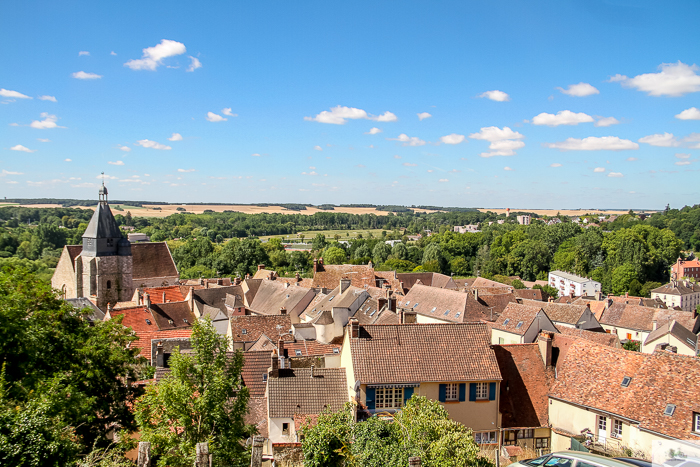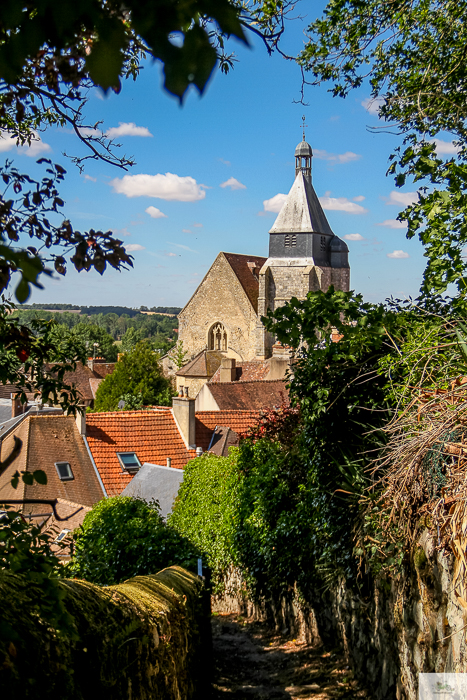 Le Hameau 28
Our next stop was at one of the proposed accommodations along the route of the Vallée des 3 Trèfles route, however because of our abbreviated schedule we were only able to have lunch at the Hameau 28. Christophe, the host, welcomes his guests to the most idyllic French country property you can imagine. It's so French, so welcoming, and really quite picture perfect out in the garden area. We had a brief tour of the property and soon were seated happily for a lunch under the shade of three gorgeous Catalpa trees. I know this idealistic image Americans have of life in the French countryside, and our time at Christophe's completely encapsulated that. It was a beautiful day, the property was stunning but unpretentious, the hosts were positively delightful company, and we ate comfortably at a long table in the grass. Our lunch was also part of that imagery many of us have of French country life where ingredients had been picked straight from the garden earlier in the day and the hosts just happened to have the perfect dishes to display the harvest. Our dessert consisted of big bowls of fresh seasonal fruit and of course the bread had come from the local boulangerie.
As we sat chatting about the history of the area, with at least one French history scholar among us, the question came up of how many kings had France had in its history. At a table full of French people, I'm proud to say it was the American who answered the closest. I can't claim that it came from a deep knowledge of the French monarchy, but it felt like a little badge of honor. Read to the bottom of the article to see how many French kings there were. 👑
La Bergerie Nationale
Our post-lunch excursion was one we had missed on the previous day and was a visit to the farm of a nearby château, called La Bergerie Nationale. The farm/ petting zoo, was developed by Louis XVI and eventually served as a presidential residence, as it is just 50 km outside of Paris. As you can tell we were still not that far from Paris, even after about 80 km of cycling, but when you're in these vast expanses of land with farms and châteaux it's easy to feel a world away from the big city. The Bergerie now serves as an agricultural hub where people can come learn about French agricultural history and many aspects of farming for all ages.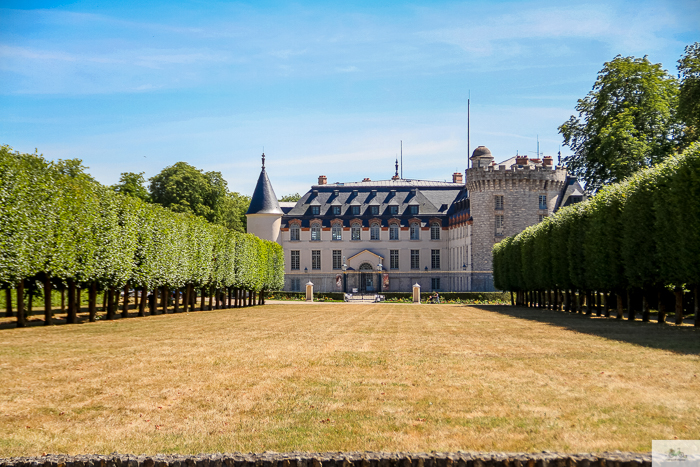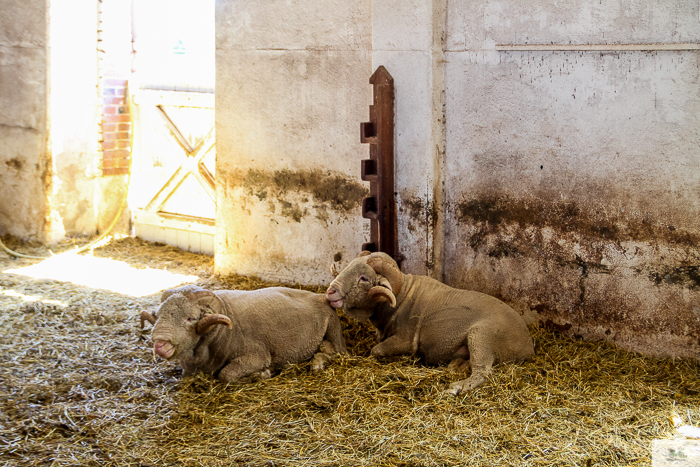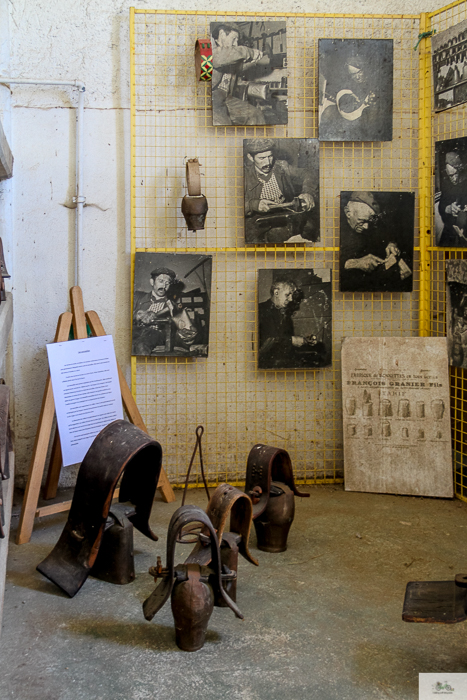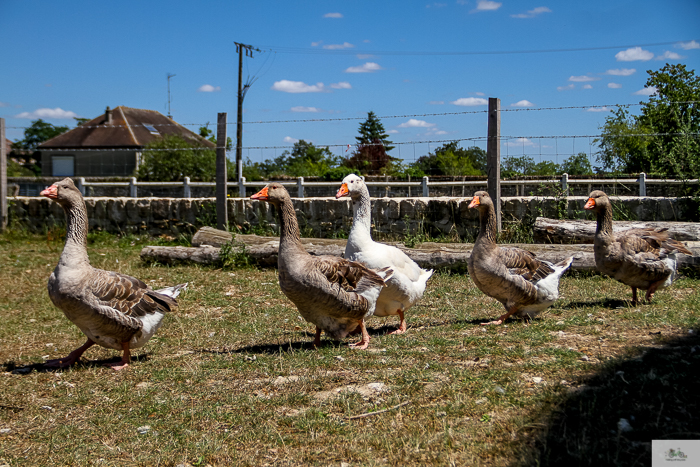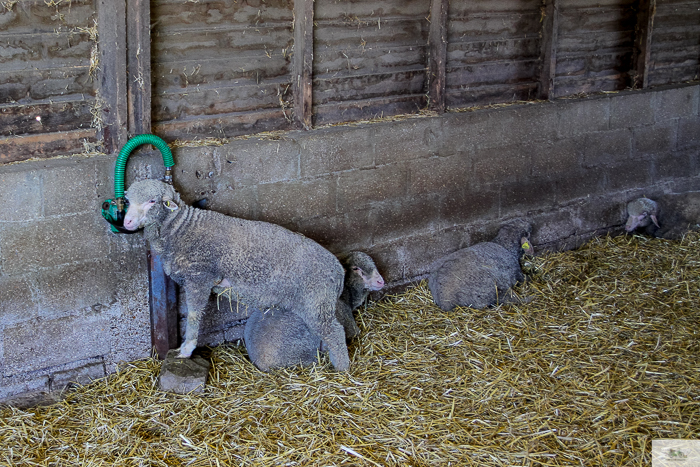 Les Hanches and Le Colombier de Hanches
Our final stop of the day was our accommodation in the shadow of a beautiful church in Les Hanches, called Le Colombier de Hanches. When we arrived at Le Colombier, we were greeted by a long beautiful (and very welcoming) row of pink pillowy hydrangeas. One of my favorite things about summer in northern and western France is allll the hydrangeas (hortensias in French). They grow seemingly effortlessly and are so stunning in so many different colors. Once you make it past the pink beauties there's a colombier (dove house) that catches the eye, as well as a beautiful garden, a wide open lawn, and a very inviting swimming pool.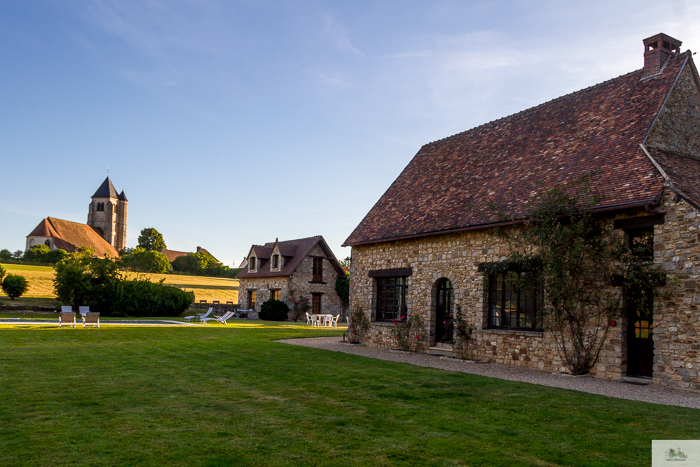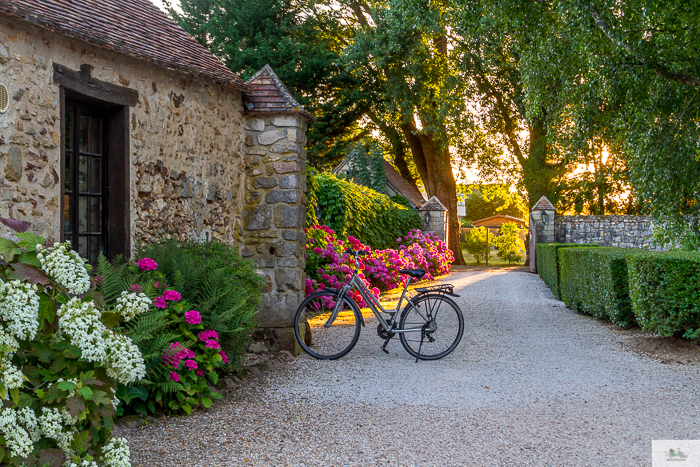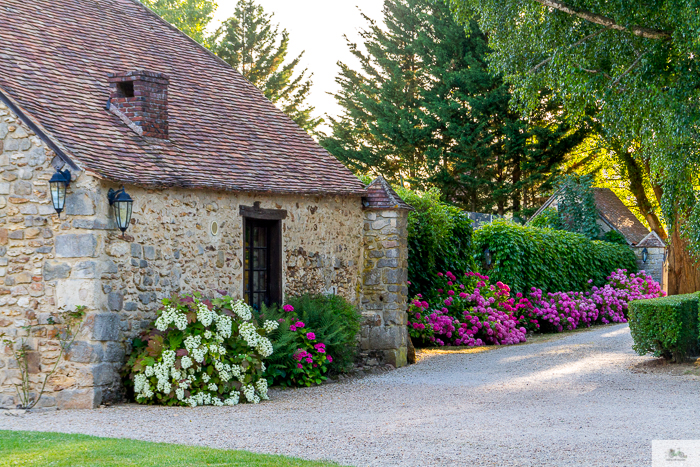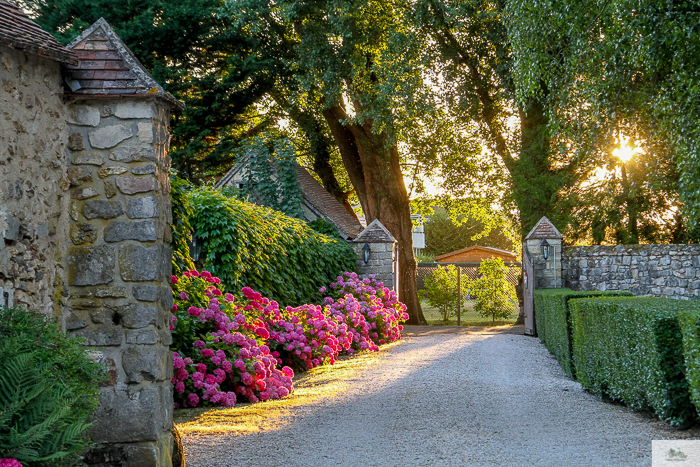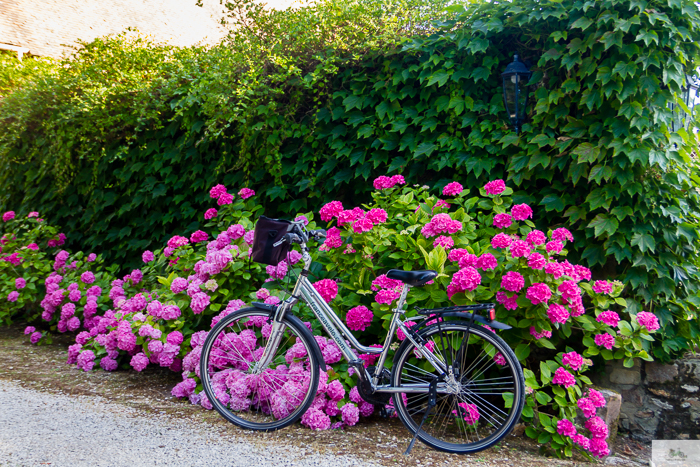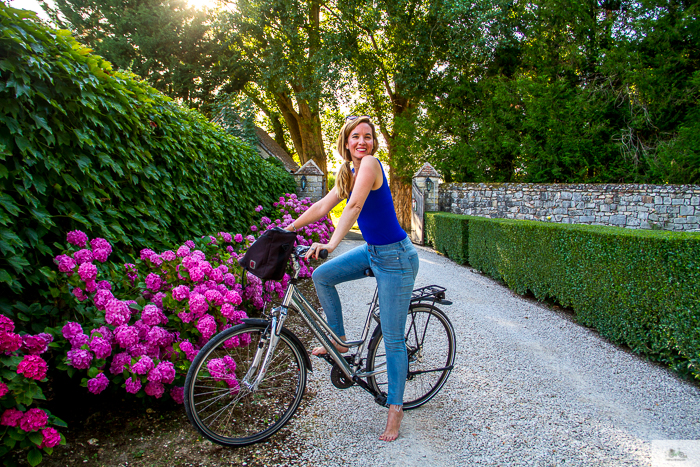 My room was ever so lovely, with a beautiful view through the window up the hill toward the church and a bathroom that was bright and spacious.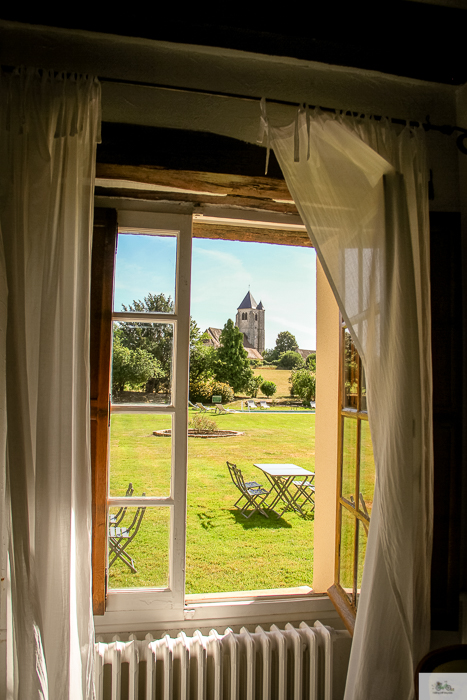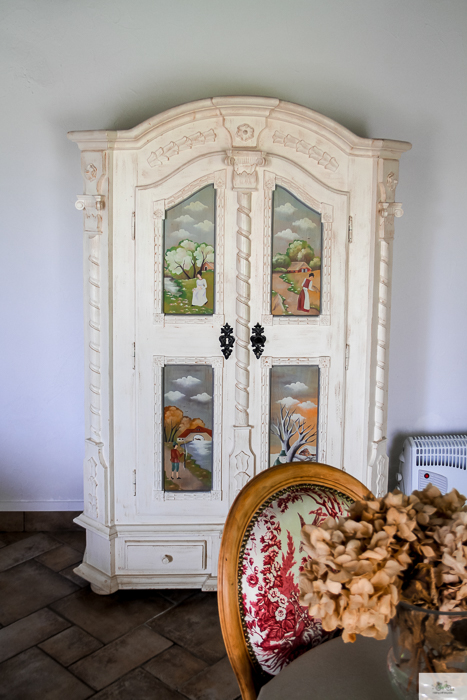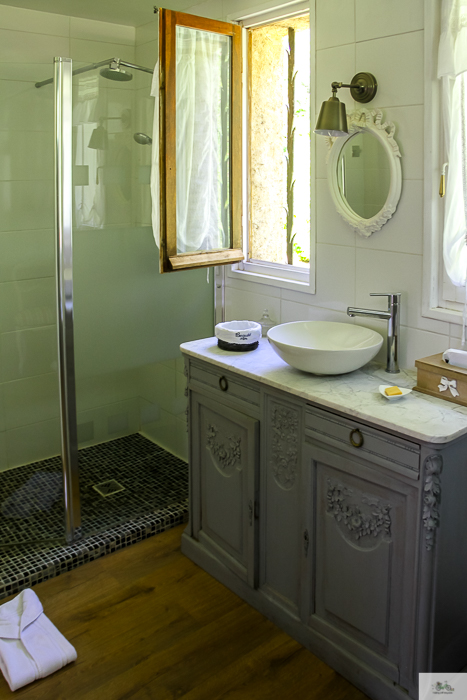 After settling in to our charming rooms, Clara and I spent the rest of the afternoon hanging out at the pool and enjoying the view. In the midst of a long cycling route, it was really nice to have access to a pool in such a tranquil setting. As you can see from the photos, the view from the property is positively enchanting seated there between the Saint Germain church on the hill and the perfectly manicured lawn that is enclosed by the charming buildings that make up the lodgings. The water was a bit cold for a full swim (I couldn't get myself to go under), but I really enjoyed just sitting there and relaxing in nature for the first time in months.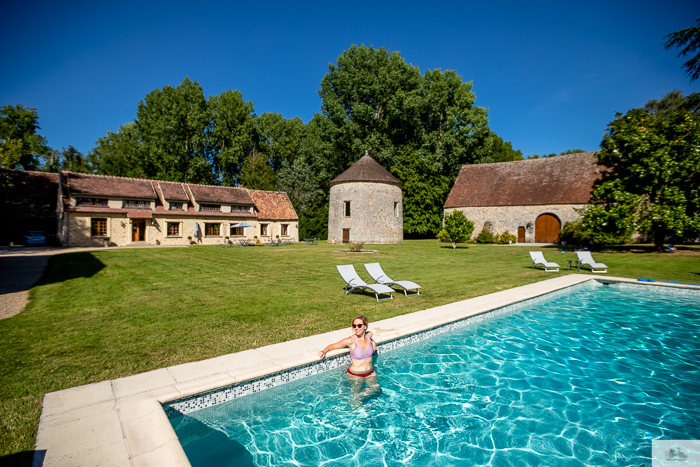 As the sun got lower, we started noticing beautiful moments across the property so naturally had to go get a few photos before we sat down to dinner. Magali, the proprietor, makes much of the breakfast and dinner offerings herself. Both breakfast and dinner are included with the accommodation, and she is truly a master at managing it all! On the spot, she created a beautiful salad with homemade tapenade and other tasty spreads for me, while Clara ordered the magret de canard. The ambiance of eating on the lawn with the other guests around was so pleasant. I really enjoyed the experience of eating on the lawn as the sun got lower and lower. In cooler months or in the case of inclement weather, there's a dining room inside big enough to fit all the guests.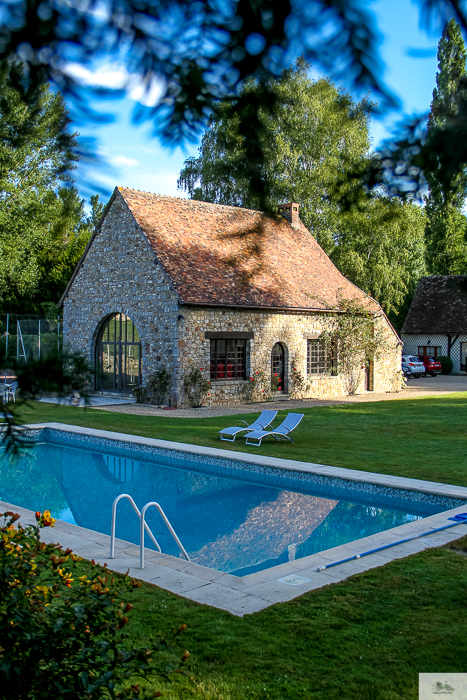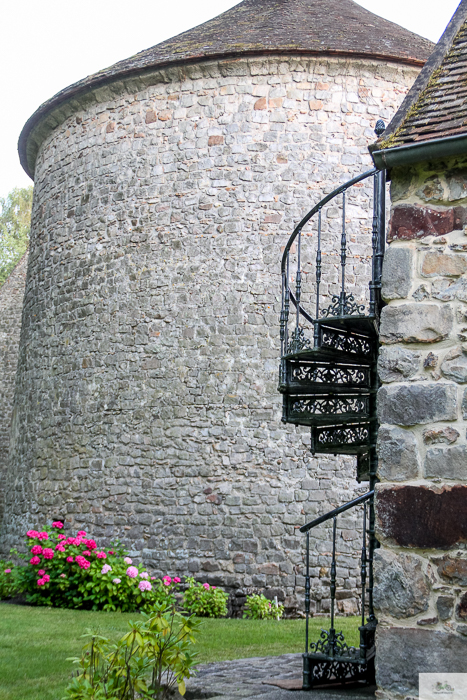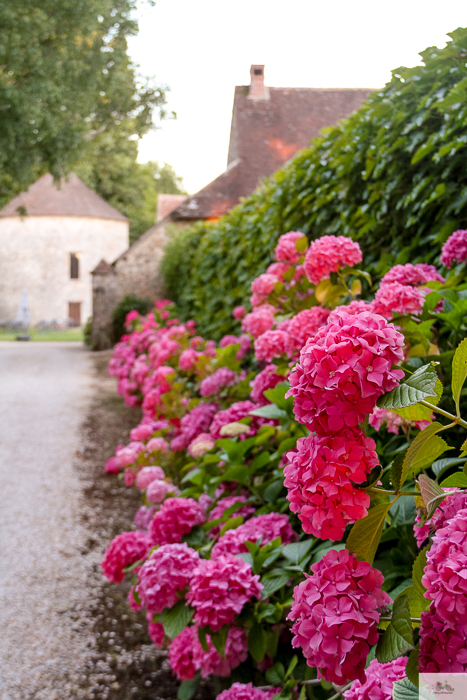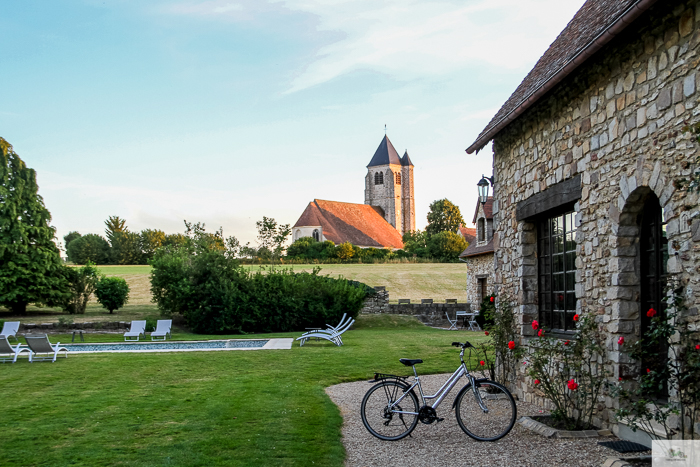 Our final stop of the trip was to be the next morning at the beautiful Château de Maintenon. We left a bit early to be sure to have enough time to see whatever there was to see along the way, and boy, were we right to do so. Just look at what we found. As a girl from the Sunflower State, I felt right at home among the never-ending field of flowers. We took so many photos here!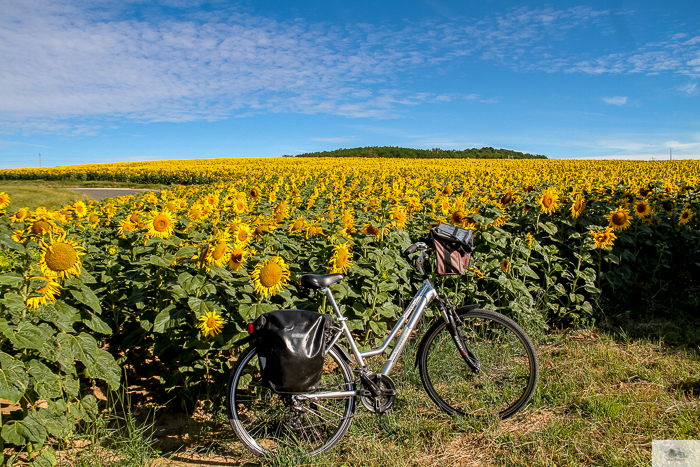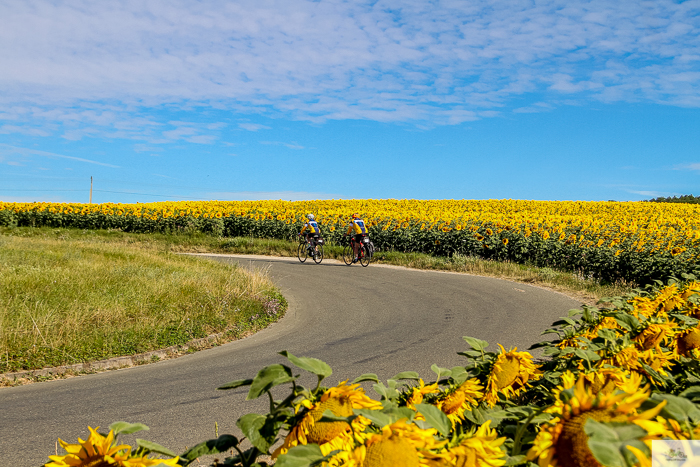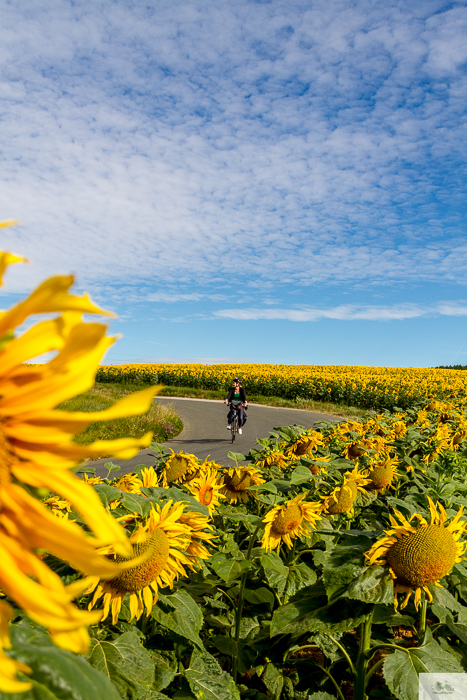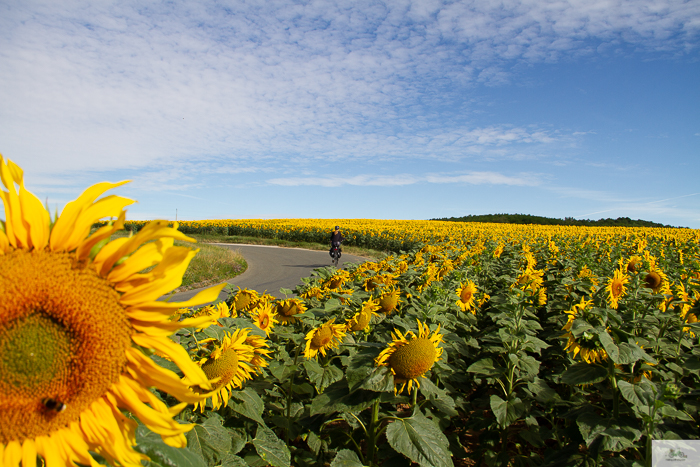 Château de Maintenon
We made it with plenty of time to the Château and were soon met by our guide as well as, surprisingly, the mayor of Maintenon. Both were very pleased at the prospect of two bloggers showing off this gorgeous château to our audiences, and I was eager to tour and photograph the grounds of this stunning château.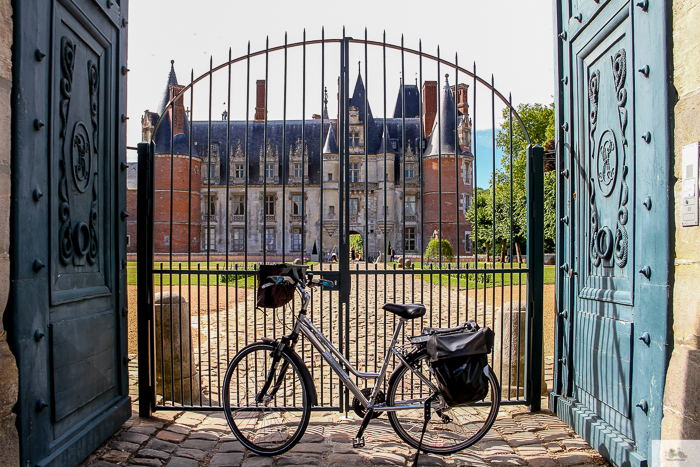 The castle is the former residence of Madame de Maintenon, the second wife of Louis XIV. While construction began all the way back in the 13th Century, it did not reach completion as we know it today until nearly five centuries later. If you look closely at the exterior (especially on the garden side), you can easily see the different styles that were added on over the centuries. Notice, for instance, the brick, which is rare to see on a French castle.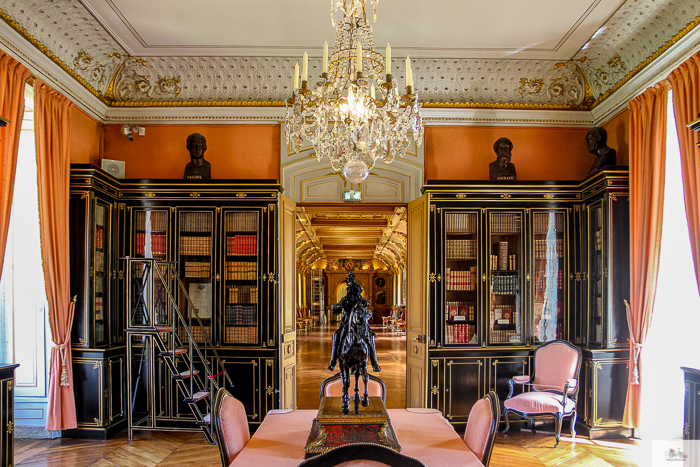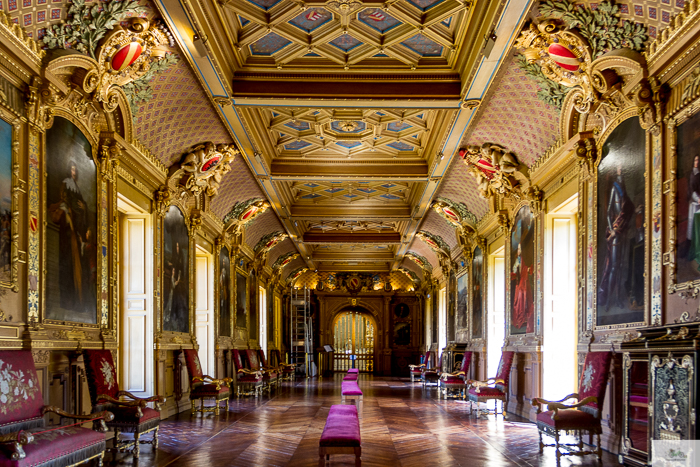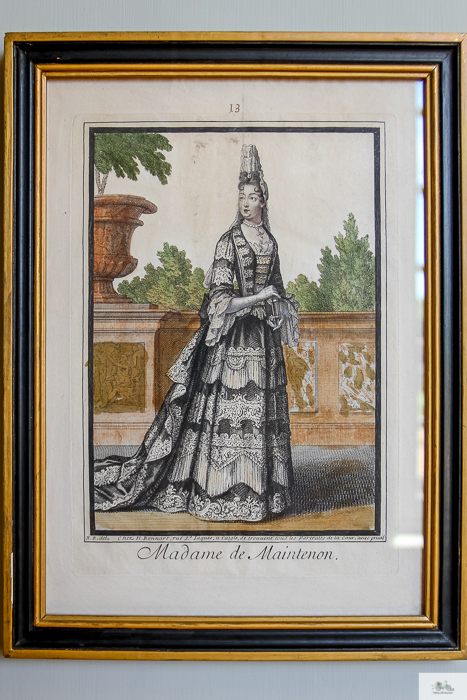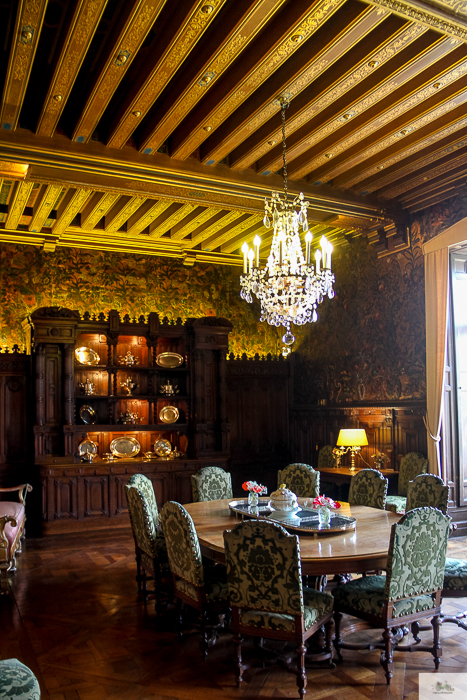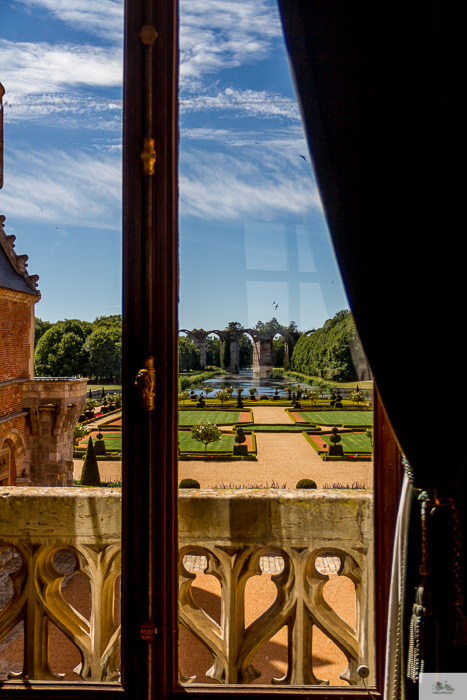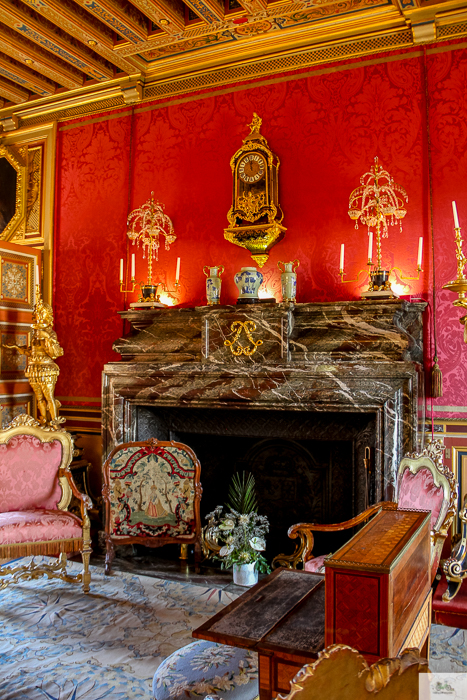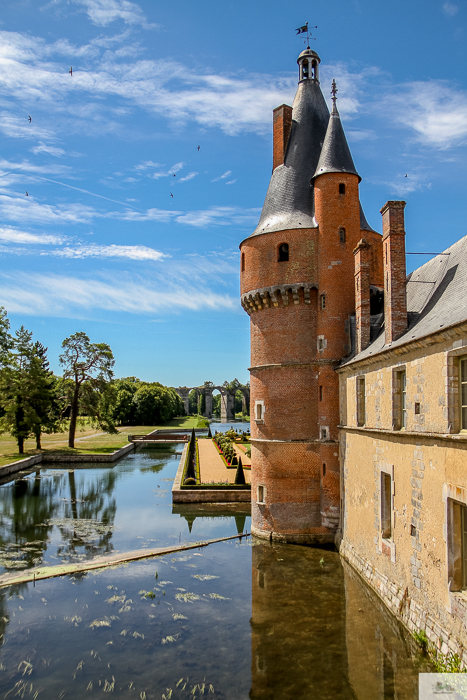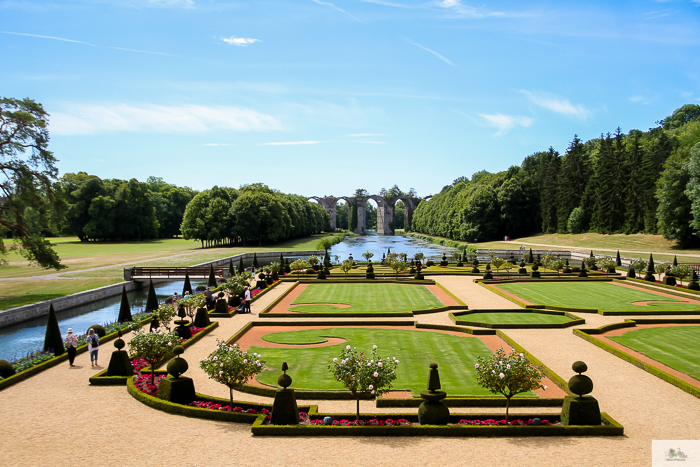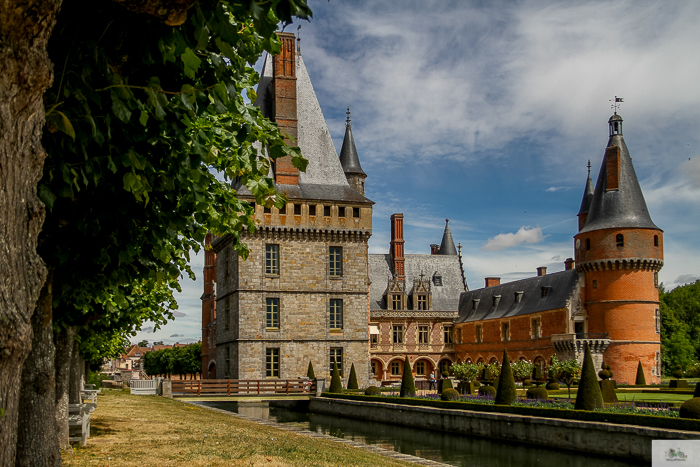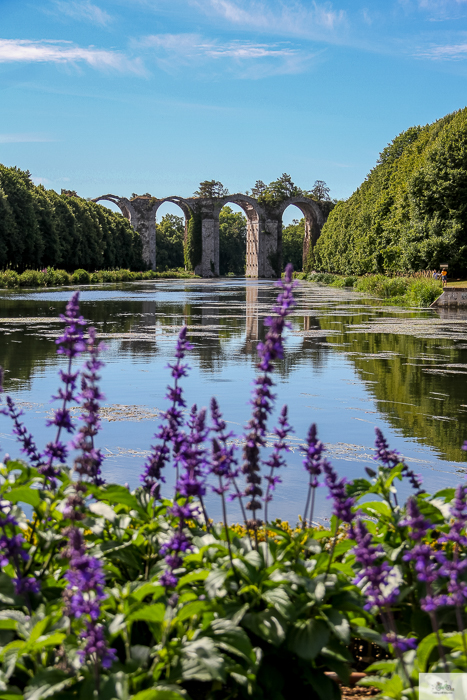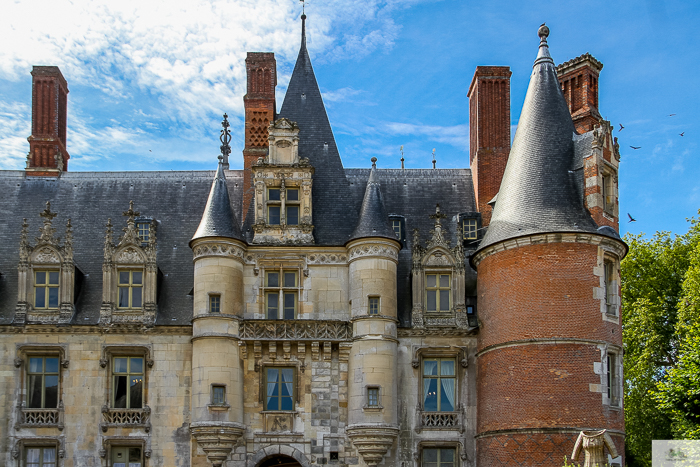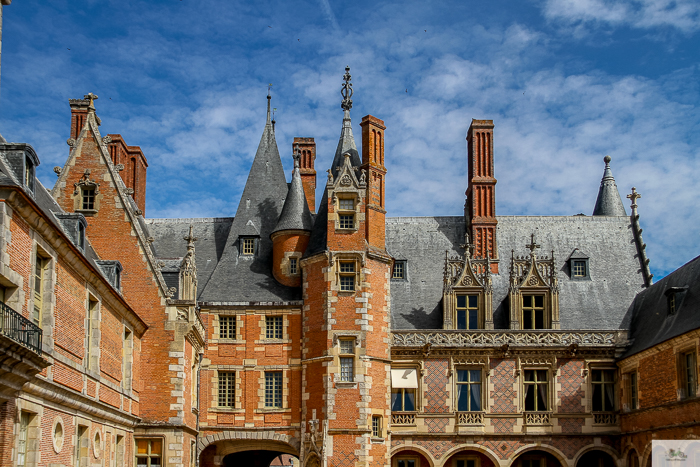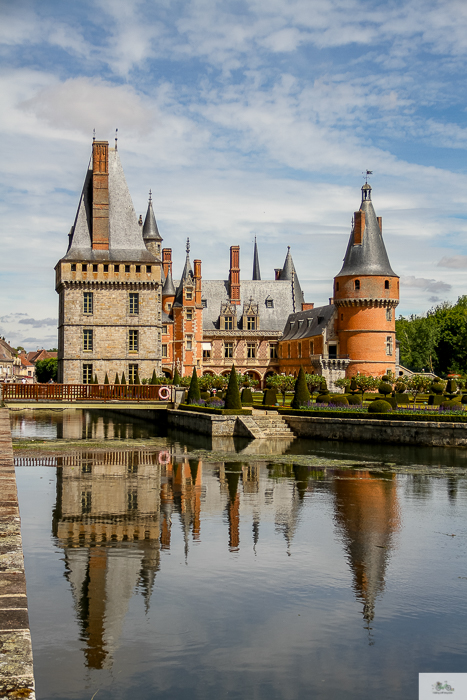 The vast garden on the back side of the château was designed by none other than André Le Nôtre, designer of many other well-loved French gardens including Versailles and Vaux le Vicomte, and also those in the Parc de Saint Cloud and at the Château de Fontainebleau. If you walk beyond the gardens beneath the towering trees you'll reach an aqueduct, which covers a body of water that leads to Chartres. The aqueduct has its own fascinating history. It was constructed in the late 1600s to supply water to the gardens of the Château de Versailles. It really is quite an extraordinary structure.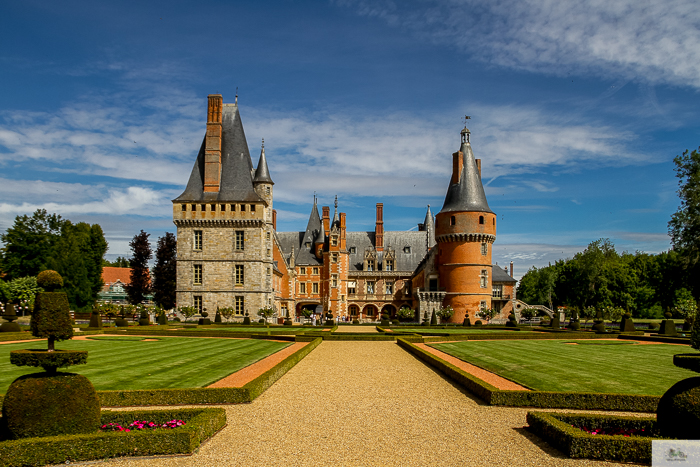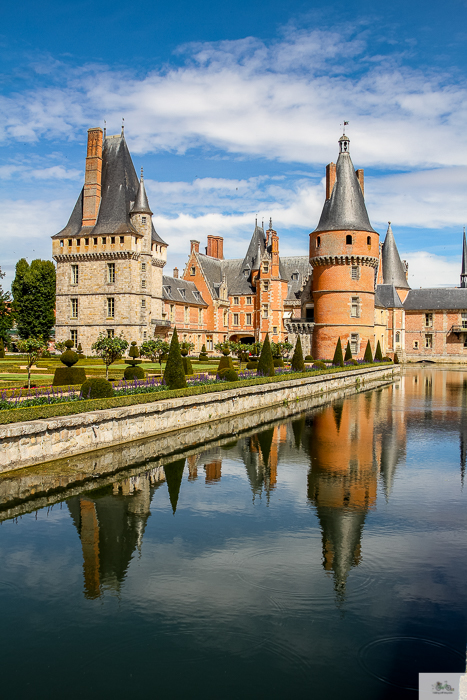 Et si les « influenceurs » sauvaient la saison 2020 ? Avec Thomas Laforge, nous avons accueilli ces nouveaux acteurs du « tourisme numérique ». Toutes ces initiatives permettent à Maintenon de reprendre des couleurs, pour être comme toujours le fleuron du tourisme eurélien ! pic.twitter.com/fSGIztzkKw

— Alexis Robin (@AlexisRobin_28) July 8, 2020
Once our detailed tour of the château and its grounds was completed we headed back to the Colombier to fetch our things, as it was time to head back to Paris. After nearly 115km (72 miles), we were ready for some rest and our own beds, but wow, what an adventure we had in just three days and all by bike!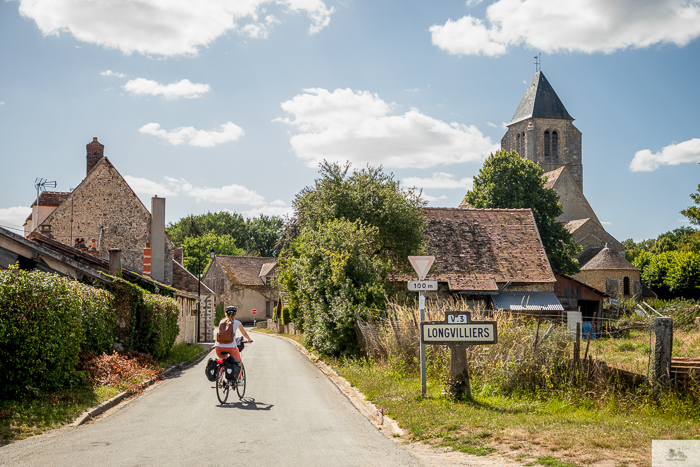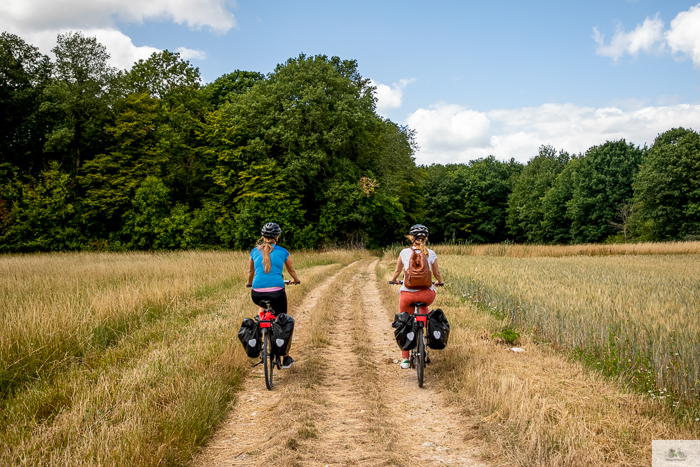 Do you read French? If so, be sure to check out Clara's blog, WildRoad. She's the queen of outdoor activities in France!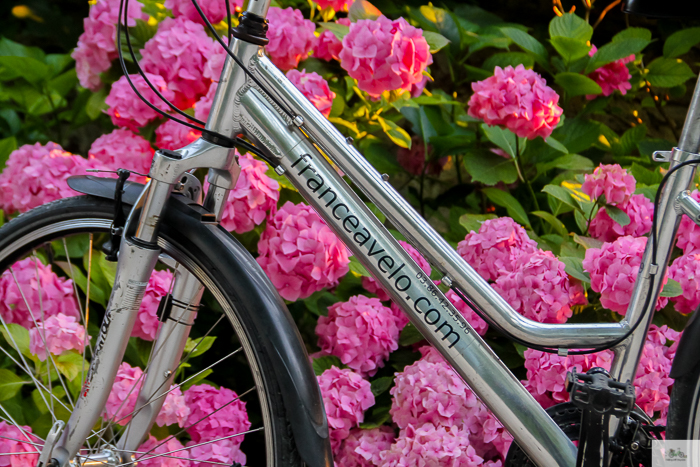 Book here directly with France à Vélo. Someone will be able to help you (in English).
👑 So… are you curious how many kings France has had? The answer is 62, according to Eric our guide in Épernon. However, I just tried to verify it online and I'm finding conflicting information with a count of 52. 🤨🧐 How many would you have guessed?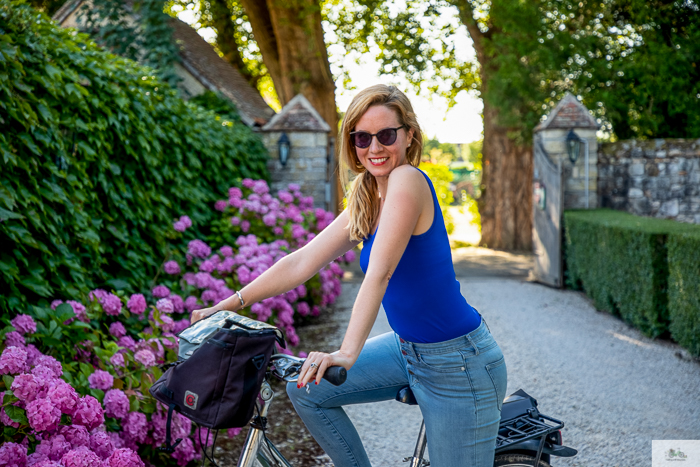 Thanks so much for coming along with me on this fun trip! I hope you enjoyed!
All images are © Julia Willard and may not be used without express written permission. Click any image in this series to be taken to my photography shop. Don't see the one you want? Just email me!