Today's subject is the lesser-known but ever-important Serres d'Auteuil. I can't recall how I came to have a flyer for a visit here, but I found it in my papers recently and decided to reserve myself a spot to learn about this garden I was completely unfamiliar with. Even though a friend of mine lives just up the street from the Serres, I had not even heard of the garden until getting this flyer. (Incidentally, I also had no idea there was a hippodrome nearby either! Where have I been?) So for the rest of you who also aren't familiar with the Serres d'Auteuil, a little background… The garden was created back in 1761, during the reign of Louis XV and is one of Paris's four botanical gardens, also including: Parc Floral de Paris, Jardin Botanique de la Ville de Paris (both in the Bois de Vincennes), and my personal favorite, the Parc de Bagatelle. The site features five primary greenhouses built in the late 19th Century, each housing different plants and flowers. They line the perimeter of the green space featured below.
Today these greenhouses along with those at the other Paris botanical gardens produce tens of thousands of plants per year for the interior decoration of the city's municipal buildings.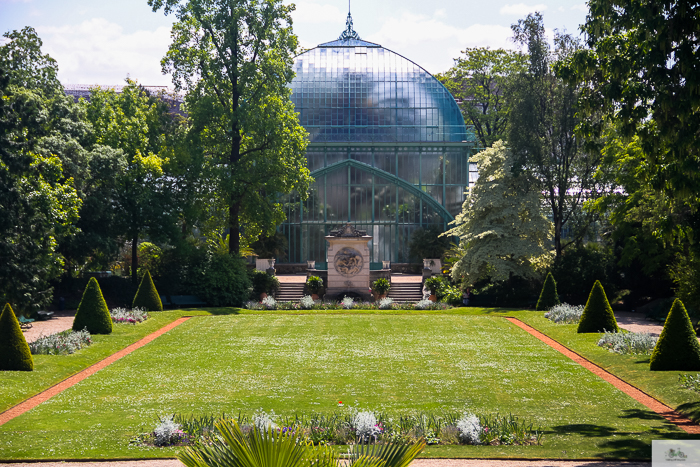 The garden is a delight for lovers of botanicals and all things horticulture. Today, the elegant garden is organized around a large French-style flowerbed. The different greenhouses house different types of flowers including palm trees, succulents, and tropical collections.
Guided tours are organized all year round by the Paris City Hall and the garden also plays host to an annual classical music festival. The guided tour was so lovely for the plant- and flower-lover in me, but also extremely informative from the angle of how important these botanical gardens are for the city of Paris. If you speak French, I highly recommend one of these tours.
At the first writing of this (in 2015), our guide informed us that part of the greenhouses and gardens were set to be destroyed to make way for renovations of the neighboring Roland Garros stadium. Naturally, we found this very upsetting, however according to the updated website: "Since June 2019, six new contemporary greenhouses have been set up around the new Simonne Mathieu court at the Roland Garros stadium."
Visite guidée des Serres d'Auteuil with Edwige Riallot
(en français – tours given in French)
Métro: Porte d'Auteuil
Looking for something to do in the area before or after your tour? Enjoy the Parc de Bagatelle, a wander through the Bois de Boulogne, visit the Roland Garros stadium if it's open, the Hippodrome d'Auteuil, or a nice stroll through the 16th. (Most tourists have never been to this part of Paris.)
Thanks for coming along! Hope this helps you have a deeper appreciation for all of Paris's beautiful gardens and rich plantings.
All images are © Julia Willard and may not be used without express written permission. Click any image in this series to be taken to my photography shop. Don't see the one you want? Just email me!