This post is the second part of my trip to Bourgogne. Read the preceding article here.
Auxerre
We had a meeting at the Auxerre tourism office just after lunch on Saturday, so we headed that direction next. As we approached Auxerre, we were both very surprised to come upon a city and not a village. As we drove into town we noticed three impressive churches (2 churches and 1 abbey, it turned out), which made for quite a striking scene against an overcast sky. Auxerre centre ville sits high on a hill, so we climbed the hill in the car, found a central parking spot and headed the meeting. After the director gave us the lay of the land, we took the two bikes the people from Maison du Vélo had left for us and headed out to explore the city by bike. In warmer months, biking along the water is a popular activity. The bike rental shop is not far from the water, and it has electric bikes should you want to do any more serious cycling or you just want to take it easy as you take in the beautiful views. With such earlier sunsets right now, we decided to head down the hill and ride along the water for a while before we risked getting stuck outside of town with no knowledge of our surroundings. The locals and visitors seemed happy, as I observed them wandering through the parks and along the water. We had a grand time cycling along, despite a chill in the air. For those more serious cyclists, there are loads of paths in the region to take you to other villages and through beautiful countryside.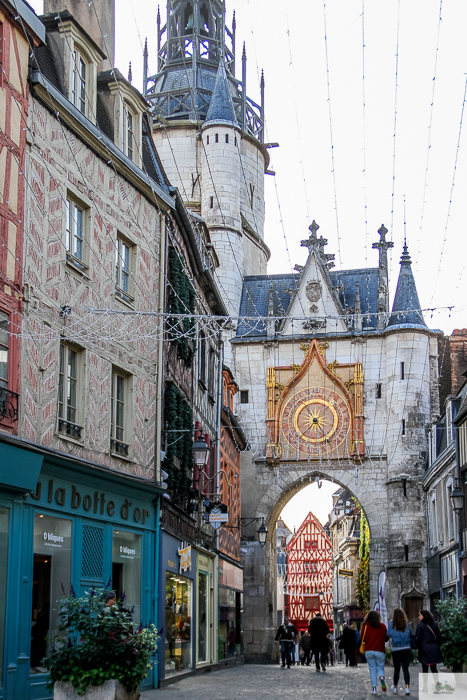 It was not a very sunny weekend, in fact, it was very overcast all morning, but as soon as we were ready to take that bike ride, the sky cleared and revealed a beautiful blue sky. We had gotten a tip for a great view of the city at la Passerelle de la Liberté. The scene was just breathtaking and the autumn sun felt so good, we lingered here for a while too to take it all in.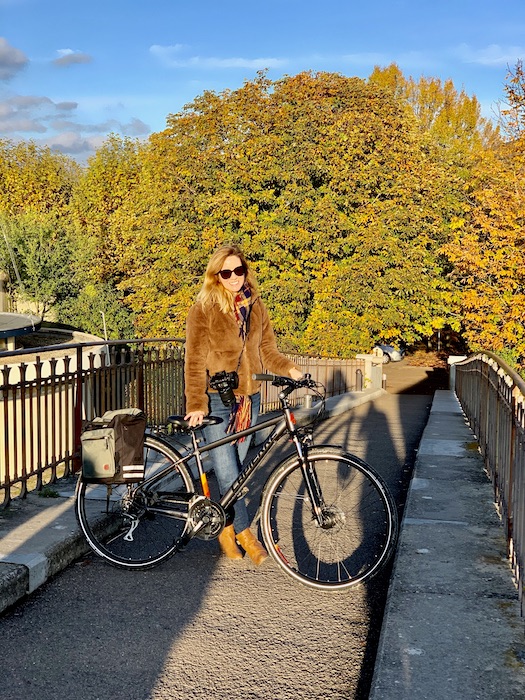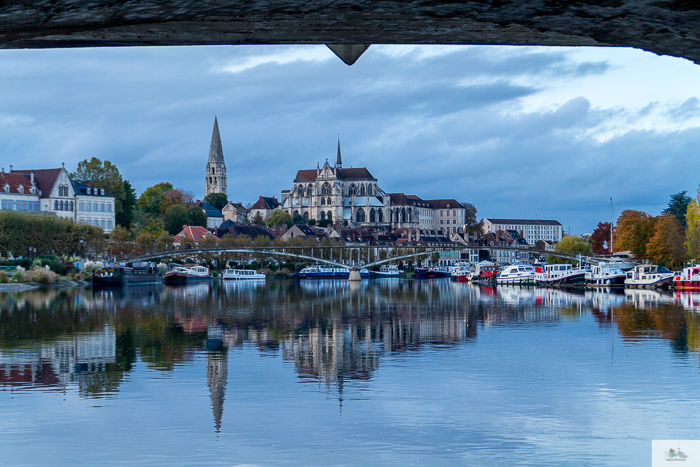 Between the time the sun went down and the time we were reserved for our dinner we headed to a gourmet épicerie at the recommendation of the tourism office called Pyneau Prunutz. We were the last clients of the day, and the owner Aymeric was nice enough to chat with us for a while about his shop, his delicious gougères, which he makes daily for the shop and for private events, and his stock of regional products. He had us taste a few different Chablis wines, as well as Ratafia, a liqueur that goes down very smooth. 😉 Anyone visiting Auxerre who needs local and regional products, this is the place to get them.
Owner Aymeric inside the shop
Tasting of pear Ratafia – so good!
Gougères and Chablis wine

Our evening meal had once again been booked for us and was to be at a Japanese fusion restaurant called l'Aspérule. We had mentioned to a few people during that day that we would be dining there and it seemed it was a hot ticket in town, as everyone said it would be an excellent meal. Indeed we were welcomed right on time and with warmth from the front of house staff. The restaurant itself is rather nondescript, but you could tell by the service and the dishes I saw passing by that there is a high level of care that goes into each dish that comes out of the kitchen.
We both had wraps as starters and I had a tofu main while my husband had a pork dish. Our dessert was a delicious plum flan. If you wish to eat here, you absolutely must book in advance, preferably several weeks out.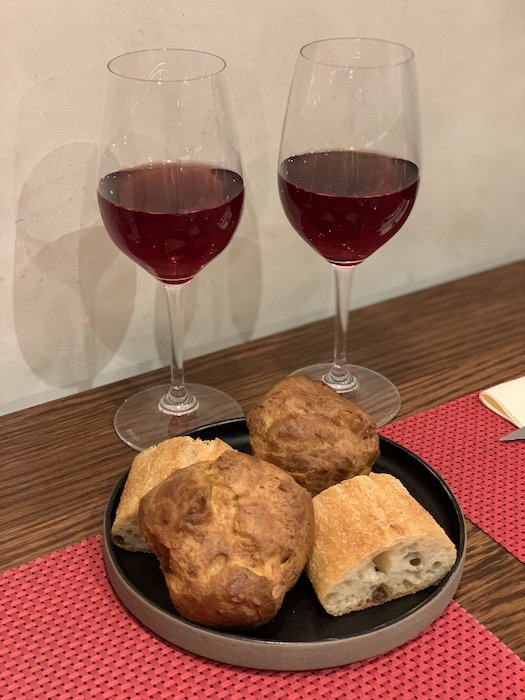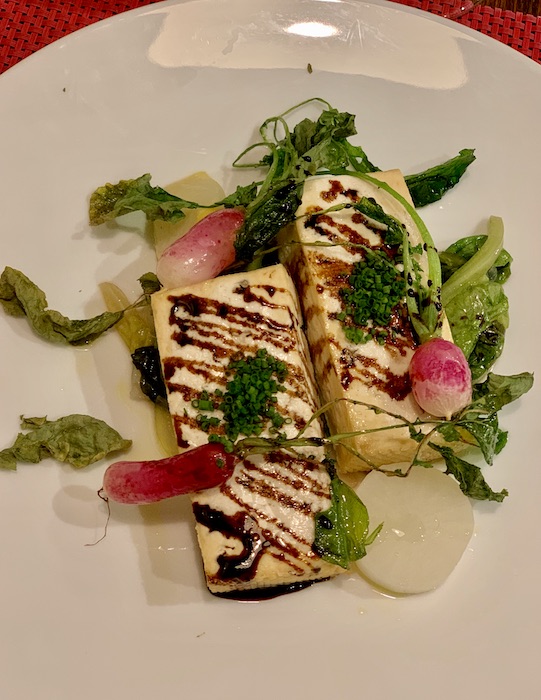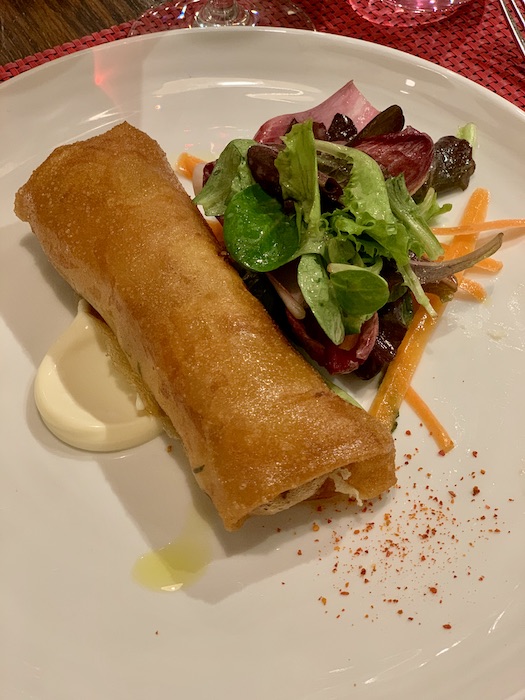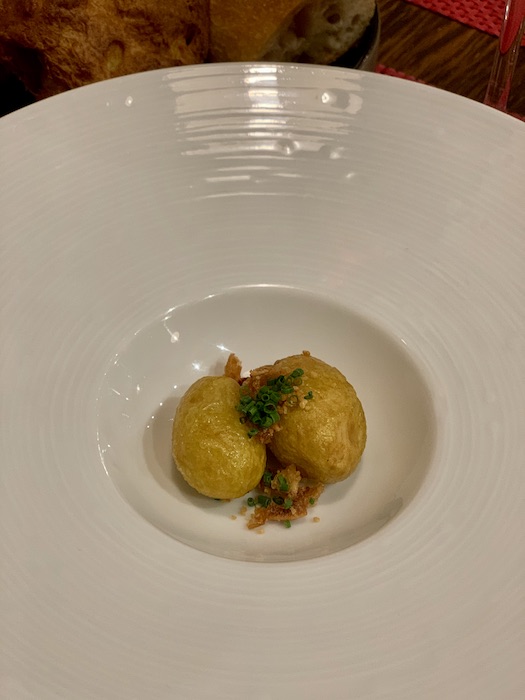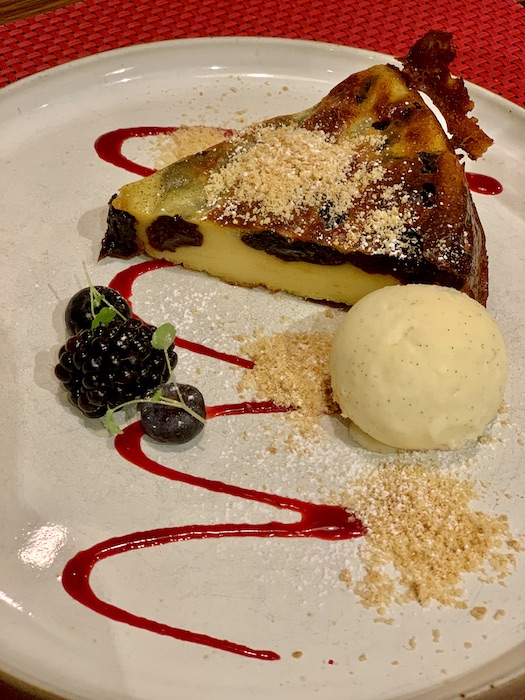 After that, we headed out and went back to our hotel for a relaxing night back in the hotel. It was so nice to have such a homey place to come back to in the evenings, and the hotel and its surroundings were so peaceful, we slept like babies. I always sleep so well in the French countryside, and it's even better when there's a beautiful vineyard view to wake up to in the morning.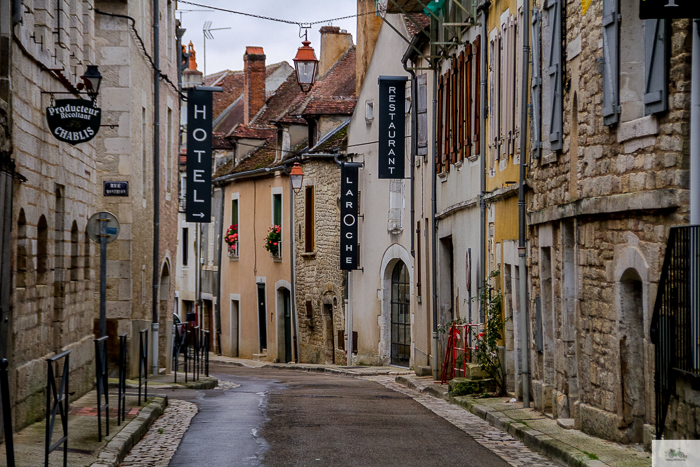 Chablis
Sundays in the country in France are a time spent with family and often spent around the table for hours. It's a pleasant and predictable tradition to spend every Sunday like this, and as a tourist you can feel a bit of the rhythm of it, too. We started the day visiting the Chablis outdoor market. Although the weather wasn't ideal, we still enjoyed ourselves as we had a look at all the seasonal produce. Naturally, the shops along the main street take advantage of all the visitors, so we stopped in a couple of places for wine tastings (dégustations). Unfortunately, these cave à vins were too busy with customers purchasing local items that we weren't able to have anyone's undivided attention for a tasting. We still enjoyed ourselves looking at the local fare, and of course I had to get myself a couple of tea towels as souvenirs. They, as well as Christmas tree ornaments, are my favorite souvenirs to purchase.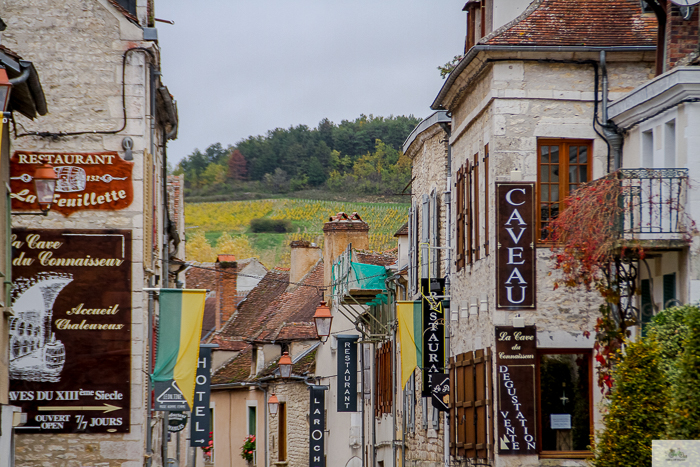 Noyers-sur-Serein
We hopped in the car once again, this time with all of our stuff, and headed to our next destination: Noyers-sur-Serein. Noyers is known as one of the most beautiful villages in France, and we quickly confirmed that to be an accurate designation. The light was just right, the weather not too chilly… I was in heaven with my camera in this town. When we first pulled up I saw some activity through the town's medieval arch entrance, but as we wandered through I wondered where everyone had gone. It wasn't until we began looking for a place to eat that I realized everyone was in one of the handful of restaurants in town. We learned the hard way that 1) we should have booked a place to eat in advance, as that is what everyone else did hence making them all fully booked, and 2) beginning lunch after 2pm is really not done outside of the cities here. People eat lunch at more Northern European and American times (noon).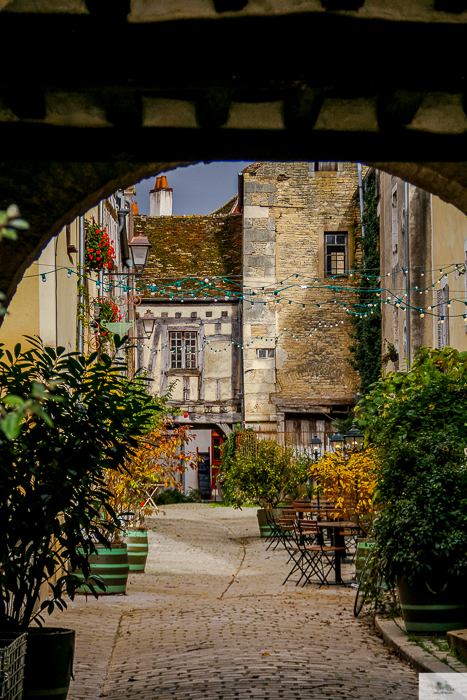 Still, I can't tell you how much I enjoyed Noyers! What a charming town full of adorable scenes at every turn. I would definitely recommend this for a stop and a (reserved!) lunch or dinner during your time in Bourgogne. About a half day there is probably enough. We spent about that strolling all over town, then headed off to Avallon to see if we had any hope getting some food there.

Halloween decor in Noyers


Beautiful fall colors


Grapes dangling over a restaurant courtyard

Citroen C2V
Vintage car parking

Un vélo!


Avallon
We had an interesting predicament as we looked for a lunch spot that day. These villages are not close to major cities or the highway to grab something along the autoroute (plus, it was Sunday), and I also don't eat typical French cuisine (which is of course meat- and cheese-heavy) – so we had our cards stacked against us. Luckily we eventually did find a restaurant in Avallon, and we had quite an enjoyable meal. The city seemed quite lovely, and I would have loved to explore more, but unfortunately it was a virtual ghost town that day. Next time!
Vezelay
Our final night was spent in Vezelay, and as soon as we drove up we saw what a charming village it was! We could not wait to get in and visit. It's also high on a hill, so those who book the hotel where we stayed should definitely be sure to drive as high up the hill (near the abbey) as possible. I can't believe we almost parked at the bottom of the town and dragged our suitcases up! I would have been so grumpy at the end of it all. 😂 By the time we got in and settled, the sun had set, so we just had time for a little rest before our dinner reservation. It was another excellent meal, this time at the restaurant just diagonal from the hotel but by the same owners.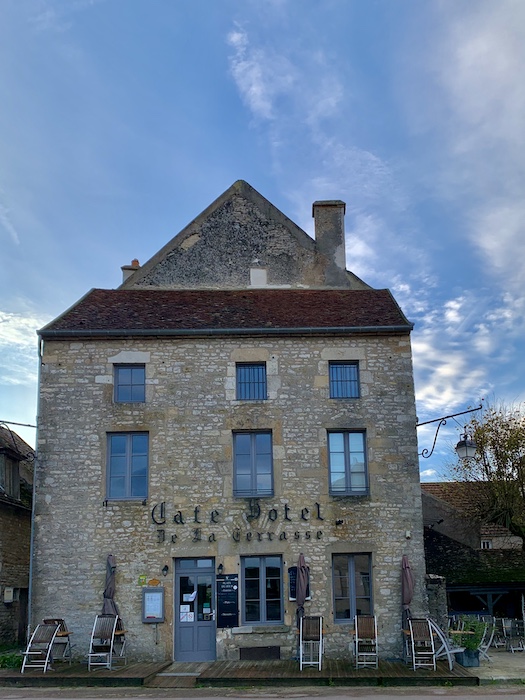 The heat in the room being turned up a little too high woke me the next morning, and it was then that I got up and decided to wander around, as the sun had just come up. What a pleasure to walk around this charming town that I had all to myself for a while. My goodness was it freezing, though! I would have kept wandering more enjoying the silence had my fingers not been frozen!
Vezelay is one of many stops on the Camino de Santiago, or the way of Saint James, which is a network of routes that lead to the burial site of Saint James in northwestern Spain. Thousands of people travel these routes each year as a spiritual experience. The shell is a symbol of these spiritual routes and marks the path along the way (notice it on the hotel). We saw many people with large backpacks setting off early for the next leg of their journey. I would have liked to have a chat with some of the people on that journey.
Back side of Vezelay Abbey

Hotel les Glycines
Hotel les Glycines
Rest hotel for those on their spiritual journey
Symbol of Saint Jacques de Compostelle


Hotel les Glycines
Charming streets of Vezelay
View from Vezelay
Next to the vineyard near Vezelay
Vezelay also has a beautiful abbey, but unfortunately the façade is having work done on it currently, so we did not get to see it in its full splendor. I have no doubt I'll be back here, though… to see that and to see the Hotel des Glycines covered in blooming glycines (wisteria). 💜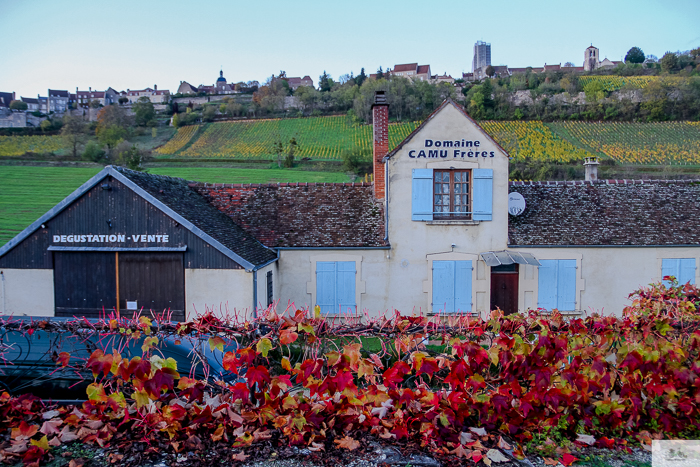 On our return back to Paris, we had some time before we needed to return the car, so we drove back with an open mind trying to find one more thing to see before ending our trip. While driving, we saw signs for the Caves of Arcy-sur-Cure, so we pulled over for a visit. Unfortunately, we arrived during the lunch break (yes, many places close for up to two hours over lunch time), and after waiting for the posted return time and still seeing no sign of any employees, we decided to leave. It's possible the cave was completely closed that day due to it being a public holiday, but we'll never know because it wasn't clearly posted!
All in all, it was another wonderful trip in Bourgogne. I just love visiting this region, rich in delicious products, beautiful scenery, and friendly people. Thanks for coming along!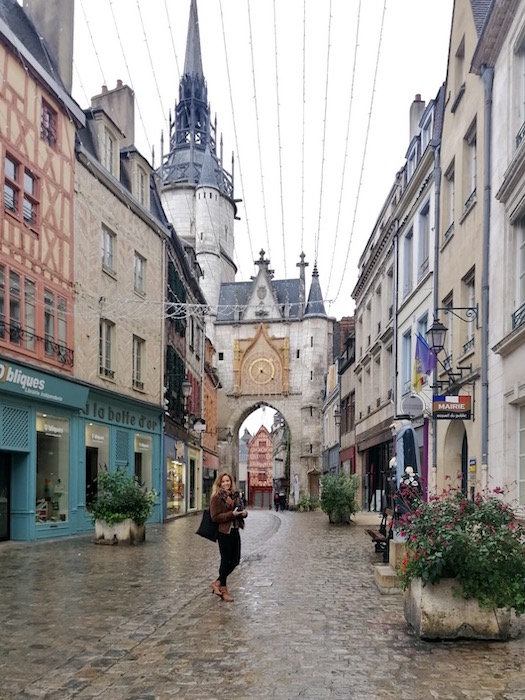 This is a sponsored post. All opinions are my own. Photos may not be used without permission. All images are © Julia Willard and may not be used without express written permission. Click any image in this series to be taken to my photography shop. Don't see the one you want? Just email me!