Greetings from the Sunflower State! For years I wondered why Kansas had been deemed the Sunflower State given that I had never seen sunflowers growing anywhere in the state. I never bothered to investigate, but back in 2014 a fellow adventurer of mine back home in KC introduced me to a very special place, a destination that would perhaps help explain where Kansas got its state name. She had happened upon a huge field of sunflowers where the owners let people traipse through for photos and whatever else one does in the midst of thousands of sunflowers. Who knew that about 45 minutes outside of Kansas City sits one of the State of Kansas' most enchanting places. 🌻🌻🌻
My friend told me there were flowers galore, but what I had imagined was nothing like what was awaiting us. When we turned the corner toward Grinter Farms that mid-afternoon on a late summer day, the sun shone bright on the acres and acres of sunflowers. It was truly magical. Why hadn't I brought my professional camera? I had never imagined anything so spectacular. 🌻🌻🌻
This year is my second year back to the fields, and it's becoming more popular, as one might imagine. Sure, it's great for a photoshoot, but what's really magical is staring at the sheer number of sunflowers standing in salute of the sun.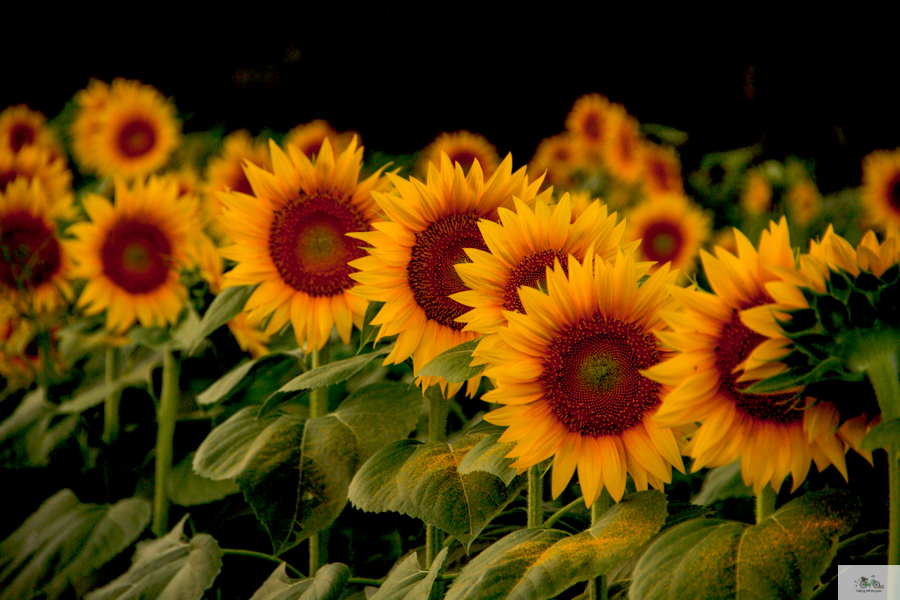 The following year, my fellow adventurer and I watched the Grinter Farms Facebook page closely and made our trek out west 😉 once we were confident the flowers were close to blooming/ in bloom. I, myself, about to return to Paris, was on a bit of a time crunch. My departure in a few days meant that I had only a small window of time to see the sunflowers in bloom. Sadly, when we arrived where we had frolicked a year before among the yellow beauties, there was nothing but an empty field. We saw no signs to lead us elsewhere, so we just called it a loss and headed home. Not a week later, after I had returned to Europe, my sunflower buddy sent me a photo of the beautiful farm in full bloom. We had been around the corner (in farm distance) from where she eventually found the flowers. Turns out they use different fields from time to time. If only we had known!
This year was different, though. For months, I checked in on the sunflower fields. As the fields have become more and more of an attraction for people all across the Midwest, it seems details of the "bloom report" have become more specific. In July, I noticed they had only just planted the sunflower seeds. This worried me, as I could imagine myself faced with the same issue I had worried about in 2015: a year without an awe-striking sunflower field view. Don't sunflowers that size take more than 2.5 months to grow that tall?
Well, who knew such enormous plants could grow so much in two months time?! By early September, the report was that the flowers were nearly due to bloom. This year I was not going to miss it!
I made two trips within a few days, once at sunset with my mom and then a few days later at sunrise by myself. Not surprisingly, there were very few people there when I arrived at 6:30 am. For about half an hour, it was just me, by bicycle, and a few people with a drone. Yes, you read that correctly… I took my bike with me! What would make for a more charming photo than an adorable prop amongst the flowers?
I just loved wandering around and through the 40 acres of sunflowers. Beauty like that requires a lot of stopping and staring. How else can you fully comprehend you're in the presence of such beauty? Eventually, I took my bike around the Farm to shoot it in different settings. The sun came up quickly, so I had to work fast. (Bike photography, especially in a field, is not quick work.) I did my best to stay where the now-large influx of visitors had not yet made it to. (If you know my photography, you know how infrequently I have people in my shots.)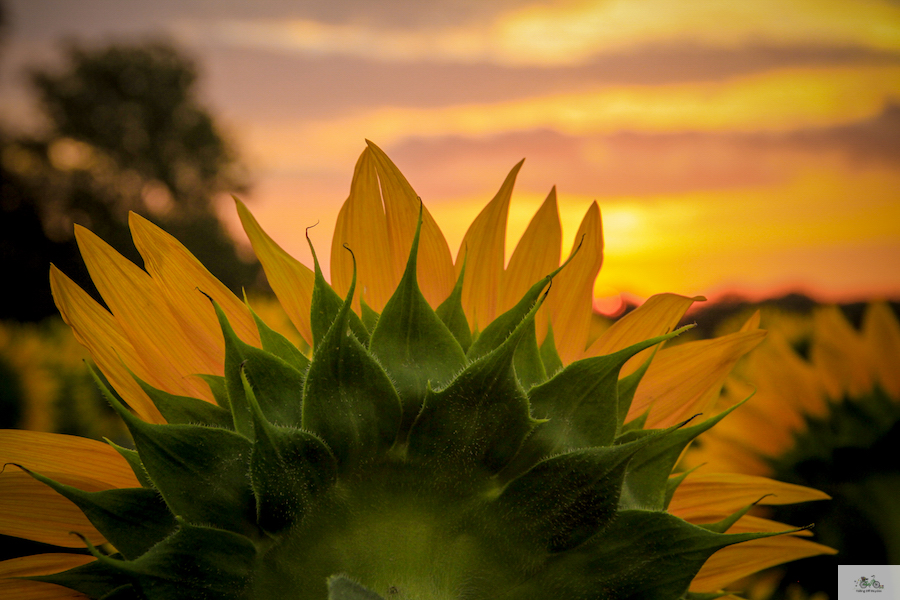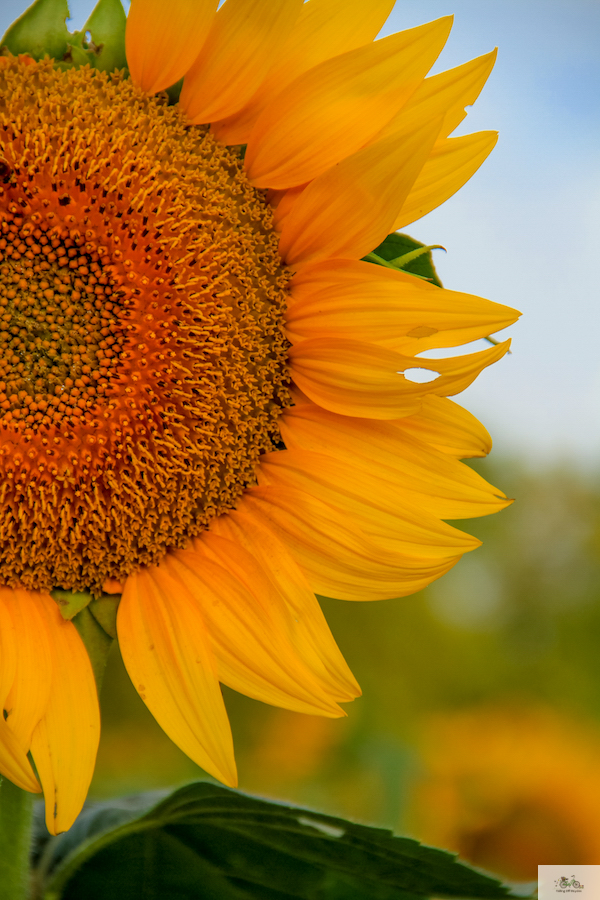 When I was taking one of my last photos of the morning, I rolled my bike out of the field (no flowers were trampled in the process!), and as I was nearing the edge, I saw a beautiful shot behind me. I parked my bike to get the shot, then realized it was even better with the bike in the foreground. You may have seen this image elsewhere, since a few passers-by thought it was cute enough to shoot as well. As I'm sure you photographers know, it can be very frustrating when a person "steals" your shot (especially right in front of you!), but I didn't say anything… I was too busy appreciating the view. 🌻🌻🌻
A special thanks to the owners and farmers at Grinter Farms, who generously allow their property to become a literal stomping ground for at least a couple of weeks a year. The donations we leave in the boxes around the property are but a token of my great appreciation for sharing Nature's beauty with a larger audience.
🌻🚲 If you're wondering where more bike shots are, I have to admit I was not very happy with the shots I got. I will for sure be trying again next year, so stay tuned!
Purchase Sunflower Images
Update: For a while I was selling a set of four blank notecards printed on recycled paper. They were among my best-selling cards. Should I bring them back? 🌻📬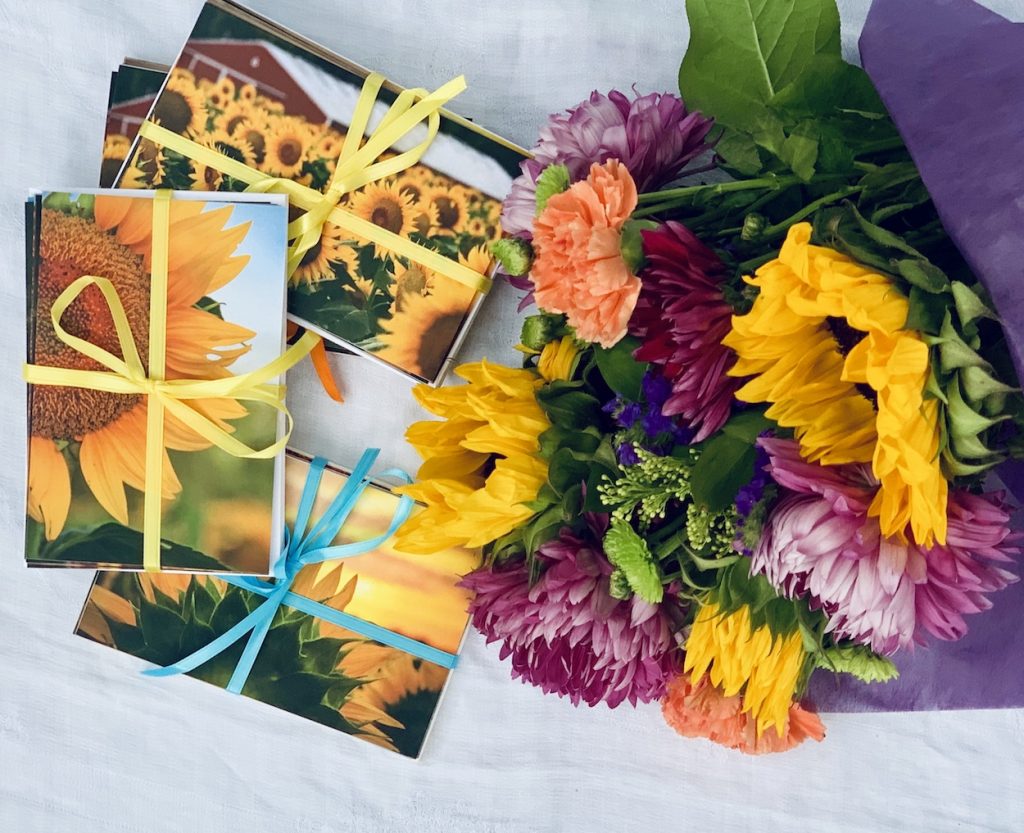 All images are © Julia Willard and may not be used without express permission. Click any image in this series to be taken to my photography shop. Don't see the one you want? Just email me!
This post may contain affiliate links at no extra cost to the user. Thank you for your support.