For a while now, I have been noticing an uptick in photos by Instagrammers visiting the Falaises d'Étretat. I see the same shot over and over: 👒🧺 Someone seated with a picture-perfect picnic on a cliff overlooking an archway that plunges into the English Channel. It looks absolutely beautiful and worth a visit (if not a picnic too!), so I had been eager to go for the last few months. After convincing a friend to make the trip with me, we headed to the coast only to discover that there is much more to Étretat than that one over-Instagrammed scene.
Since my friend was coming from north of France and had a car, Amiens ended up being an easy point between us. I caught a train direct to Amiens and he was able to stay on main roads from the north before we headed west to the Normandy coast together. We arrived toward the end of the day (the drive from Amiens is about two hours), got settled in our accommodation, then headed out for a sunset walk. We could see one of those famous arches directly out our hotel window, but unfortunately there is a large parking lot between many of the town buildings and the Sea. Other than that, I immediately found the whole area to be just beautiful.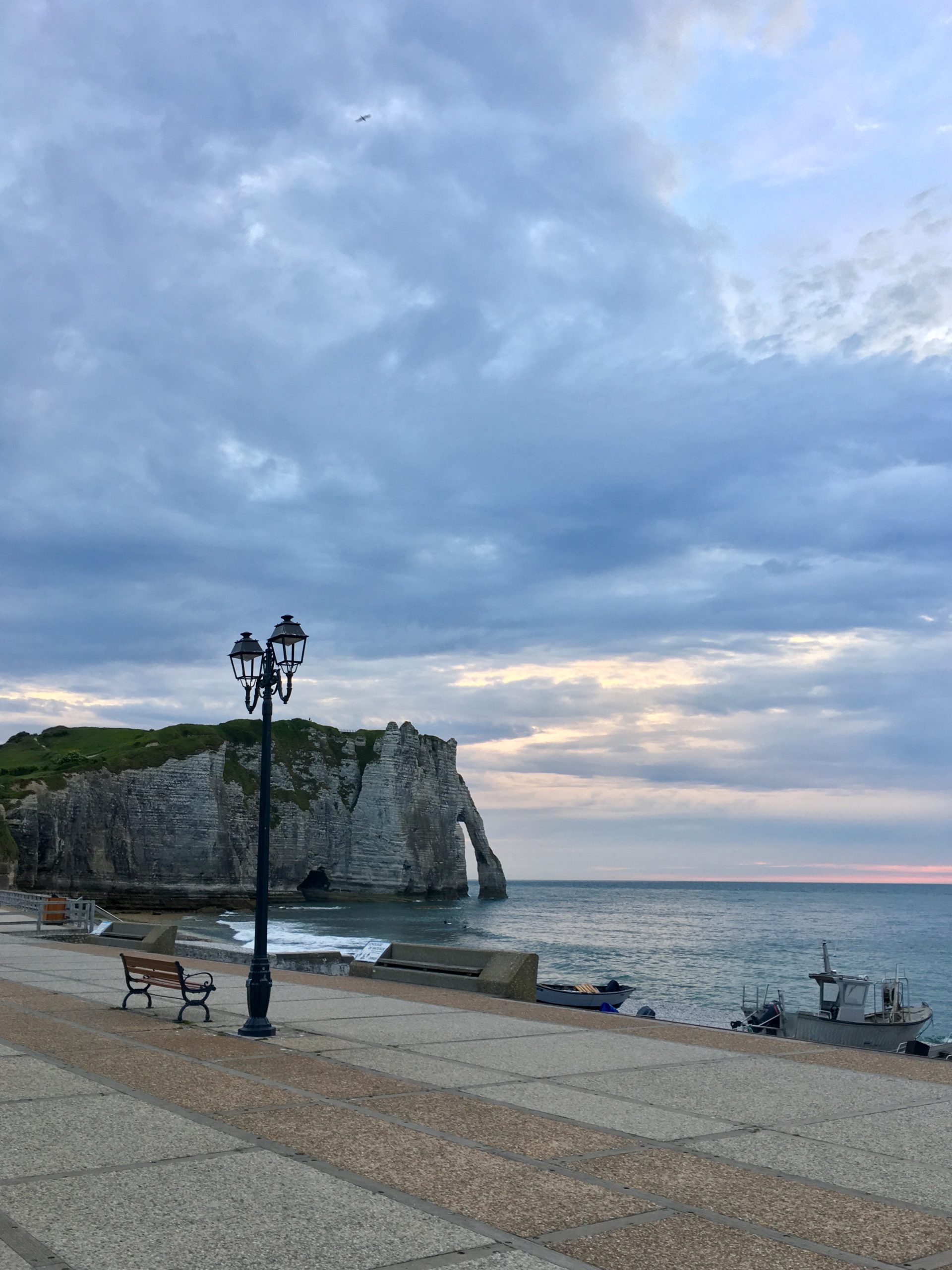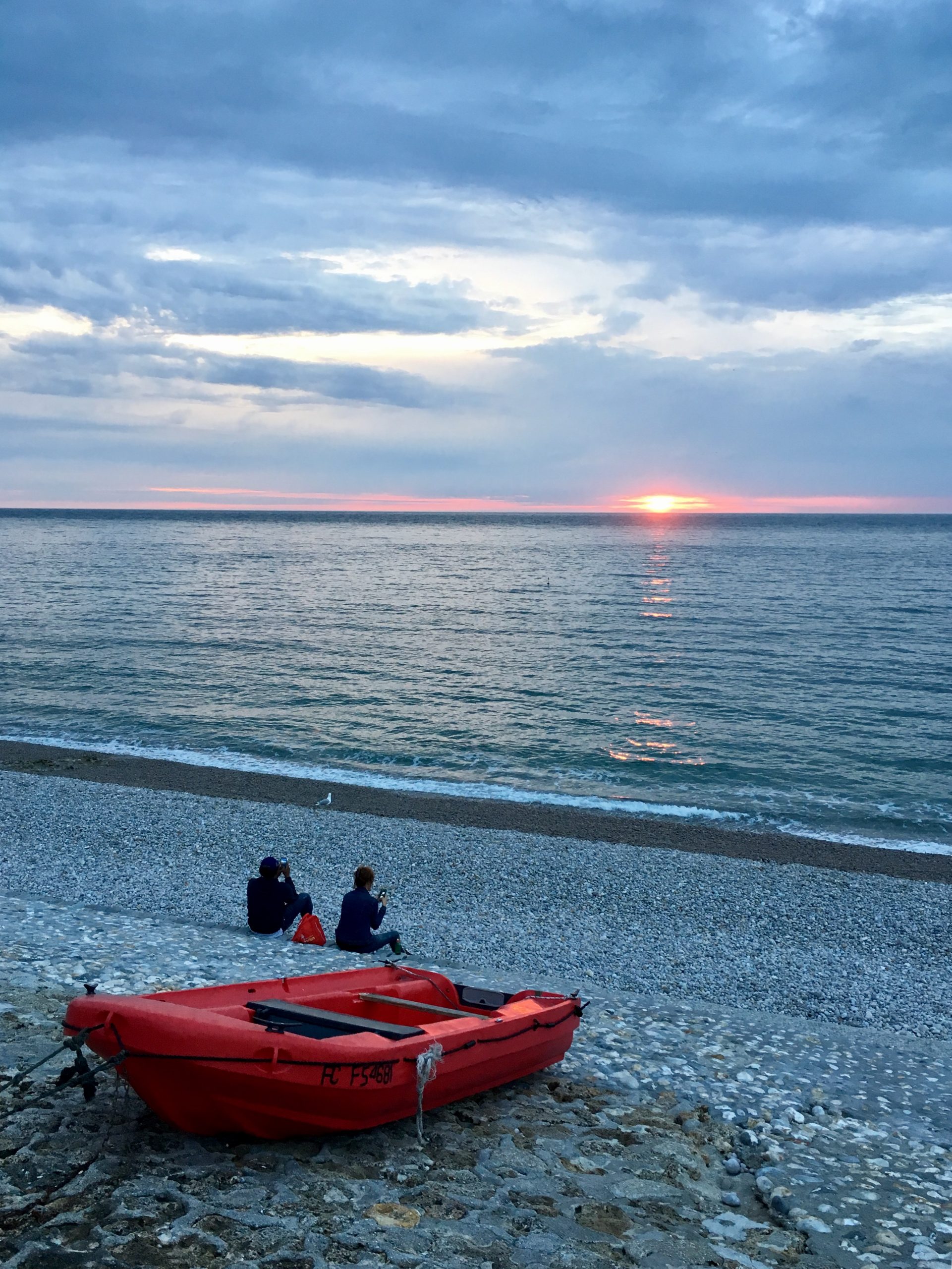 We wandered along the beach for a while, but as night was falling we decided to save our trip up to the cliffs for the morning. There is quite a peaceful air about the whole area and it's palpable as soon as you pull into the city. For those who have been to Normandy you may have also found this to be especially true (and perhaps unsurprisingly so) at Omaha and Utah Beaches.
By morning we were up and ready to head out for our hike (I use that term loosely. The terrain, especially on the west side, is not very rugged at all.) to take in the scenery. We had a stunning day, with blues and greens in every direction. Even the clouds were beautiful.
As you can see from the photos, the city sits between two cliffs. You must go up both sides to appreciate the beauty of the area from every angle possible. The walks are easy, and we found others on the paths to be respectful of the space. Just know in advance that the paths are not paved but are easy enough to walk along. (The side leading up to the church – the east side – is steeper and more rugged than the other side. Once at the top, walking is very doable and you're not required to stay on the path.) On both sides, there are plenty of opportunities for stops to photograph, chat, picnic, or meditate along the way.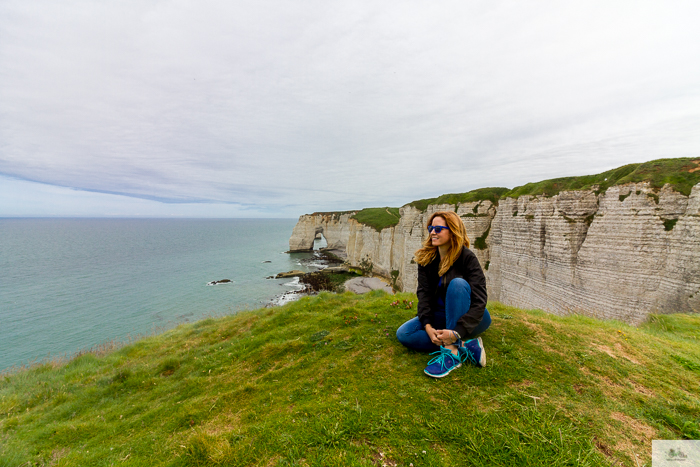 The Chapelle Notre Dame de la Garde at the top of the east-side cliff is often closed, but the views from it are spectacular and not to be missed.
While there, do your best to run into a herd of Saint Bernards while taking a drink with a view.
Eating in Étretat is, in my opinion, just like eating anywhere else in France in terms of experience. If it's a big tourist attraction you will find a lot of spots with poor service and low-quality foods, so I suggest doing your homework first and even reserving if you can. My favorite meal we had was at the Taverne des Deux Augustins (update 2020: online reviews indicate this place has had a major downturn in quality and service), it being a rare spot where there was a creative meat-free dish on the menu. For once no arguing with tourist-tired wait staff about removing items from a dish just so I can have a meal. See below for more recommendations.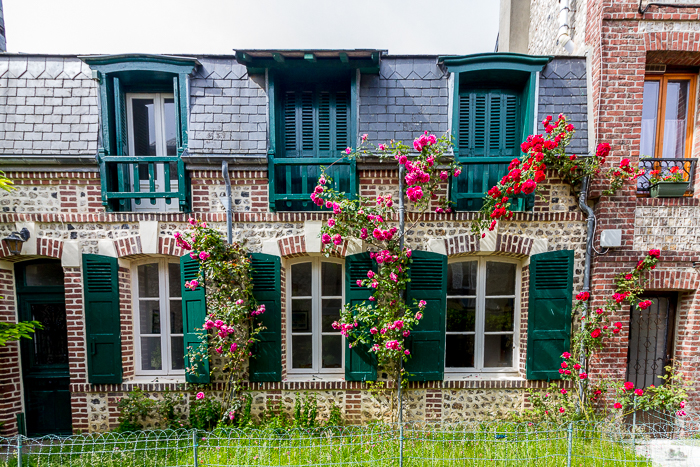 You can easily see both sides of the cliffs in one day, but that doesn't mean it's not worth it to do a second day, or to take the second day to visit the gardens, take in the view from the
Dormy House
, or even go paragliding. I look forward to doing all those things on my next trip to Étretat.
All images are © Julia Willard and may not be used without express written permission. Click any image in this series to be taken to my photography shop. Don't see the one you want? Just email me!