This is a continuation of a previous post, Bourgogne Getaway in Fall. Don't miss the first part of my Autumn visit to the Bourgogne region.
Pommard, Volnay, and Beaune
As I wound down my second day in Burgundy, I headed for the village of Pommard, in the heart of the Côte d'Or and along the Route des Grands Crus. I checked into Le Clos du Colombier Hotel and Spa and was escorted to a beautiful cozy room. There were homemade sweets waiting for me on the mantle of the fireplace in my room, and I snacked on them before heading down to dinner. Just as the previous night, I ate at the hotel, but this time, I had my own table. The Clos du Colombier has more rooms than Les Sources des Fées, but still felt cozy and personal.
🍽 On the menu: Autumn soup with a walnut salad, spinach ravioli with potatoes, and a decadent chocolate dessert.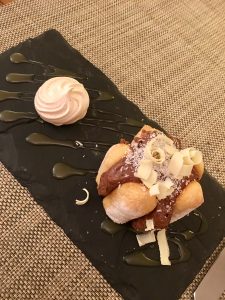 A bike from Active Tours Bourgogne had been kindly dropped off for me at the hotel, so I set off after a delicious full French breakfast with plenty of energy for a good bike ride. I rode along some of the vineyards and up into some nearby towns as the sun came up on what would be a stunning day.
As I wandered through nearby Volnay, I discovered a bit further up an already very steep hill a sign that said "Panorama" with an arrow to the right. My legs were already feeling tired just at the sight of the hill, but I knew I couldn't not go check the view. I rounded the corner and walked a bit along a tall stone wall until suddenly next to me the wall was gone and there was an exquisite view over those Burgundian vineyards with the sun shining down on them. The way the sun was hitting the vines was such a change from the way they had looked in previous days under gray skies.
After I took a moment to take in the scene, photograph it, and bask quietly in the moment, I headed back down the hill to pick up my bike so I could be sure to meet my lunch date on time in Beaune. I made good time on the bike through the vineyards and through the city and had some time to snap a few photos before Penny and I met, before finding an outdoor café where we could enjoy the weather. We sat in the sun for over two hours enjoying the view of the bustling city around us and those wonderful Burgundian kirs I've loved now for 15 years. For those not familiar with the drink, a kir is a mix of white wine (often Bourgogne Aligoté) and crème de cassis (or another fruity syrup). I highly recommend it!
Having been to Beaune a few times already and having a full schedule still awaiting me the rest of the day I headed back out on the bike. From Beaune, I took the Véloroute La Voie des Vignes back to Pommard, and I must say it was the most beautiful bike ride I have ever done. The Véloroute is a mostly car-free path that extends over 23 km through vines and lesser-trafficked areas. Once again, the way the light was shining on the vines was so gorgeous, and the space is just so peaceful. I don't know if you've ever noticed, but I find bicycle riders are generally quite happy when they're riding, and I found that everyone I passed (and it was by no means crowded), had a particularly happy disposition. Not surprising with these views!
Châteauneuf-en-Auxois
Because Penny and I had such a leisurely pleasant lunch (and I maybe got a little distracted cycling through vineyards taking photos) I arrived to my next destination minutes after the main attraction closed. I went to Châteauneuf-en-Auxois and wandered the town, but I do wonder what I missed by not making it inside the Château that dates back to the 12th Century. The region's tourism website states: "[It is] one of the last remaining examples of 14th century Burgundian military architecture. During the Hundred Years War, towers and curtain walls were built to defend the village and the Auxois plains." You can see the structure in the background of this first photo.
As it was getting late once again, I started to head to my next destination, Semur-en-Auxois. The photos I had seen of the little city before my arrival had me very excited to visit. I arrived at La Fontaignotte after dark and was pleasantly surprised to find I had been upgraded to the largest (and it was huge) room in the old manor house dating back to the 17th Century. The owner had to be away at the time of my visit but I had the occasion to speak with her on the phone, and even from a distance she was a delight. The hotel is a traditional old French residence but with eclectic art and appointed with all the modern luxuries you can imagine. There is a restaurant on the lower level that is open to the public, which I went to for dinner once I was settled in a bit. As a non-meat eater, I have seen many different interpretations (many terribly uninspired) of veggie dishes, but the meal I had at La Fontaignotte was truly one of the best meals I have ever had, on both a creative and taste level. I was so impressed at the service and food here that I would make a special trip back to this city just for that.
It wasn't until the next morning that I would see just how charming the old city is. This medieval city was built on a granite bluff, which makes it hilly and means great views from the high points.
I went out in the morning were onto another sunny day, which this morning I was cursing because the light was quite harsh for photographing. This is ever the photographer's plight… we want warm beautiful fall days like everyone else, for example, but bright sun can be harsh for photos. Still, I managed to find many charming scenes in the city. One thing I especially loved was that a turn down a small alley led to many a photogenic scene.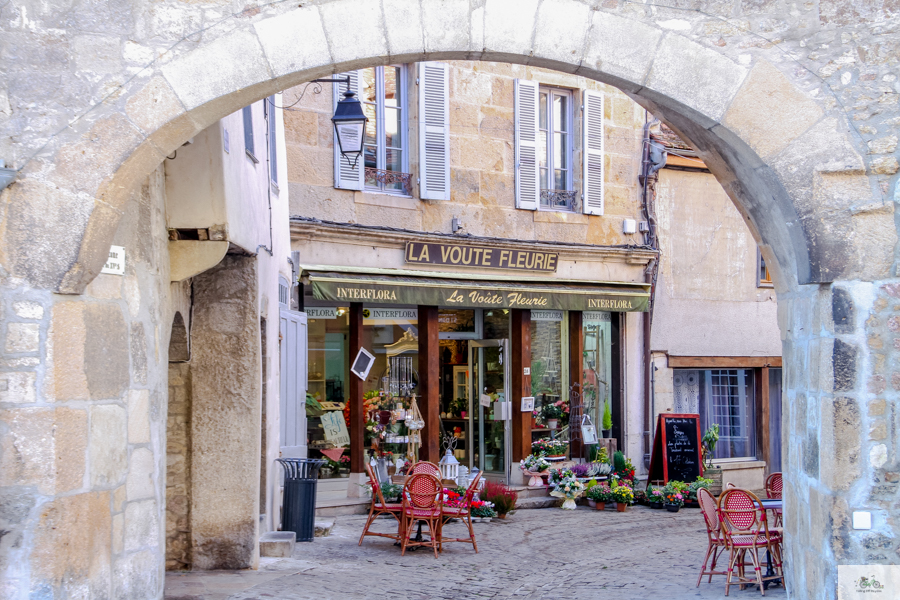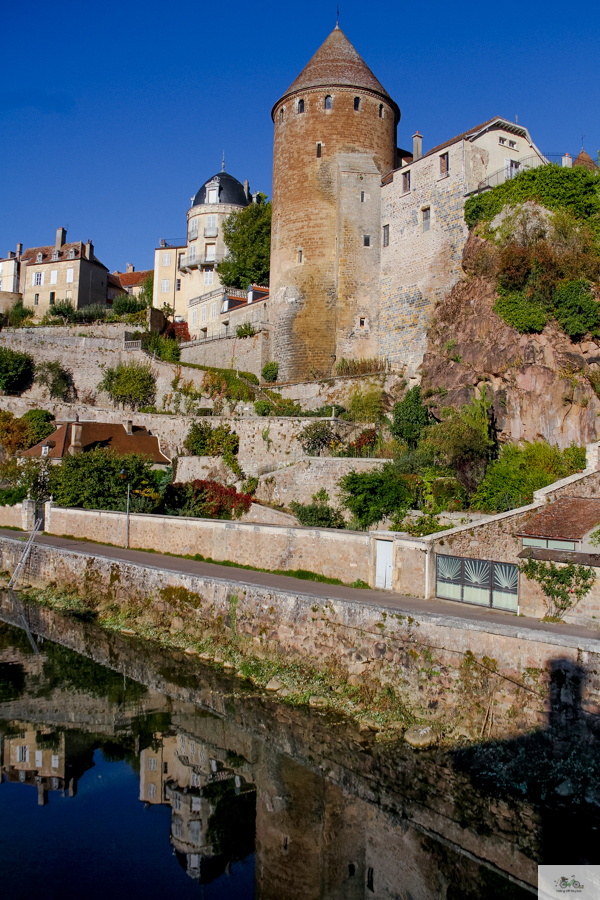 La Fontaignotte
4, rue de la Fontaignotte
Semur-en-Auxois 21140
Restaurant : +33 (0)3 80 96 61 26
Maison d'hôtes : +33 (0)3 80 89 86 26
Fontenay Abbey
After I left Semur-en Auxois, I headed for the
Fontenay Abbey
, where I met with the
Responsable d'Exploitation
, who showed me around. He gave me an overview of this Cistercian abbey, which was founded by St. Bernard in 1119. It holds UNESCO World Heritage Site status and is as pristine as I imagine it was hundreds of years ago when the monks still lived there. For a time in the 1800s, after the revolutionaries had sold the monument as a national asset, the site functioned as a paper mill. In 1905, Edouard Aynard purchased the property, and it has been in his family ever since.
As I considered the extensive history that had taken place on the grounds, I wandered on my own for a while, enjoying the serenity the place offers. It wasn't difficult to reach by car, but it's so nestled in the woods, it feels far away from all civilization. It must have been an ideal location for prayer.
The proprietors have done a stellar job keeping the integrity of this place intact, while being open to modern interests. For example, I was told that there are a few light shows on site throughout the year, which I am sure is spectacular. In 2019, they'll take place in May, June, and August. Be sure to check the
Abbey's website
for exact dates and details.
Abbaye de Fontenay
B.P. N°6
21500 Montbard
Tél: +33 (0)3 80 92 15 00
Flavigny-sur-Ozerain
Before heading to Dijon to catch my train back to Paris, I had a lovely Fall stroll through the town of 
Flavigny-sur-Ozerain
, which is known for its anis candies. I wandered around and had lunch at a place filled with American students. It gave me a flashback to my days as a student in Burgundy, exploring France with new friends and learning to appreciate all the intricacies of a new culture. I am often nostalgic for that time. In retrospect it feels like the first time in my life I was truly discovering on my own: forging new friendships, figuring out how to live and thrive in a foreign country and culture, and truly making my own decisions. The hunger for discovery I felt so strongly back then is what led me to where I am today, back in France and sharing my experiences.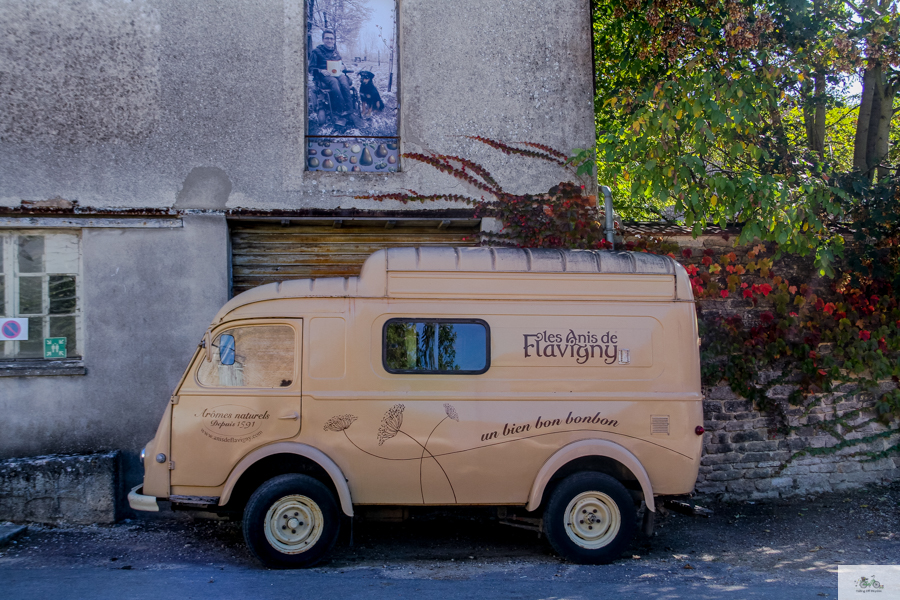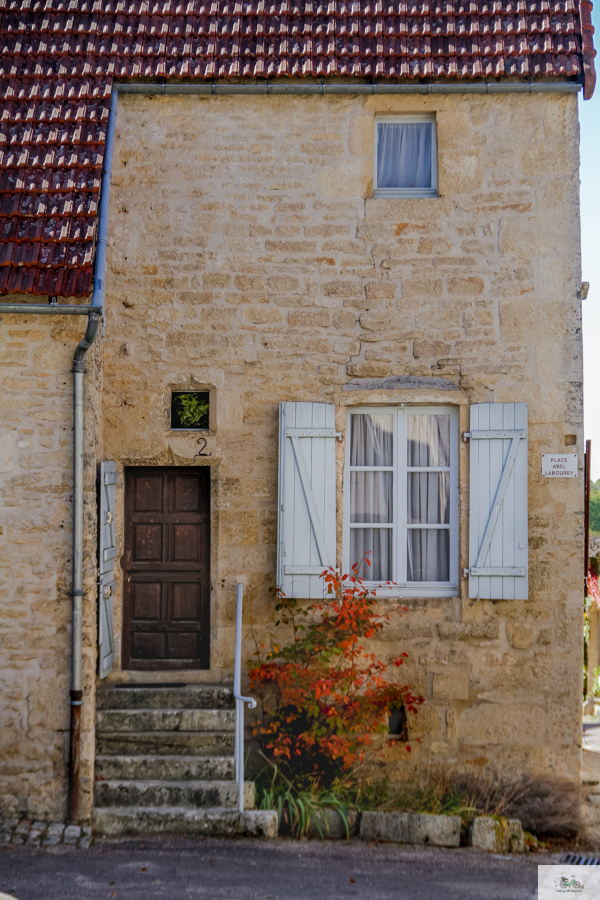 Dijon
I was always meant to leave from Dijon, which some of you may remember is where I studied abroad. When Penny and I were discussing my time living there – now, one of my favorite cities in France – we decided to make a last-minute addition just before my train. She arranged a trip to the top of Tour Philippe Le Bon, which I've done before but it it such a great view over the city, I enjoy doing it when I can. And it's only 3€! When I arrived at the Tourism Office to go up, two gents from the Tourism Office greeted me and immediately asked a critical question: "Est-ce que vous aimez le vin?" Do I like wine? Of course I do. Even better, their question was really about Kir, which as I said earlier is my drink of choice in France. They had prepared three glasses, some sliced baguette, and a Kir for us to enjoy together at the top. I walked around snapping photos of all the familiar sites below, feeling nostalgic for my time living just a block away from the tower that Fall. The view is the best in Dijon, as far as I know, and my guides informed me it can be privatized for events, and even marriage proposals, gents!
We had a lovely chat at the top as we sipped our kirs and talked about everything from tourism in our cities to politics in our respective home countries. A huge thanks to Frédéric and Yann for being so welcoming and fun.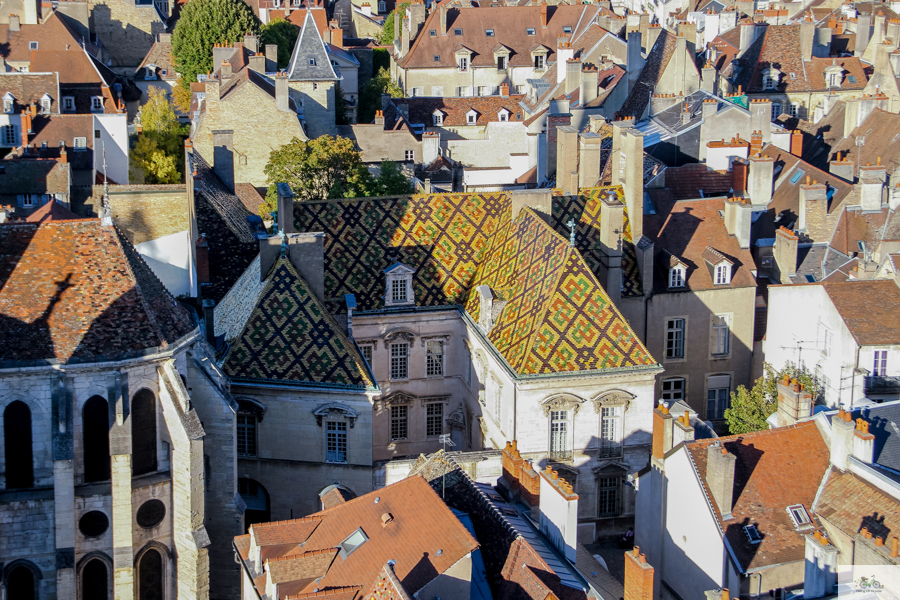 A few final tips:
⚜️ Come for the wine and cycling, but also enjoy incredible food in the Bourgogne region.
⚜️ October weather is not necessarily gray and dark – surprisingly wonderful sunny warm days that make the leaves sparkle when they flicker in the wind.
🚲  Also practice safe cycling! Helmets, GPS/ maps, water, and common sense will all be helpful.
🚲  Active Tours Bourgogne can arrange all kinds of activities for you, not just cycling. Check their website for more info.
---
This is a sponsored post. All opinions are my own. Photos may not be used without permission.