As I've discussed before, every time Fall rolls around, I am tempted to go on a trip somewhere in France. If you've followed me for a while, you know that I have done a few road trips at this time of year, and I find this season to be ideal to travel in France. The weather is still great (even less cool), there are far fewer tourists about, and the low season closures have not quite begun.
This year, I was invited by the Burgundy Tourism Office to visit the region and share all there is to do that indeed includes sipping wine, but also goes well beyond that. For a region I have already spent a lot of time in, I must say I was pleasantly surprised how much more I learned there is to see and do thanks to the help of the tourism office.
Roche de Solutré
I started with an early-morning train from Paris to the Mâcon-Laché station, where a gentleman from the nearby (but not on-site) car rental company came to pick me up. It's a small operation out there, but it was a good launching point for my trip, as I eventually would make my way north.
Immediately after picking up the car, I headed to my first destination, the Rock of Solutré. It was a bit overcast that morning, but as I made my way to the top of the rock on the cleared path, the sky cleared off revealing a glorious blue sky over acres and acres of vineyards below. Looking out over the view, I got the butterflies France has given me countless times over the years. It's just so beautiful in so many different ways all throughout the country.
The Roche de Solutré is a limestone rock that overlooks the beautiful vineyard-covered valley. It dates back a whopping 160 million years and was created from fossilized coral plateaus. Right next to the path to go to the top is an archaeology museum that I was told is quite fascinating to visit. The trek up takes about 15 minutes and is doable for people of nearly all ages and ability levels.
Solutré-Pouilly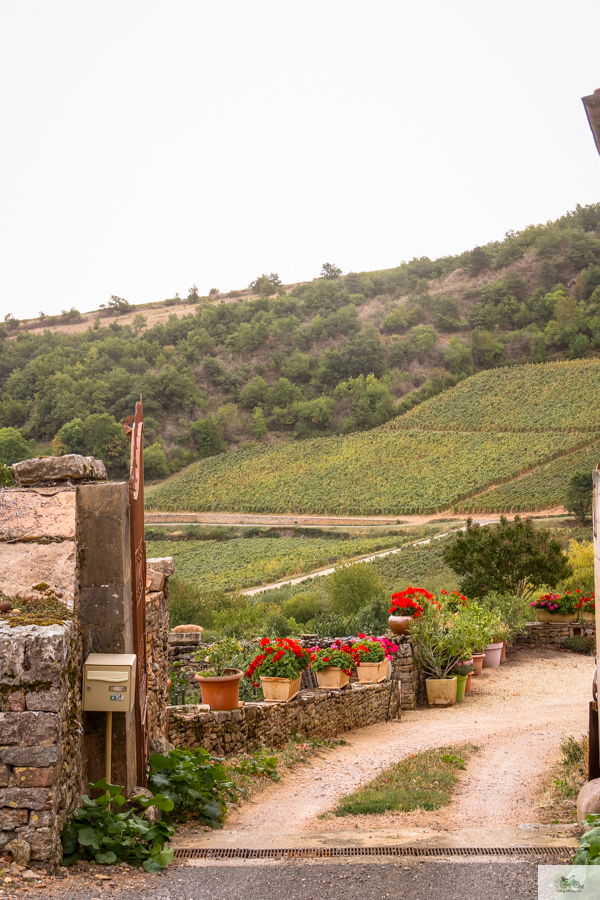 When I was driving up to the Roche, I passed through the little town of Solutré-Pouilly. If the name Pouilly rings a bell for you as it did for me, it's because, well, look at all those vines! You may have heard of Pouilly or Pouilly-Fuissé wines, as it is a French wine appellation. The little village is charming, dotted with many small wineries where you can try the local wines. As you can see, it's also quite picturesque for photos!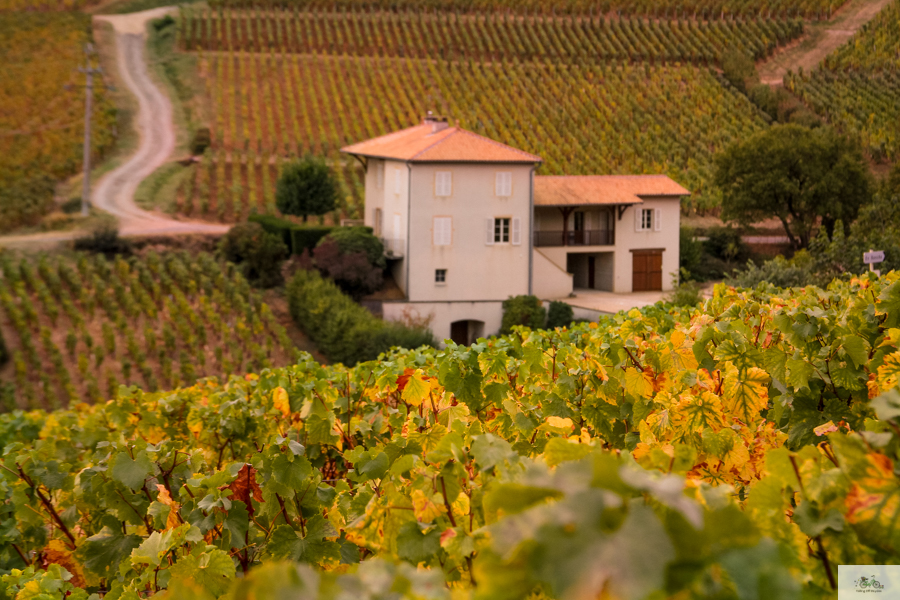 Mâcon
After lunch in the sun in the city of Mâcon, which lies along the Saône River, I headed to meet a few members of the team at the tourist office. Every time I'm in a new city or town in France, I'm amazed how great their tourist offices are (not to mention well-located). The team had gathered a pile of helpful information on the city as well as info on the many nearby bike paths. I hadn't known that the Burgundy region was such a popular place for cycling enthusiasts, but it turns out that cycling is one of the main draws of the region, right up there with wine! One main reason for this is thanks to the extensive network of bike paths, including the
Voie Bleue
 (next to the river Saône) and the
Voie Verte
(a totally car-free path reserved for walkers and bicyclists).  As my own special breed of cycling enthusiast, I was grateful to the team for providing me a bicycle so I could experience some of these paths. A
nearby bike shop
 had lent me a bike, so once I settled on my route, I headed off up along the river.
Cycling in a foreign country can be intimidating, so it was especially nice that the paths were available and well-paved, the signage clear, and the paths (at least the ones I rode) safely away from cars.
Once I returned from my ride, I wanted to explore the city a bit. I rode part of the way through the city, but it has also a nice centre ville to explore on foot. You can follow the plaques on the ground throughout the city marked "Cité Lamartine" to be led to some of the most historical locations in the city. La Maison de Bois (Wood House) pictured below was built around the year 1500 and is still standing a the center of town.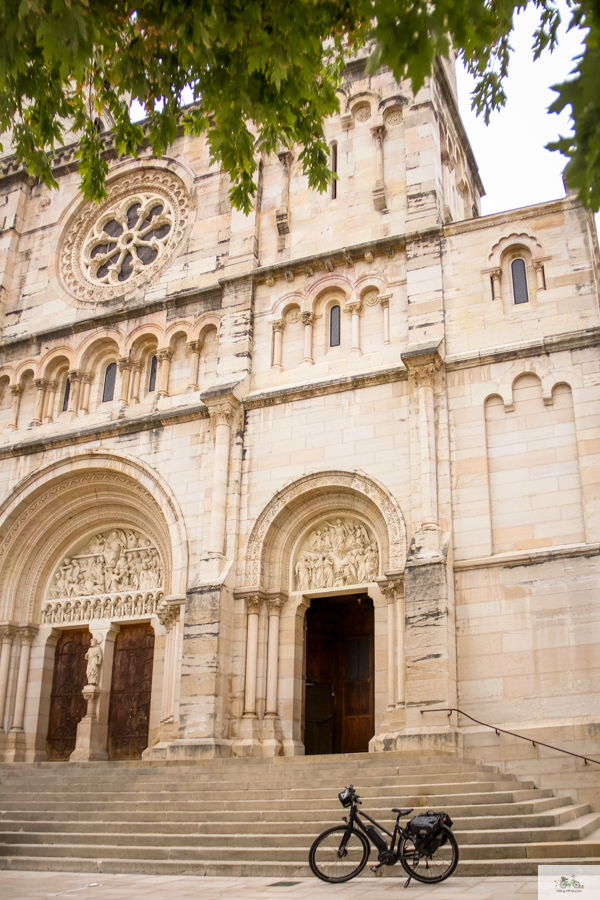 La Source des Fées Chambres d'Hôtes
It was getting well into the evening by the time I arrived at my chambre d'hôtes, and I had wanted to get there before it got dark. I had had a long day and was ready to put up my feet for a bit and enjoy some of the local wine. La Source des Fées was truly one of the most charming places I've ever stayed, and I was struck by its charm the moment I walked in the door. If you're not familiar with chambres d'hôtes, they are essentially B&Bs, that often even provide the option to have dinner. All I had to say when I walked through the door was "Bonsoir! Je suis Julia!" and Philippe quickly made his way around the desk to come greet me and introduce me to the snuggly cat on the counter. He showed me to my enormous room with a view on the backyard.
Once he left, I had a moment next to the window to take in the peaceful scene. Traveling in France is one of my favorite things in the world to do. I had to pause for a moment of gratitude as I looked out onto beautiful changing leaves on grape vines and a tinkling fountain below. It was truly an idyllic scene only made better by the welcoming hosts.

I had been given instructions to be downstairs for dinner at 8pm, so before long I headed down to join the other guests, two couples who had made the trip from New Jersey and were traveling around the region together. We clinked glasses of the Source des Fées' own wine in front of a fire, then made our way for dinner at the table all together. Chef Boris was in the attached kitchen working away on an incredible three-course meal for us.
🍽 On the menu: Leek and zucchini soup, glazed carrots and chicken for the others (carrots and a plant-based option for me), followed by roasted pear with caramel and pistachios. This was the beginning of me having some of the best meals of my life.
After a long first day and a superb end to it with that meal, I was ready to turn in for the night. With not a peep anywhere in the house nor outside, I slept better than I have in months. There's just something about the countryside, isn't there? I must say, the whole region in general has this same peaceful vibe to it. It just makes you want to stay forever, in the care of such wonderful hosts as Philippe and Antonia.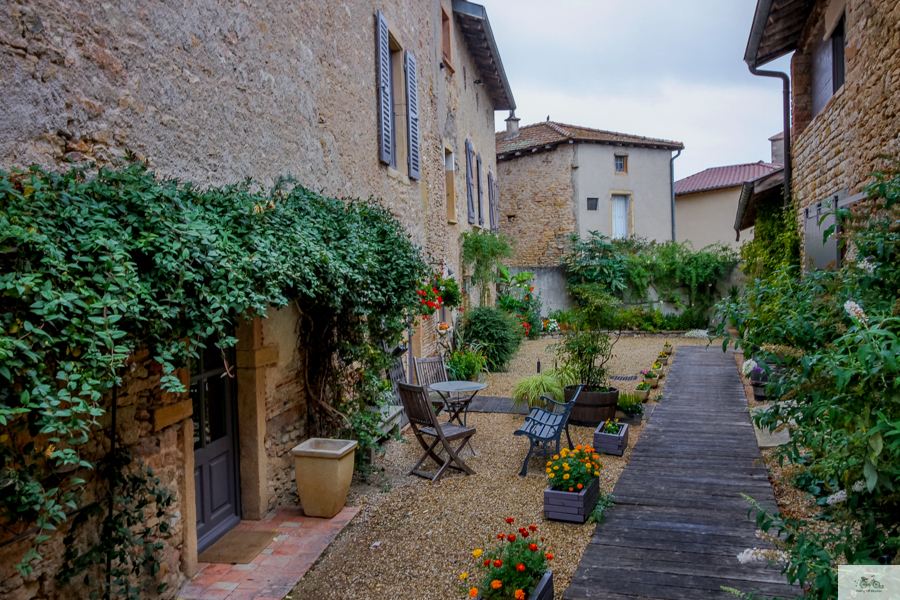 La Source des Fées
Le Bourg – 116 route du May
71960 Fuissé
Tél. : +33 (0)3 85 35 67 02
Cluny + Cluny Abbey 
I started my second morning in Bourgogne with a private tour with the head of the Cluny Tourism Office. Even though I only had a couple of hours with him, it quickly became apparent to me that one could spend a great deal of time in Cluny, both around the town and at the abbey. The area is so incredibly rich with history thanks to its influence on all fronts from religious to political. The Benedictine Cluny Abbey was founded in 910 and before long was playing a key role in all things religious across Europe. Even though most of the original walls and towers have now been demolished (most of which having been done by the monks, themselves), you can still get a great sense of the importance of the place by touring the town and the grounds closest to where the abbey's main buildings once stood. The history of this place is far too layered to summarize here, but it was very evident that the influence of the Cluny Abbey spread way beyond Bourgogne and even France at its peak. The self-sustaining abbey was an example for others in just about every possible way.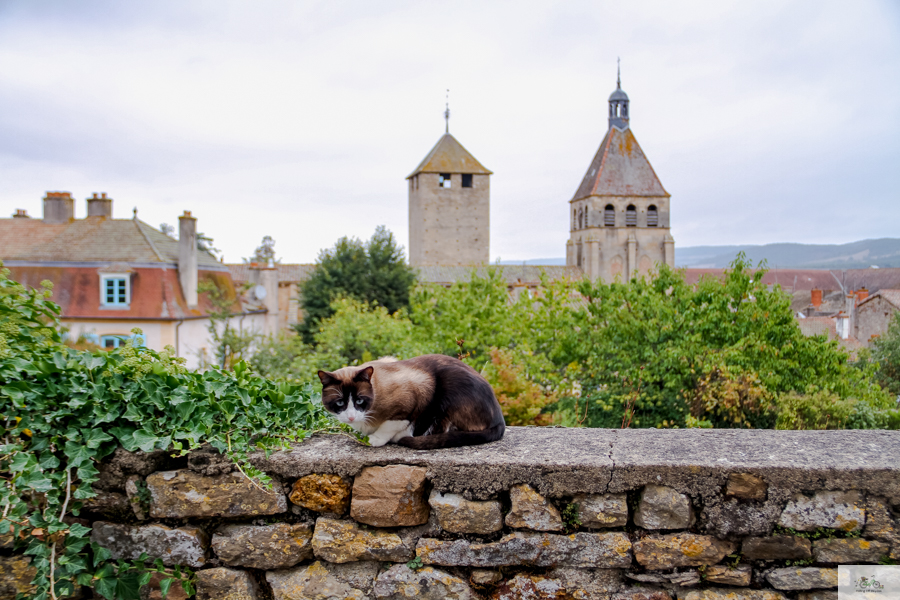 As you visit the town of Cluny, it's best to have a map and some information about the layout of the city. Many  of the fortified walls still remain, and once you know how to identify old pieces of the city's walls, you can only then appreciate just how much of the surrounding area the abbey once encompassed. One thing that was exceptionally great about the Cluny tourism office was that they offer brilliant technology created by local students to improve the experience of visiting the town. You can rent one of their tablets out on a walking tour with you, then hold up the tablet anywhere in town to access images of what the scene would have looked like when the abbey was still standing in its full form. It's quite ingenious!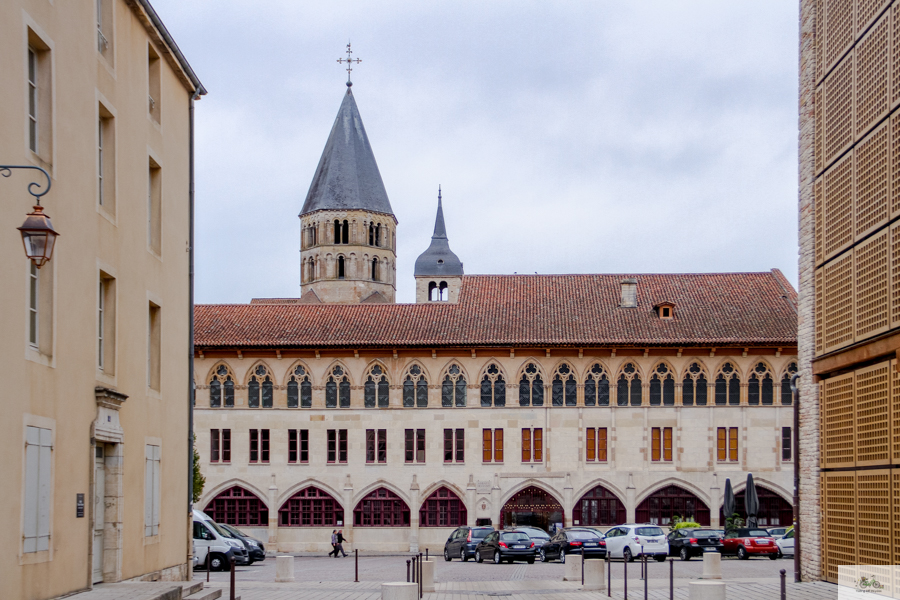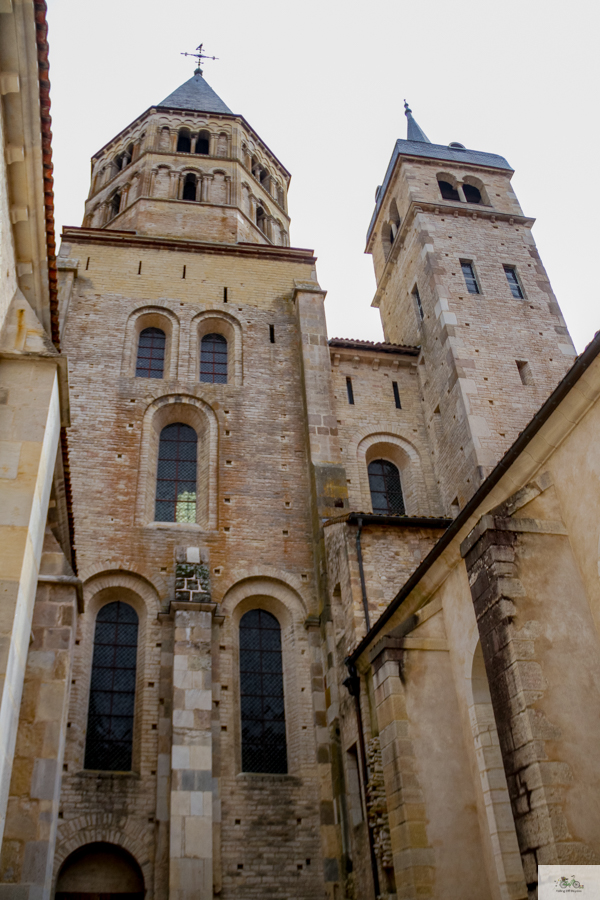 Much of the abbey grounds are now a French university, so it's common to see students all around. In fact, it's important to remember as you visit, that you are not only a visitor at a sacred place but also a guest on a school campus. As I saw students walking across campus, I couldn't help but think that they must feel so fortunate to be getting their education at one of France's most important historical places.
Once we had completed our tour of Cluny, Thomas and I headed out in our cars to see a few more things in the region. He showed me the charming town of Blanot, as well as a nearby church part of the Clunian Order.
The winding roads and colorful vineyards nearby made for a very pleasant drive to the next visit.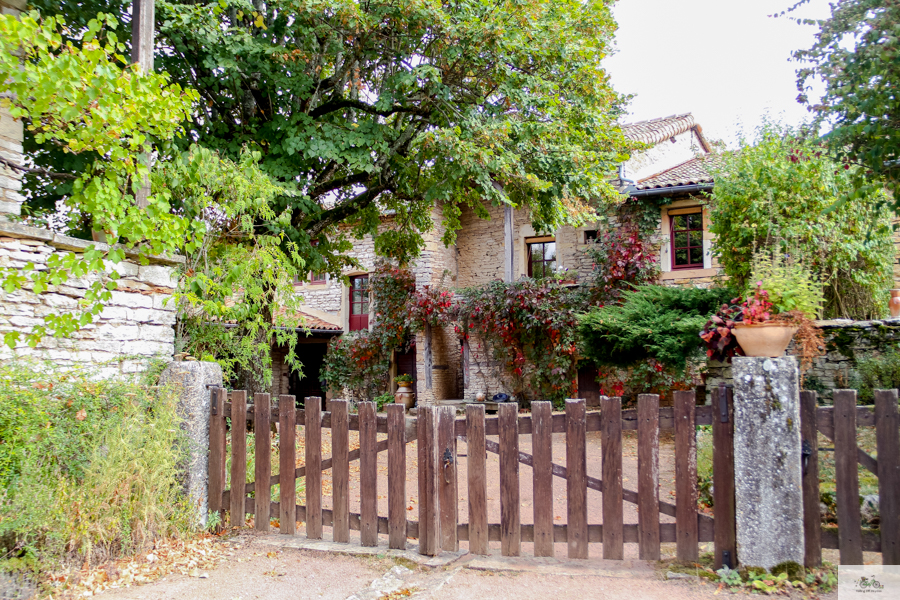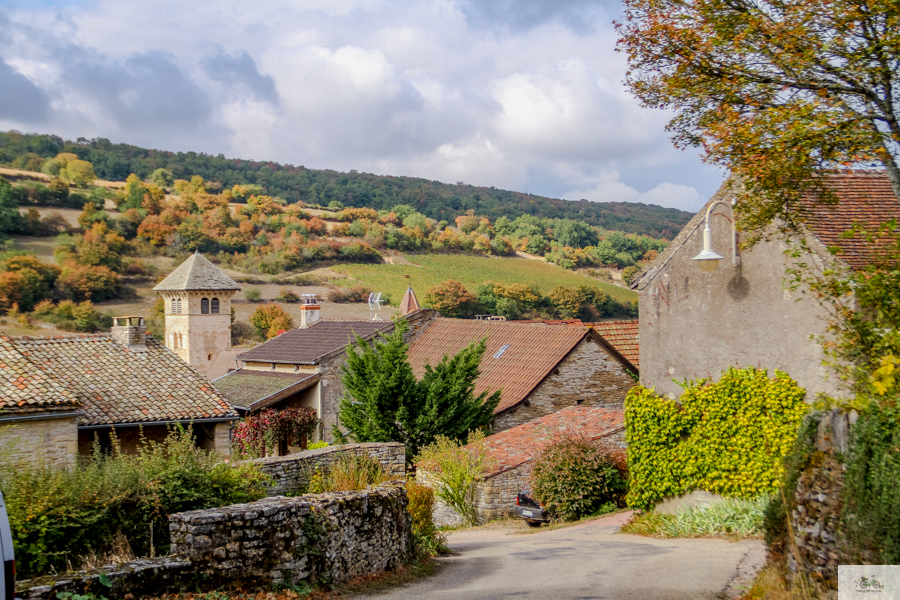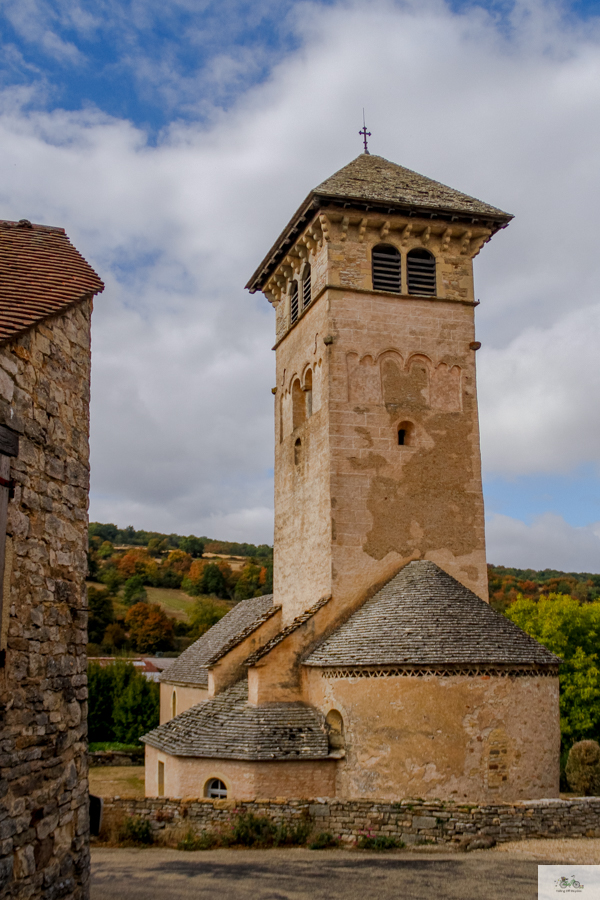 Château de Cormatin
My next stop was the Château de Cormatin, which dates back to the 17th Century but was abandoned for a period until 1980. It's a beautiful château that has an interesting history (one that includes the owner asking special permission from the French queen to replicate a staircase design in Luxembourg Palace in Paris), although it isn't so well known as some in France.
The château offers guided tours in French (though other languages are available via written notes), which was helpful to get the full picture of the castle's history. While I hesitate to call this a "small" château, it is nevertheless not nearly the size of some of France's better-known castles. One fun fact is that the cycling path I mentioned earlier, la Voie Verte, lies just next to the castle grounds. It's a great option for a visit when visiting the region by bike.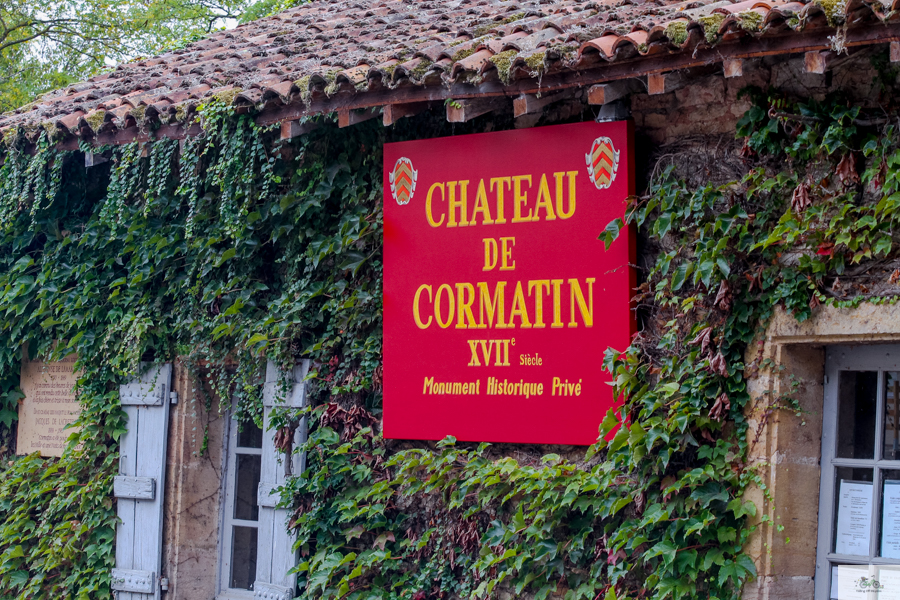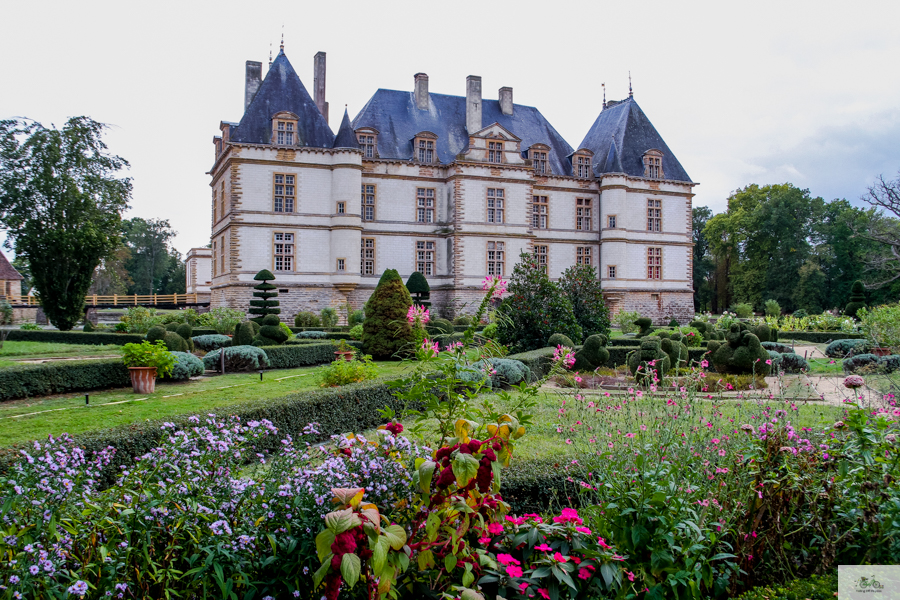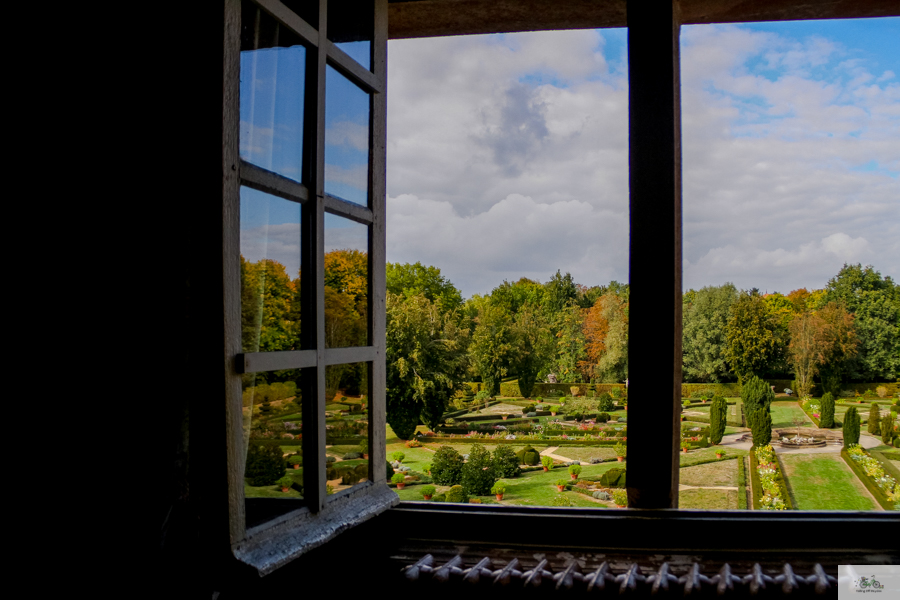 Once I completed the guided group tour, I headed out to enjoy the massive garden I had seen from the castle windows. Once I thought I had seen all there was to see of the gardens, I headed toward the exit. Only then did I spot a food garden and a little patio on the other side of one of the buildings. If that weren't enough, I also found gorgeous dahlias in bloom back there, along with tomatoes, bell peppers, gourds, eggplants, and so much more. I have a feeling these gardens are spectacular in any season.

Château de Cormatin
71460 Cormatin
Tel : +33 (0)3 85 50 16 55
After another long day, I was ready to head to my next stop with a bit of countryside sight-seeing at my leisure along the way. Stay tuned for that and much more in Part II of my Burgundy trip. Together, we'll visit Beaune, cycle through gold-leafed fields, and stay at two more charming places.
This is a sponsored post. All opinions are my own. Photos may not be used without permission.