The first time I visited France, I did a homestay in Marseille, which had been a pretty much unknown place to me up until that point. Sure, I knew it sits on the Mediterranean Sea, but other than that, and that it was in Provence, my knowledge was limited. Our French teacher led the 10 of us high school students through a whirlwind tour of Paris then took us to Provence where we would attend French high school and live in French families for two weeks. Family life in Provence was much the same as I was used to. Recreational activities, however, were far different than they are in Kansas City. Even though it was March, we still enjoyed walks along the beach and even a pleasant boat ride. I loved how nature was an important part of people's regular activities in this part of France.
Every time I've gone to visit my French family since my high school days, we have had some outing to a calanque. I love their appreciation for the national parks near this busy city. When I was on a road trip through France in 2016, I wanted to show my friends a calanque, so they could get the epic view on the Mediterranean Sea, as well.
As I researched ones we could visit that were fairly close to where we were staying, I discovered that the only way we would be allowed to access the calanque by car would be to have a reservation at one of the two restaurants that sit on it. Many people access the calanques by walking the coast and hitting several spots along the way. We needed to arrive by car, and what lay ahead wasn't exactly what I had expected. In retrospect, it sounds stupid since I know what the terrain looks like around a calanque, but I had not anticipated the drive from the streets of Marseille to the water, itself, to be treacherous. Surely there were paved roads, right? Wrong. Not only is the road somewhat treacherous (read: dangerous) and dusty, there are hair pin turns on steep hills on the two-way road. When you're at the top preparing to head down, the crystal blue waters beckon, encouraging you to keep moving down, albeit very prudently!
New photos from 2018… A short walk from the city of La Ciotat, you can access the Calanque du Mugel. While there are a few establishments there, don't count on many options for food or toilets. Go to enjoy the water and the view for a few hours.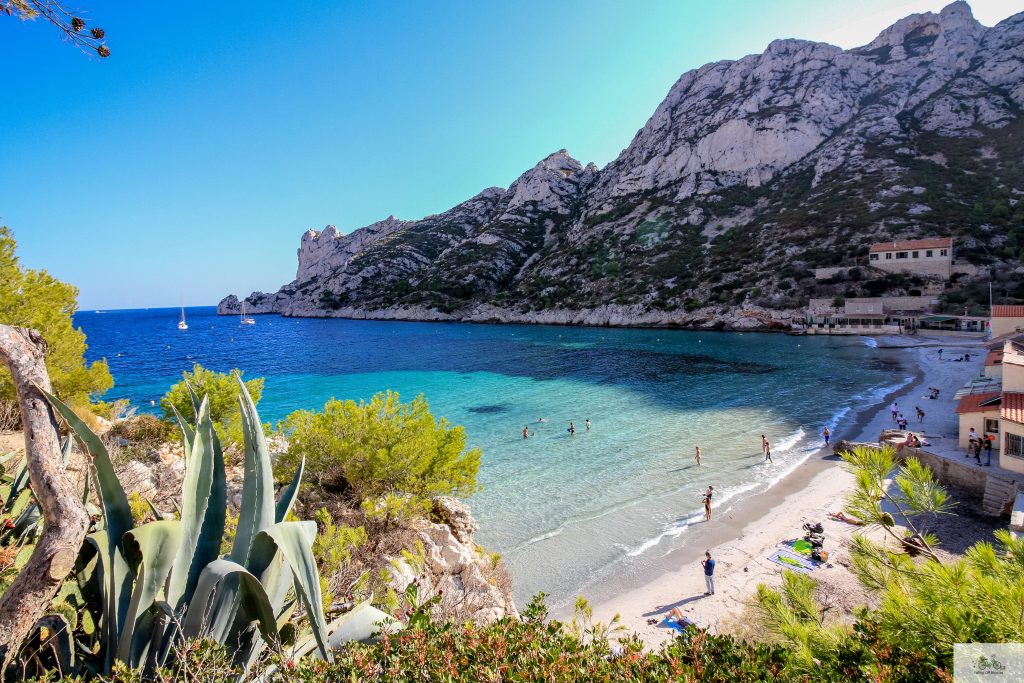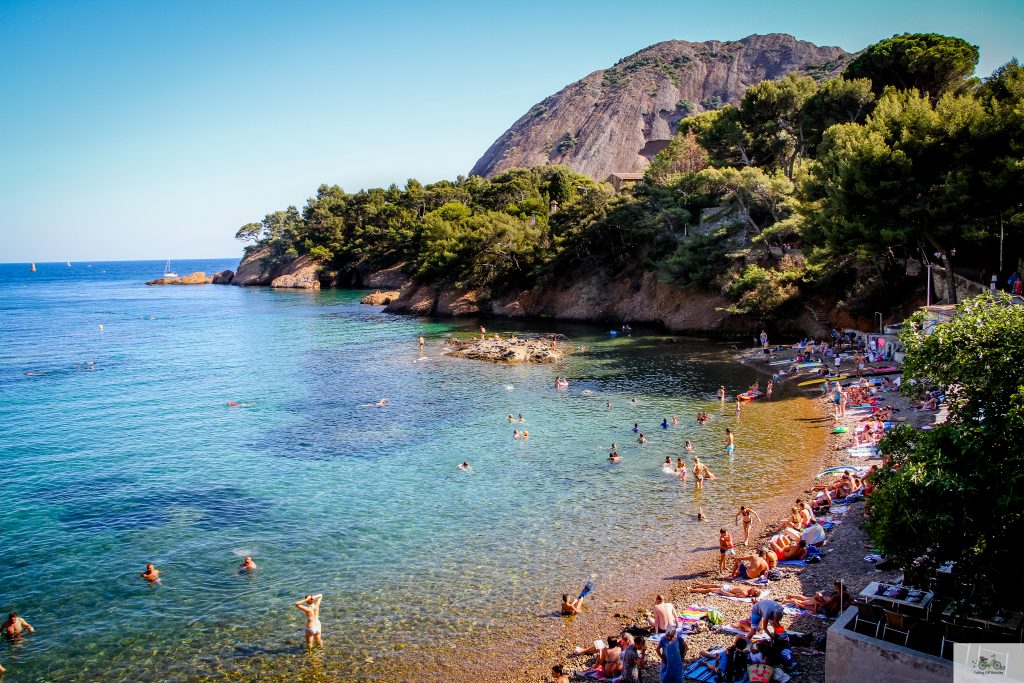 ⚜️ There are calanques all along the southern coast of France. Some are treacherous to reach, while some are accessible by foot from towns and cities. The tourism offices of all the cities and towns will have information on the nearest ones and how to access them.
⚜️The "beaches" at all of the calanques I've visited are very narrow, so there's little space for lots of sunbathers and their belongings. Come with as little as possible if you plan to stay a while.
⚜️ If you hike to a calanque, be sure to have proper hiking shoes. The terrain can be quite rugged.
⚜️ Summer in the South of France can be busy. So busy in fact that I recommend going in September if you're wanting to enjoy the calanques to the max. The topography of the region makes it such that the roads are only so many, and summertime is a favorite time for many to descend upon anywhere that touches the sea.
⚜️ You can get more information about the Calanques in the Marseille region here.
__________________
All images are © Julia Willard and may not be used without express written permission. Click any image in this series to be taken to my photography shop. Don't see the one you want? Just email me! (Updated in 2018 with a couple of more recent photos.)