When I moved to Amsterdam back in 2010, I fell in love with pretty much everything about the city immediately. But to say I was disappointed in my restaurant meal options would be an understatement. My boyfriend and I would have to comb through menus everywhere we considered eating to see if there would be anything a) that fit my diet requirements, and b) I wanted to eat. There were even a couple of times I resorted to going to England when the opportunity presented itself in order to get some of the health food staples I was looking for. Within about six years, though, the city and country seemed to do a complete 180° in its food offerings. Supermarkets had increasing options that weren't centered around meat and restaurants saw the biggest changes with tons more choices for vegetarians and vegans. Being plant-based even seemed to go from strange to hip over night.
I've compiled a list of some of my favorite restaurants (mostly breakfast and lunchrooms) in Amsterdam, but you certainly don't need to be plant-based to enjoy these recommendations.
Here are my current favorite spots for healthy meals and juices in Amsterdam:
Ree 7 quickly became one of my favorite "healthy hotspots" in Amsterdam after my first visit. They call it a gastrobar, but I have only ever been in the early morning for a mostly-liquid breakfast, which always hits the spot. When I find a good breakfast spot, I tend to over-order because I'm so used to going to breakfast places with unimaginative menus with only bacon and eggs and coffee and OJ to drink. My go-to here is the açaí bowl + the green dream smoothie.
Reestraat 7
Again, another spot where I've come to love the breakfasts, with options like pancakes, bowls, and of course, avocado toast. But don't overlook Lavinia's for lunch, as well, as they have a wide variety of options not often available for plant-based diners in restaurants.
Kerkstraat 176
Amstelveenseweg 192
Sla was one of the first hip healthy spots to open, as I recall, and is always a great spot to go for a light lunch while out enjoying Amsterdam. If you're near Rembrandtsplein around lunchtime, Sla is right around the corner.
Sla Amsterdam Locations
Utrechtsestraat 10 H
Westerstraat 34
Ceintuurbaan 149
Amstelveenseweg 124
Claude Debussylaan 35
Middenweg 55B
Haarlemmerdijk 50-h
A friend of mine who is also plant-based, met me in Amsterdam a couple of years ago and we decided we had to see what all the fuss was about with the Avocado Show. I must say, it's pretty incredible what they can do with avocados! Every dish has avocado in it, whether it's the main ingredient or a garnish. It's a fun experience and the decor is fitting, as it's very… green!!
Daniël Stalpertstraat 61
Willemsparkweg 152-H
Keizersgracht 449
The same friend who often goes to these places with me also introduced me to CT Coffee & Coconuts several years ago. It's unique in that it's a huge space and is ideal for lingering for a long time. It's now a place where you'll see people camping out for hours while throwing back coffee after coffee and having meetings on their laptops. If the macrame and plants aren't inviting enough for you, surely all the fluffy cushions will be.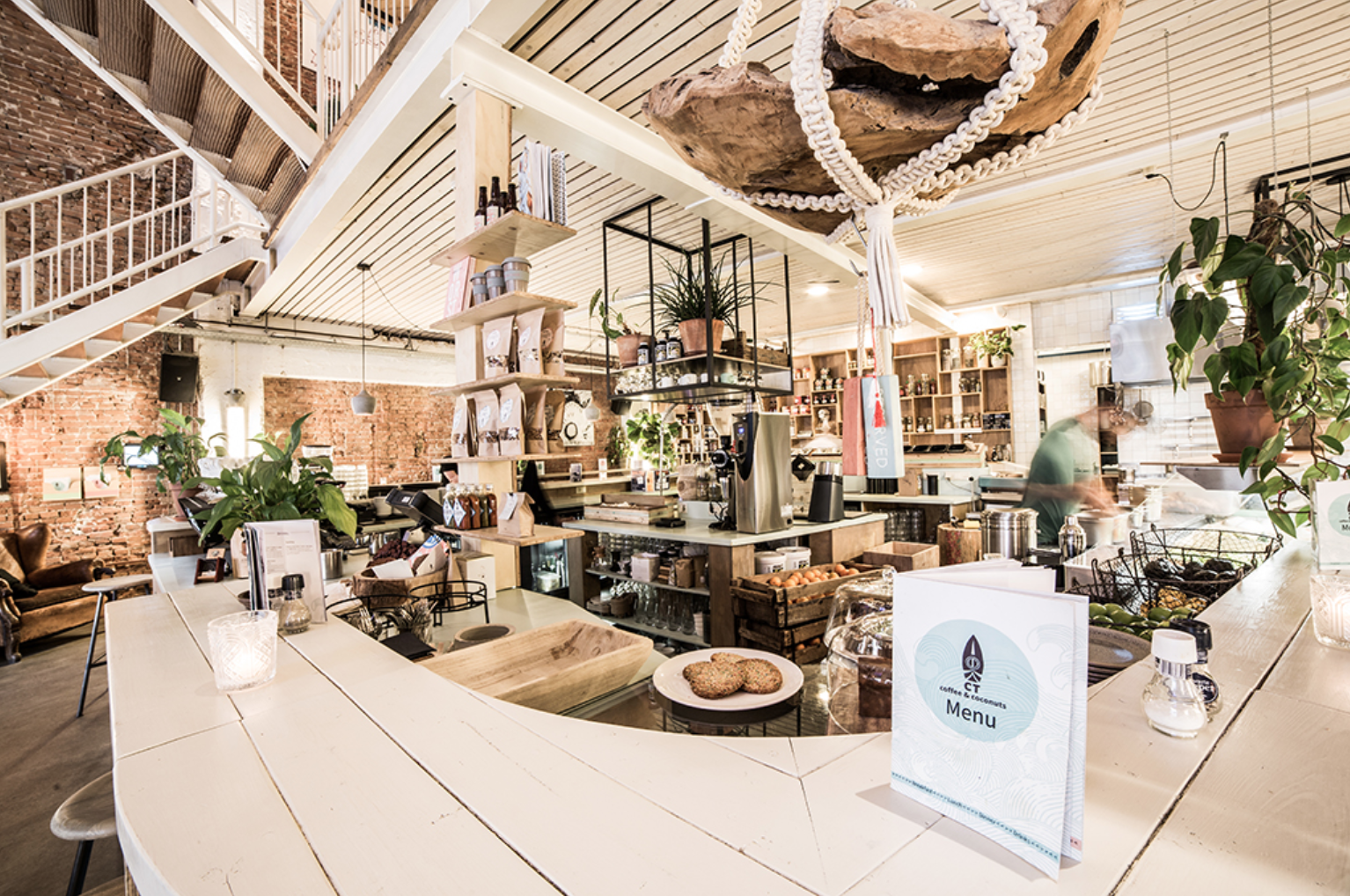 Ceintuurbaan 282-284
A while back, Pluk blew up on Instagram, so naturally I had to try it when I was next in Amsterdam. Like its sister restaurant down the block, they offer a variety of healthy and tasty options, and the aesthetic is really lovely with fresh veggies and fruits abounding next to freshly-baked cookies and cakes.
Reestraat 19
UPDATE – This café location has since closed, but there is still a deli located on De Clercqstraat.
Located on a quiet canal in the middle of the canal ring, this is a darling spot to stop for a hot drink, a snack, or a full meal. The best part? You can also shop for some of your healthy kitchen essentials at the same time.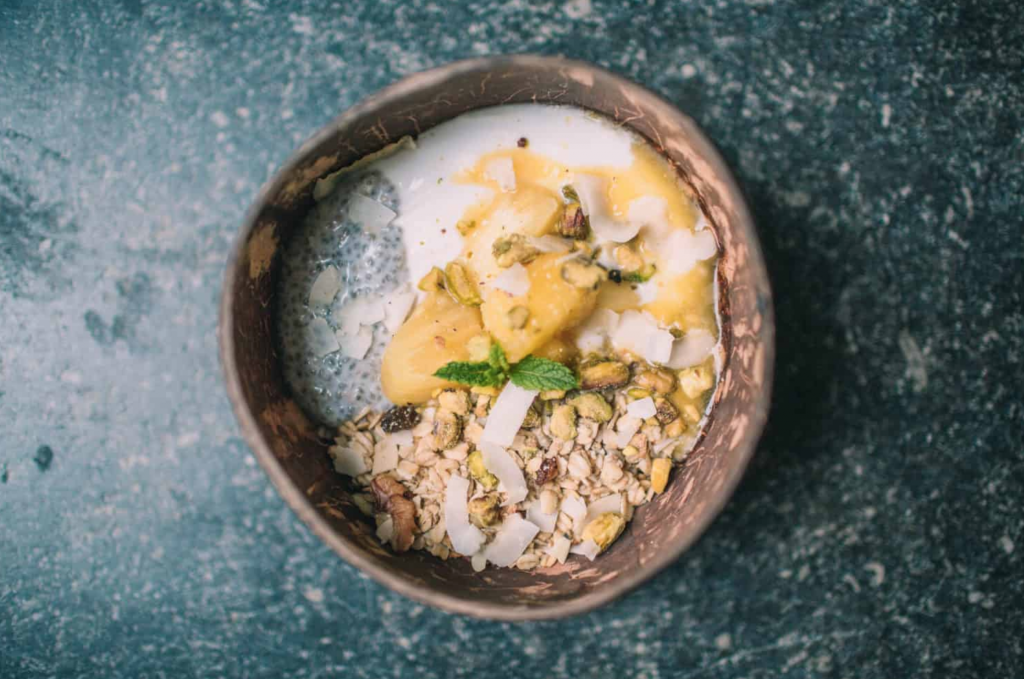 De Clercqstraat 48
Cold Pressed has a limited food menu but has a fabulous menus of fresh juices, smoothies, lattés, and bowls. And if you're looking to do a cleanse, they can set you up with a whole protocol of juices to give your body a rest.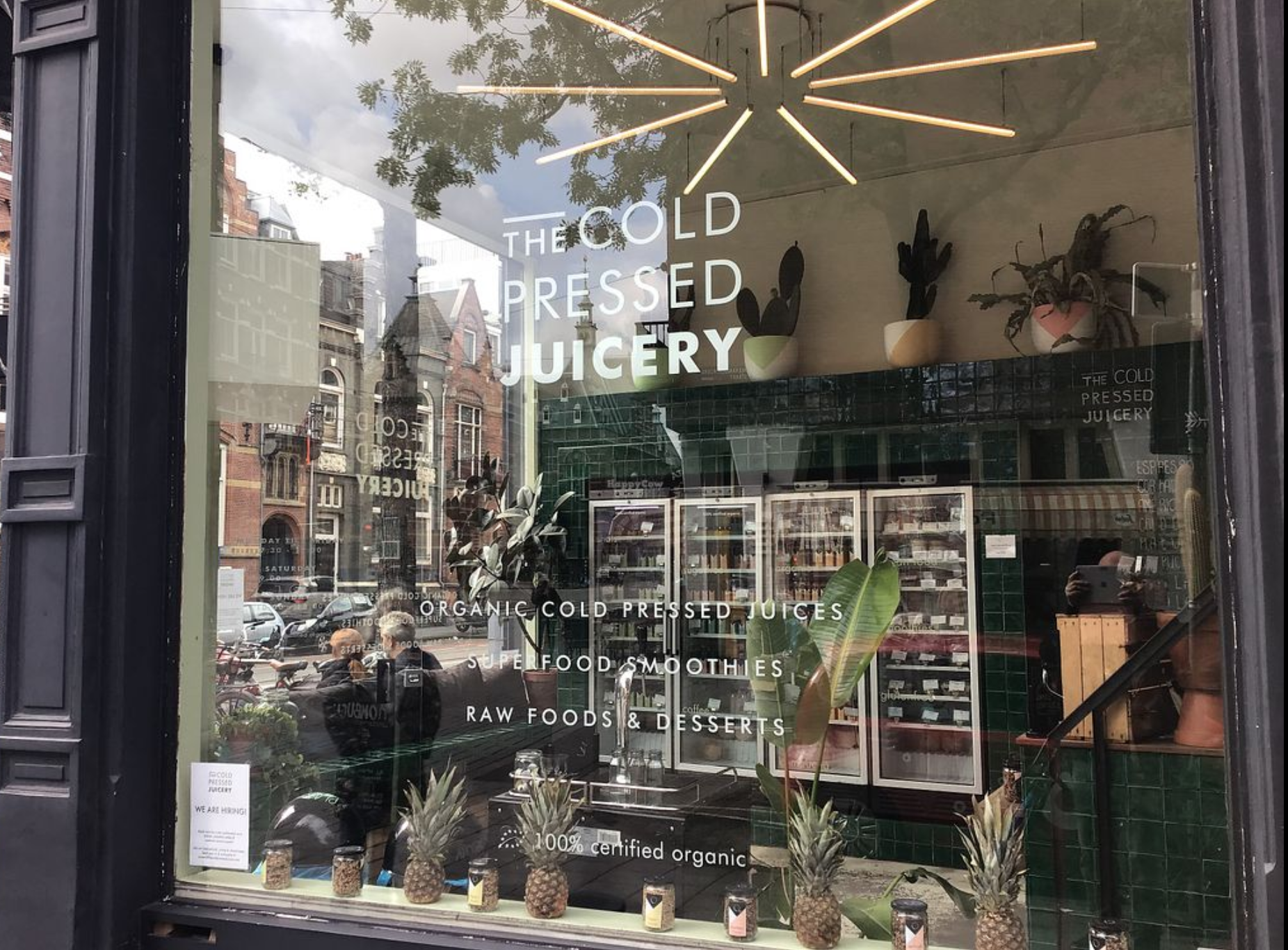 Willemsparkweg 8
Herengracht 245
Nieuwe Passeerdersstraat 12
Prinsengracht 154
Another great option for fresh juices, Juice Brothers offers options for cleanses as well, but you can also find smoothies, tonics, health shots, and a few healthy snack options. With so many locations around Amsterdam, it's easy to pop in when looking for a healthy snack while touring beautiful Amsterdam.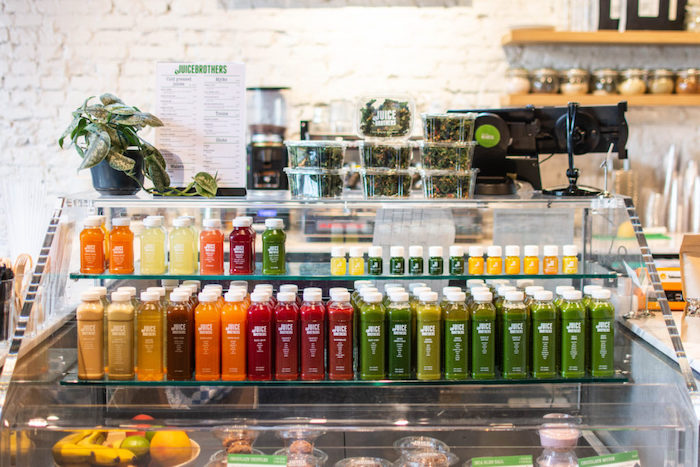 Raamsteeg 2
Van Woustraat 151
Gustav Mahlerlaan 24
Admiraal de Ruijterweg 4
Joan Muyskenweg 32J
Koninginneweg 29-31
Haarlemmerplein 43
Veemarkt 208
All images are from Google with the exception of those of Lavinia, Good Food, Sla, Pluk, and Ree 7. Click any image to be taken to the restaurant's website.