It wasn't until I started spending more and more time in the Netherlands that I became aware of one of the most beautiful places I've ever visited. It's becoming more well-known thanks to social media, but when I first learned about it and told my Dutch boyfriend (at the time) I wanted to go, he told me it was "for grannies". I didn't care! Flowers everywhere and areas with different themes including an entire area for orchids, views over nearby tulip fields, windmills, etc. It all sounded idyllic to me. So we went.
As expected, what you see at Keukenhof depends on when you go. The gardeners are true experts, but they also can only influence the flowering so much. Naturally, the first flowers to bloom and thus the flowers you'll see the most of if you go soon after opening in March are the crocuses, daffodils, and hyacinths. There are some early blooming tulips to enjoy if you're looking for that. Throughout the season, you'll also see flowering trees and bushes such as apple blossoms, cherry blossoms, wisteria, forsythia, and more. Think this doesn't sound enough? I have been to Keukenhof many times now, all at different stages of the garden's blooming and I have never once been disappointed or felt there wasn't much to see.
The day I'm sharing with you in this post is from last year when Pam of Parisdise Photography and I went. She had come to visit me during a month-long stay in Amsterdam, and we decided to make a whole day of flower photography. We arrived at the Keukenhof grounds and immediately went to the nearby bike rental spot to rent out bikes. We had a great day of riding from colorful field to colorful field, even setting up a picnic lunch on a table just next to one of the fields. We enjoyed joyriding through the floral rainbow so much that we somehow accidentally rode all the way to the North Sea, where we paused to have a tea at the beach. Fearing we wouldn't get back in time to enjoy the garden fully, we hurried back to Keukenhof where we enjoyed the park with far fewer people that usual.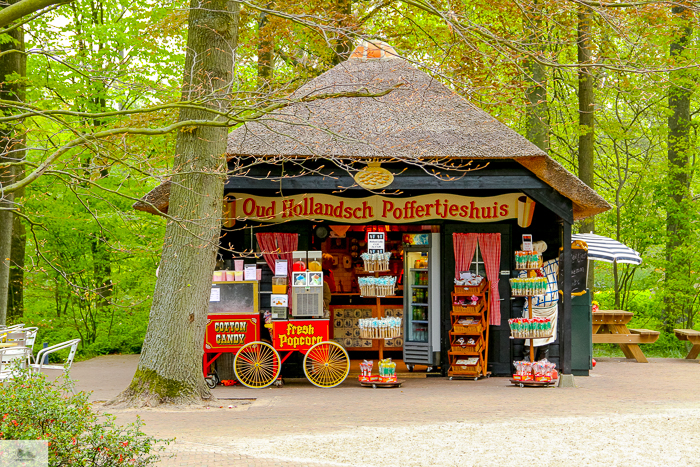 When you see how many photos I took on this day (and, frankly, every time I've been), and you consider that I'm not even sharing half of what I shot, you should get a sense of just how beautiful this place is. It's really a sight to behold at every turn.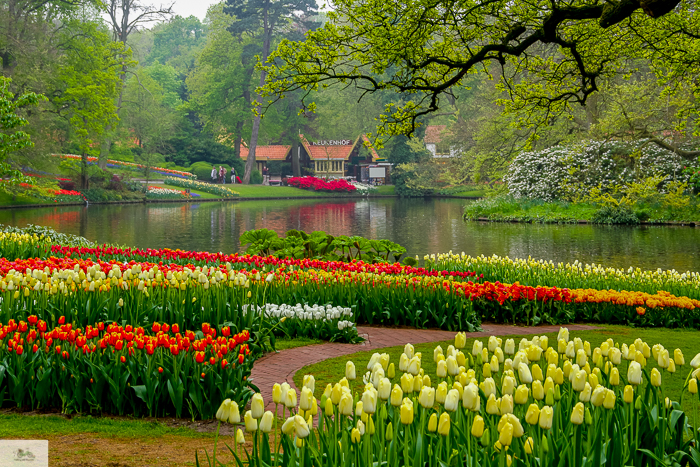 Plan your trip
🌷🚲 Riding through the tulip fields: If you wish to ride through the tulip fields once you arrive to Keukenhof, you can do it before or after you enjoy the park. The rental hut is in the parking lot near the main entrance. Be sure to allow enough time, as you don't know what beautiful scenes you will run into and you don't want to get lost along the way then miss your chance to see the full garden. Prioritize based on what you what to see most and, if you're a photographer, consider the lighting you wish to have for your photos. This is easily an all day affair to cycle through the fields and to visit Keukenhof.
🗓 When is the best time to go? March-May. I have been in March, April, and May and was never disappointed at Keukenhof. If you go on the later end, however, you may miss the tulip fields, as they eventually remove the "heads" (flowers) of the tulips to then preserve the bulbs.
🕰 It is less busy before 11am and after 3pm. The light of the morning and evening sun allows you to take wonderful photographs. It is also less busy on Monday, Tuesday and Wednesday than on the other days of the week.
🍴 Food: There are several restaurants and snack stands throughout the garden. Be sure to try poffertjes and a fresh stroopwaffel at one of the stands.
🐶 Yes, you can bring your dog! Learn more here.
🌷👒 Wondering about the rules of photographing while enjoying the beautiful flower fields? Here's an article about the do's and don'ts.
🌷🌷🌷🌷🌷🌷
How to get to Keukenhof
(This information is taken from the Keukenhof website.)
🚌Bus
Combitickets are recommended. These include the price of your transportation + the price of entrance to Keukenhof.
From various locations you travel directly with the Keukenhof Express bus from Arriva to Keukenhof. Most departure places are located at an NS station and can therefore be reached by train from all over the Netherlands. You can also travel the first part by bus or metro (Amsterdam).
You can easily plan your trip in advance with the 9292 trip planner. You will immediately receive travel advice from your departure address.
🚆Train
Combitickets are recommended. These include the price of your transportation + the price of entrance to Keukenhof.
First travel by train to one of the following stations:
Hoofdorp (then transfer to Keukenhof Express bus line 859)
Schiphol Airport (then transfer to Keukenhof Express bus line 858)
Haarlem (then transfer to Keukenhof Express bus line 50)
RAI (then transfer to Keukenhof Express bus line 589)
Leiden Central (then transfer to Keukenhof Express bus line 854)
🚗Car accessibility and parking
Parking costs €6.00 per day for cars. Put in address: Keukenhof, Stationsweg 166A, 2161 AM Lisse, Netherlands
🚲Bicycle
There are bicycle parking facilities at both entrances to the park. You can park your bicycle or moped there for free. The charging station for electric bikes can be found at Entrance Extra. (** How great is this? I love the Dutch for always thinking about bikes! 🚲)
Put this address in your GPS: Keukenhof, Stationsweg 166A, 2161 AM Lisse, Netherlands.
All images are © Julia Willard and may not be used without express written permission. Click any image in this series to be taken to my photography shop. Don't see the one you want? Just email me!