First, thank you all for your input on Instagram. I'm so excited you all were interested to read this post, as I think Paris has some really obviously romantic things to do, but there are also some less obvious things you all should know about.
So let's get started. Since we're not necessarily talking about Valentine's Day, some of my suggestions are better suited for warmer months, so definitely bookmark this post for future reference!
Where to stay
Get a hotel or an apartment with a pretty view and a balcony, and make the most of it. There are so many hotels that fit this description, but one company that has a whole slew of options of apartments with Eiffel Tower views is
Paris Perfect Rentals
.
Where to eat
Of course, there are many beautiful restaurants that top the lists of best places to eat and most beautiful restaurants in the City. Here are a few I'd recommend. Click any of the photos to go to the restaurant's website.
Hands down, my favorite romantic meal in Paris to date was at the Baccarat Cristal Room. It's beautiful at any time of day, and the service and food are among the best in Paris.
It's been suggested a million times, but it still remains one of the best things to do in Paris: grab a bottle of wine and some snacks, and head to a spot with a pretty view. There are plenty of parks in Paris, but consider also the quais de la Seine, a park bench with a nice view, or sit along the Canal Saint Martin in the 10th arrondissement. It's an oft-forgotten spot that the locals love.
What to do
Get a photoshoot 📸 of you and your love in Paris from one of these fantastic English-speaking photographers. Here are a few of my favorites. Some I know, and some I admire from afar:
Yes, I also occasionally do photoshoots, so just email me to see if I'm available if you'd like to work with me.
Ride through Paris on bike 🚲
Whether you choose to see Paris by bike on an organized tour or on your own, it's definitely worth doing! As many of you know, I brought my bike over from the States, and I ride it around all over town. It has brought a whole new joy to Parisian life for me.
If you're wanting to see the city on a tour, I recommend Bike About Tours. They have several tour options (including Versailles and Champagne!), and their guides are very knowledgeable.
Listen to jazz or go to a cabaret 🎷
I once had a guy take me on a date at a cabaret, which was a complete surprise but ended up being quite fun. You can't have a much more authentic Parisian experience than that, so that made it all the more enjoyable. The larger ones can be quite touristy, but the ones underground make for a fantastic Parisian experience.
Although it looks nondescript, Aux Trois Mailletz was where my date took me… so authentically Parisian…
If you're wanting a bigger scale performance with more bells and whistles, there are plenty more commercial cabarets in Paris, such as Paradis Latin and of course such places as Lido de Paris and the Moulin Rouge.
Over the years, I've also found several jazz clubs that are fun for a night out. Many are underground like this one I went to recently. It's intimate and I love that it's different every time.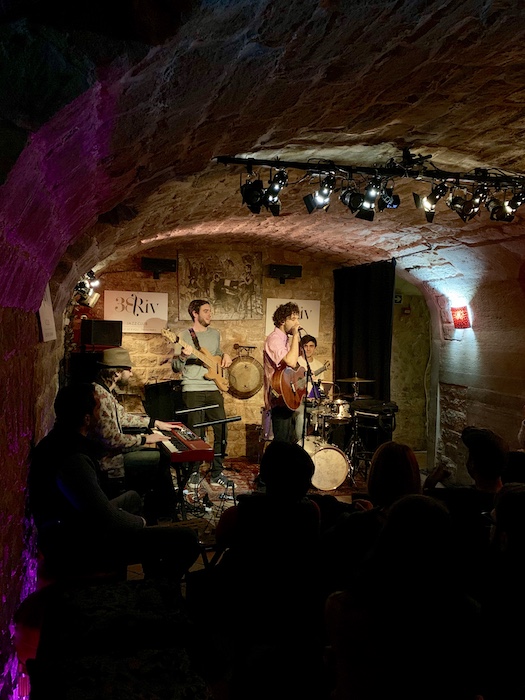 Get chocolate goodies to share with your amour 🍫
Whether you're using it as an aphrodisiac or to satisfy your sweet tooth, chocolate is always a great gift for your sweetie. Here are a few places to get some of the best sweets in town:

Laduree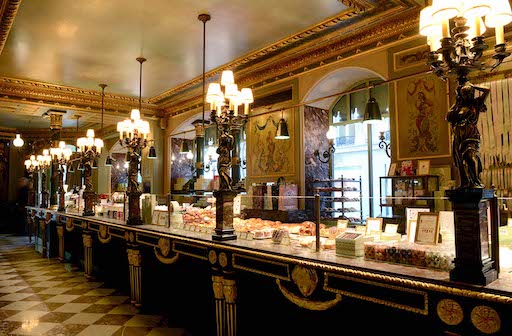 La Chocolaterie de Cyril Lignac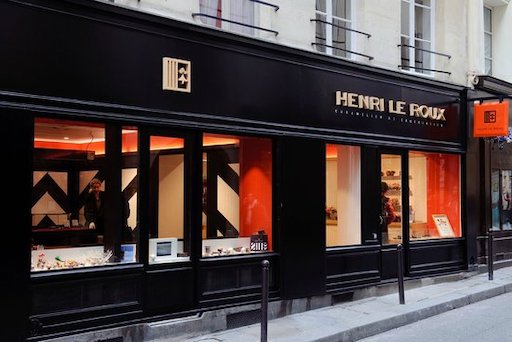 Get pretty paper products and write each other love notes 📔💌
Now, your turn… What are your favorite romantic things to do in Paris?
---
Most of the photos in this post are from the business's respective websites or found on the internet. Rights belong to the owners.