I'm just back from another fabulous trip to Bourgogne. This is my second time there this year, and my third time in a year, and I continue to be amazed at all there is to see in a region I was sure I had already fully discovered. The Bourgogne-Franche Comté Tourism office put together an itinerary for my husband and me that was full of experiences and visits I had never done. My French husband hasn't spent much time in Bourgogne (Burgundy) at all, so all of it was new to him.
Our program called for a rental car, and since I still don't like to drive in Paris, especially at certain hours, I always opt to pick up rentals at the airports or in the suburbs. From Orly Airport, it's very easy to hop on the road and head down to Bourgogne. We arrived in Chablis in just over an hour and a half and we headed straight for the Domaine Long-Depaquit. It was nice to have our first visit at a winery so we could decompress a little with a wine tasting. We met with Cécilia who knew all about the wine of the region and of course this historic domaine, which sits on 65 hectares of land steeped in history. She explained that the Chablis region is the northernmost wine-making region in Bourgogne and is only about 20 km long. Chablis wines are known for being a bit more acidic than other Bourgogne wines due to the soil. The sort-of chalky consistency of the soil is due to the topography of the region, formed 180 million years ago in the Upper Jurassic Age. The domaine itself, where the wine-making takes places primarily in copper barrels nowadays, was created by the Depaquit brothers in 1791 from the former vineyards of the Cistercian Abbey of Pontigny. Behind the main house on the property is a beautiful green space in back for a little walk. We had a pleasant stroll back there after our tour and wine tasting dragging our feed through the beautiful fall leaves. 🍂🍂


As I've written about before, the topography and soil play a huge role in the flavors of wine, which explains how wine made with the same variety of grapes can have such different flavors in different regions and countries. The south-facing vines in Bourgogne produce the best wines, including, for example, les Grands Crus. Throughout the weekend, we were able to taste many different regional wines, with commentary by local knowledgeable savants.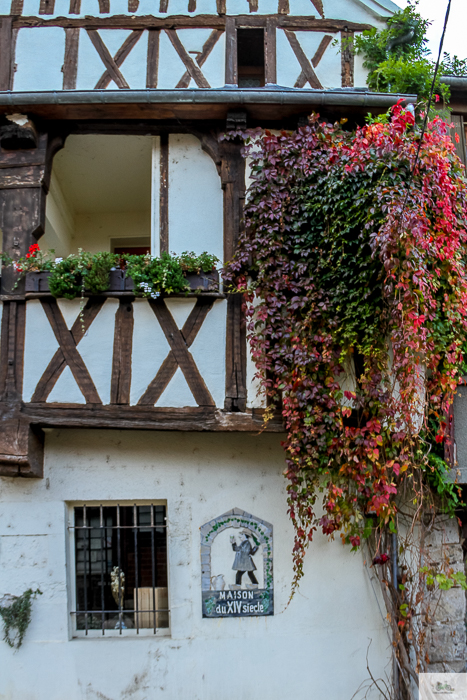 After the visit, I knew we were getting close to the sunset, so I was trying to figure out how we could make the most of our time. As we drove off from the Domaine, we saw a few cute scenes in the town of Chablis, so naturally I had to park and go get some photos. As we had a look at the water/ canal running through the town, I realized I was looking down at our hotel. I thought why not go check in quickly and see the room in the daylight.
We had a smooth check in at Hotel du Vieux Moulin. They had texted me the code to the doors before arrival, and the key was waiting for us when we arrived. We had a huge suite (room #7 for those interested), which is a full bedroom and a separate room with a pull-out couch. There were even two full bathrooms, so the space was ideal for a traveling family. One of the windows had a view over the Serein river split-off, and all the views from all angles are beautiful, especially with the fall colors right now. The master suite had a lovely bathroom with a large tub and you know I took advantage of that! After a long a strenuous day of travel (just kidding! 😆), I enjoyed my
Saint Martin Chablis
glass of wine right there in the tub.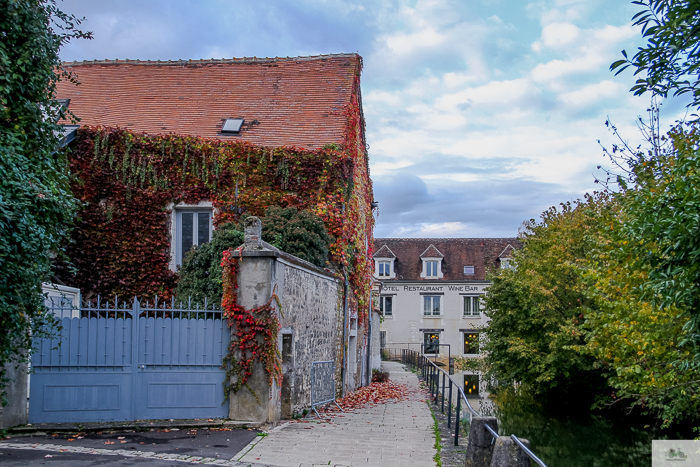 While we still had light, we headed to a place I had seen a photo of on my itinerary but had not read about in advance. Following the GPS, I drove to the town of Tonnerre, then directly to the Fosse Dionne, which sits right in the middle of a narrow residential street that encircles it. I must say I was completely taken by this place. I was struck by its unassuming location but its unmistakable majesty. When you peer into the water you can't see any sign of there even being a bottom. The plants and algae growing in the water are electric colors I've never seen anywhere else. The fosse, or pit, itself, is so incredibly still and yet the water pouring out of it flows at a rate of over 300 liters per second! The tourism office is a two-minute walk where you can get more information about the Fosse Dionne, but otherwise it doesn't seem to be a highly visited destination. I, however, highly recommend visiting here because it impressed me so much; it felt like we had reached the source of all life here.




For our dinner that evening, we were booked at the Hostellerie du Clos, a Michelin restaurant that is one of the best places in town to dine. The town of Chablis, at least at this time of year, doesn't seem too busy of a place, but once we got into this restaurant (also a hotel), we found where most people were hiding. Dining here is a true experience of French cuisine and the service is top-notch. We had our apéro with gougères and toasts in the lobby, then moved to our dining table for the meal. We started with a seasonal soup as an amuse-bouche, then moved on to our starts of a celery vélouté. My main dish was beautiful mushrooms that reminded me of a dish my Burgundian host-mom used to make me when I was living with her during study abroad. The cheese course here is a bit of a show… the staff wheels out a cart and explains all of the cheeses and flavors, then cut you your selection so each plate is customized. We did not have the cheese course, but it seems this would be the perfect place to experience a proper cheese course if you wanted to. Our final course of the night was a Paris Brest praliné. Everything was simply divine, and the whole experience a thrill.
Hostellerie des Clos
Hostellerie des Clos
Hostellerie des Clos
Hostellerie des Clos
Hostellerie des Clos
Hostellerie des Clos
Hostellerie des Clos
Our second day began with a beautiful slow morning, taking in the view over the nearby yellow-leafed vineyards. The breakfast room in the hotel connects to a common room with a fireplace and a view. It must be so beautiful in the summer with the sliding doors open. We had a full buffet French breakfast that was a delightful way to start our morning. I tried to have mostly fruit, but those fresh French viennoiseries and fresh bread are just too tempting!
Hôtel du Vieux Moulin, Chablis
Hôtel du Vieux Moulin, Chablis
Our first visit of the day was in the city of Auxerre in the afternoon, so we took some time after breakfast to visit the nearby Abbayé de Pontigny. You can visit the abbey without tickets and roam freely over the grounds. The tree-lined entrance is just gorgeous right now with the fall colors, and lines up so nicely with the front door to the abbey. The parking situation was not particularly clear, but we were one of only two couples visiting at that moment so it wasn't an issue. We wandered through the property taking photos and even putting on some era-appropriate music as we walked, just to set the mood. There's a beautiful arched gallery that is so beautiful, we spent quite a while imagining the days of old.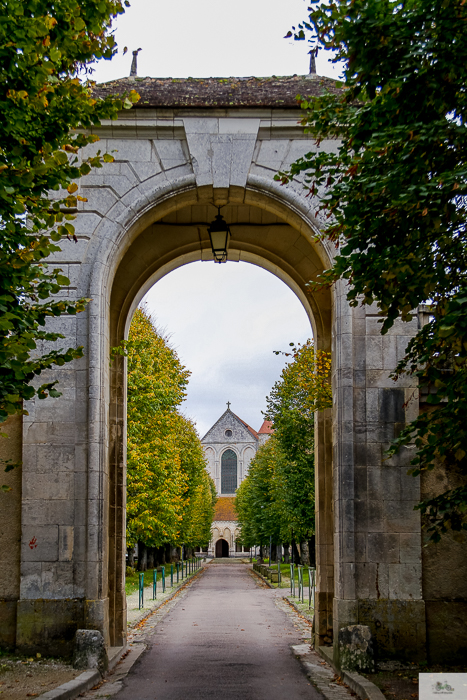 The history of the abbey is the largest Cistercian monastery in the world. It is 4000m2 and 108 high at its highest point making it quite an imposing structure. But it sits beautifully on its 10 hectares of land, with gardens and grass surrounding it and a tree-lined driveway leading up to it. The inside is pristine, as if it is not really 1000 years old. It was beautiful and quiet; the perfect place for a quiet prayer before moving on.





We strolled around the property snapping photos and enjoying the peace and quiet. One of my favorite things to do in old European churches is to focus in on the details. It's just incredible the scenes depicted and the ornate carvings one can find in the stone and wood in these holy places.
This monastery has a particularly important place in history: Not only is it the largest Cistercian monastery, it is also where Thomas Becket, archbishop of Canterbury, took exile at the end of his life before eventually being assassinated. And if all that isn't enough, it was also partially destroyed in the French Revolution. Thank goodness the church was not ruined as the rest of the property was.
Read about the rest of our trip in Part II here.
This is a sponsored post. All opinions are my own. Photos may not be used without permission. All images are © Julia Willard and may not be used without express written permission. Click any image in this series to be taken to my photography shop. Don't see the one you want? Just email me!