People ask me all the time to tell the story of the name Falling Off Bicycles, usually after having giggled at it. I used to get a little self-conscious about that, but knowing the story of how FOB came to be – with some true divine intervention – I'm now able to share the story proudly and enthusiastically.
My excessive love and interest in bicycles really picked up when I moved to Amsterdam in 2010. I was freelancing then, so I had lots of flexibility to walk and ride around the Canal Ring on my own schedule. I became fascinated by everything bike-related: where Dutchies stored their bikes, how people chose how to customize them, why someone would neglect and leave one behind, how so many were stolen (including mine, eventually 😪), and on and on. It seemed I needed an outlet to share about my experience in this new city. I was captivated by so much of the lifestyle, so much of which was different from what I was used to in the U.S. and France.
Wanting to share all the photos I had taken of bikes around town, I created my first website. This was back in 2010 when blogging and/or having one's own website was not something everyone had. I loved gathering content for the site and was super excited to have built the site on my own. Now I just needed a name for the site.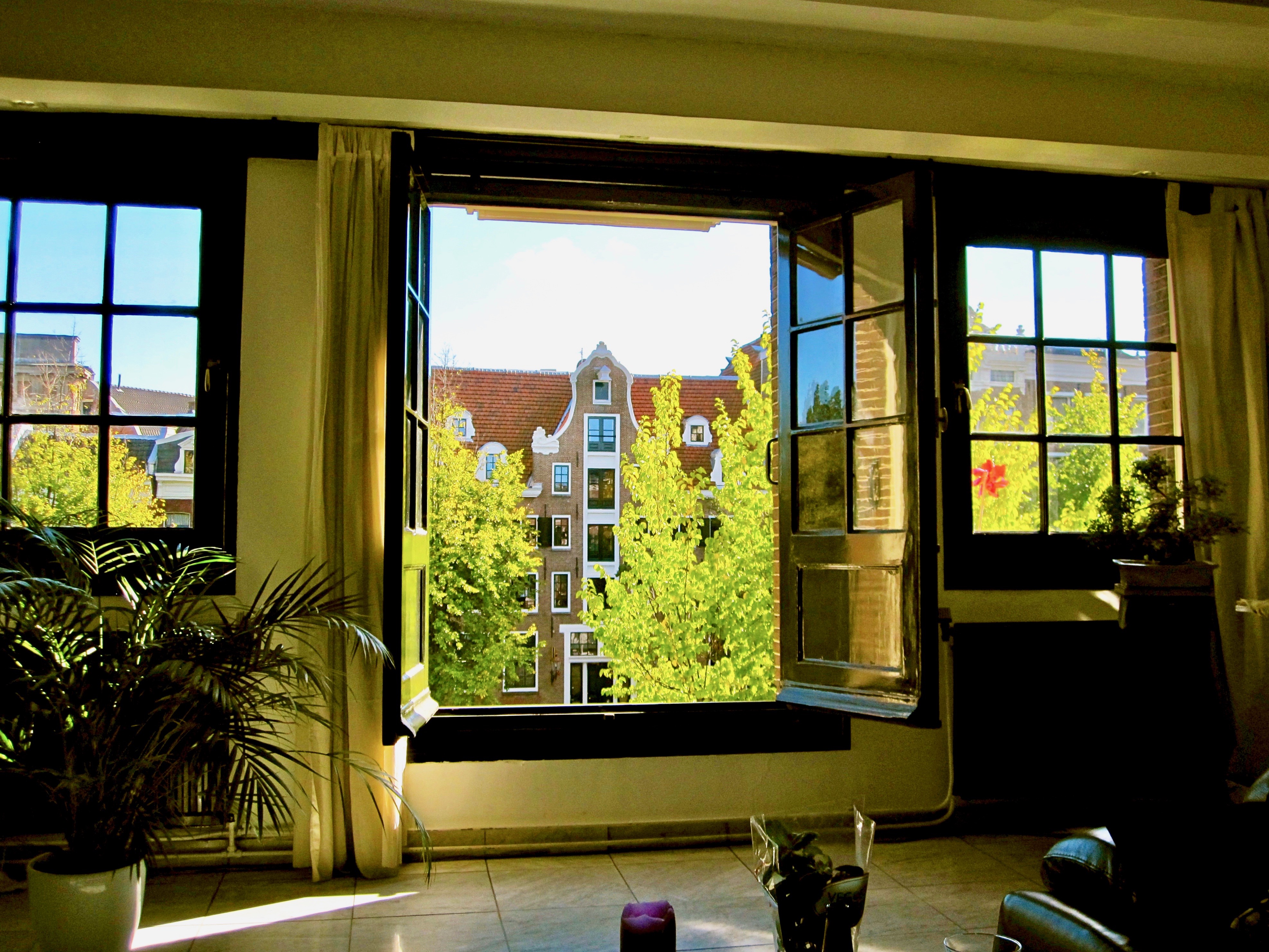 Even though we had a fabulous and inspiring view from our Singel Canal apartment, I liked to get out and work in cafés around Amsterdam to have a change of scenery. One day when I was working on content, I made a list of names that appealed to me for the website. Among about 12 options, Falling Off Bicycles was the one that stuck immediately for me for several reasons. I loved that there was a reference to bicycles in the name because I just love what bicycles represent. You all probably know that famous quote by Albert Einstein: "Life is like riding a bicycle. To keep your balance, you must keep moving." Indeed, that metaphor for life felt like the perfect fit for this business. It encapsulates so much of what there is to love about bicycles: forward movement, balance, fresh air, close interaction with others, and the pure childlike joy we feel when we ride. I had also taken nearly every photo on the website while on a bike ride, so it all just felt right. You may be wondering if I had also fallen off a bike… well, yes of course! I have fallen off a couple of times, but it's the getting back on that I like to focus on. It was the idea of forward movement. 🚲
And voilà! It was decided. I bought the fallingoffbicycles.com domain and launched the site.
From there, my desire to create a whole brand around this idea grew quite quickly. When I returned to the States, I contacted an illustrator to create my logo. You can read the story of that here.
So there you have it! The story of how I came to have the name Falling off Bicycles.
🚲 Wondering about the Falling Off Bicycles logo? Click here for the story.
🚲 Curious about the story of my cute green bike? Click here for that story.
🚲 Check out some of my favorite items for your bike here.