Before I moved to Amsterdam in 2010, I hadn't ridden a bike in years. One summer day, I came out the front door to see my dad wheeling my 12-speed bicycle out to give away to some friends. Even though I hadn't ridden in a while, I was still sort of in love with the idea of riding and being able to safely take leisurely rides anywhere I could want to go around where I live. That was the romantic idea I held in my mind but sadly I wasn't living it.
One day, in the summer of 2012, my mom and I went to an estate sale in our old neighborhood. I immediately zeroed in on the cute bike that was sitting outside on the lawn. The masking tape price tag read $35. 'What a steal!', I thought, and with that I decided I'd get it. It was a vintage bike to say the least, with signs of years of neglect and a color that hadn't been in fashion for several decades. After a good scrub down and some TLC, I reached out to a few people I know in the Kansas City bike community and was able to get it checked on and tuned up within a week.
Being away from KC as much as I am, I didn't jump on getting the bike repainted although that had been the plan from the start. This year, I finally asked for that to be my birthday gift. I went to Groody Brothers, local bike magicians, and we selected just what color and other details I wanted on the bike.
There was only one color to consider for the new bike: I needed it to match the green bike in the Falling Off Bicycles logo. In the process of designing it all, I got a black rack for the back and a beautiful wicker basket – by definition, a cute bike has a wicker basket!
When I finally went to pick up my bike, I was speechless at how great it looked. It was exactly what I imagined, only the Groody Brothers team had made a few additions that made it all the more special. Now the bike had camera shutters strategically placed on the frame as well as my website url. That was such a sweet surprise.
Update April 2018: The Falling Off Bicycles bike has made the trip across the Atlantic! ✈️ Thanks to Freescoot on Quai de la Tournelle, my bike has been reassembled after a long trip from Kansas City.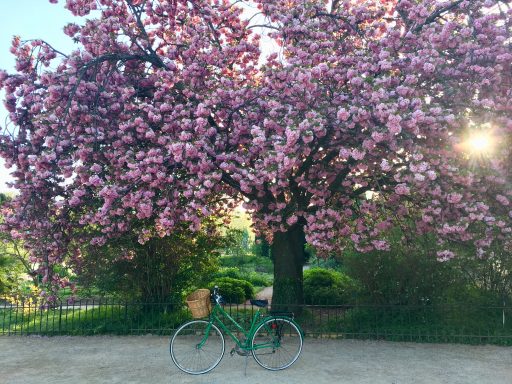 🚲 Wondering where I got the name Falling Off Bicycles? Click here for the story.
🚲 Wondering about the Falling Off Bicycles logo? Click here for the story.